The popular sportfishing spot that we call "San Quintin" today didn't always have that name, and it's facinating to learn that this small, unassuming Mexican fishing village actually started out as the "Bay of 11,000 Virgins."

It all began in the summer of 1542 when the Portuguese explorer Juan Rodríguez Cabrillo became the first European to visit the quiet bay of San Quintín, and--with an obvious eye toward the future real estate market--he gave it the fantastically vivid name: "Bay of 11,000 Virgins."
There was actually ample precedent for Cabrillo's inspiration, which honored the memory of Saint Ursula, the virtuous Roman maiden who, around the year 500 A.D., was said to have been martyred, together with 11,000 ladies-in-waiting, when she refused to marry a chief of the Huns in Germany.

--Half-a-century before Cabrillo's voyage, Christopher Columbus had given the name Once Mil Vírgenes (correct: "11,000 Virgins") to a small Caribbean archipelago known today, of course, as the Virgin Islands.

--And, only 22 years before, the Portuguese explorer Jose Alvarez Faguendes gave the same name to another group of islands near Newfoundland.

(Unfortunately for the romance of the story, however, it seems that the exact number of virgins martyred with Saint Ursula was a bit off. Due to a translation error that occurred sometime between the Sixth and Eleventh Centuries, it seems that the correct number of virgins was actually not 11,000, but only eleven, with no zeros. This tiny mathematical inconsistency is thought to have originated when the latin inscription "XI. M. V.," meaning "Eleven Martyred Virgins," was mistranslated as "Eleven-Thousand Virgins"--close, but no cigar.)

But where did our comparatively dull, present-day name for the "San Quintín" fishing area come from?
For that, we can thank the Spaniard, Sebastian Vizcaíno, who sailed in Cabrillo's wake 60 years later, renaming things as he went along.

When Vizcaíno got to "11,000 Virgins Bay," on or about October 31, 1602, Cabrillo renamed the place "San Quintín," in honor of the relatively obscure saint, whose feast day falls on that date. San Quintín, also known as Saint-Quentin, or Quintinus, was another martyred Roman, who was beheaded in France in the Third Century when his successful evangelical movement became a political hot potato.

(California's San Quentin Prison, in the community of the same name near San Francisco, has an etymology obliquely related to San Quintín's. It's named after an 1820s Indian warrior named Punta de Quentin, who was accorded the title "San" by his tribe of devout Licatuit Mission Indians, even though he was not officially a saint.)

Amazingly, for the next 350 years following Vizcaíno's visit to the San Quintín sportfishing area, almost nothing happened around the shore of this future vacation spot, except for a flurry of failed American and English land speculation in the late 1800s, mostly involving wheat farming and milling, and a failed fish cannery operation that had its beginnings in the 1930s.

Finally, in 1951, a modest motel and sport fishing lodge called The Old Mill was started on the site of the failed milling operation, which had been designed to use a tidal dam to power its heavy machinery. Owned by Al and Dorothy Vela, this rustic fishing operation on the shore of Bahia de San Quintin was a quiet, peaceful haven only 200 miles south of the border, surrounded by pieces of old milling and canning equipment, with the old English pier crumbling within sight. Year-by-year, the inscriptions on the grave markers of the English cemetery became more faded and difficult to read, and little else changed in San Quintín.

After a 40-year run, the Velas retired, and in 1991 The Old Mill was taken over by Al and Nolo Gastón, who turned it into a thriving restaurant and bar, with superlative meals, a good launch ramp for sport fishing boats, a fishing tackle store, charter fishing boats and guides for hire, an RV campground, and an adjacent comfortable motel.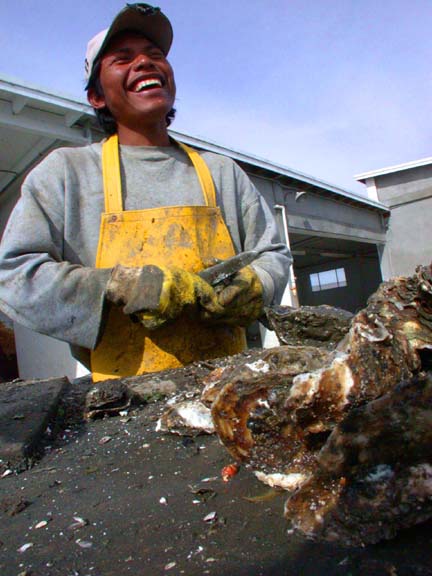 Guadalupe Paniagua cleaning oysters for Agromarinos at Bahía Falsa, San Quintin, Mexico.
Today, although there are several successful sportfishing operations at San Quintin, a couple of motels on the bay, a sprinkling of vacation homes here and there, a handful of commercial fishing pangueros at work, and a thriving oyster farming industry in an outer area called Bahía Falsa, for the most part, "11,000 Virgins Bay" looks almost exactly as it did when it was discovered by Juan Cabrillo and Sebastian Vizcaíno four centuries ago.

The meandering, shallow bay of San Quintin covers an area of about 50 square miles. It is bottomed with thick beds of eel grass and its flat shore is bordered by sharp volcanic cones that give it character and perspective. The cool water is still so pure and clean that it supports 18 busy aquaculture operations that raise about 20 million oysters a year, and are licensed to ship their product to the United States. The rich food supply around the shore of San Quintin bay, or Bahia de San Quintin in Spanish, still attracts about 25,000 black brant per season, and hunters still come each year to shoot them, in a tradition that goes back many years and has included one of the sons of Ernest Hemingway.

The oysters of San Quintín bay are actually Canadian imports, and in turn, they were originally brought into Canada from Japan about 1920. Their common names include Japanese oyster, Miagi oyster, immigrant oyster, and giant Pacific oyster, and the species name is Crassostrea gigas. They have been cultured in the San Quintín fishing area for 25 years, and they require a purity and richness of water that is found at only a few other locations on the West Coast, most notably in British Columbia and Washington State.

The farming of Crassostrea gigas is almost totally passive and harmless to the environment, since the oysters feed only on plankon brought in by the tides and they require no supplemental food, antibiotics, fertilizers, or any chemical additives at all. They are also unable to reproduce naturally here, so if seed larvae were not imported for each new crop, the population would soon die and disappear.

Recently, I visited the largest of the oyster operations at San Quintin, Agromarinos, operated by Vicente Guerrero and his son Carlos on the shore of Bahía Falsa, and I viewed the laboratory-like equipment where the microscopic larvae are allowed to affix themselves to strings of empty-shells (1 million larvae weigh only 18 grams), before being moved to growing racks in the bay. The oysters require 14 months to be ready for market, and San Quintin vacationers may buy live ones here (five monsters for a dollar!) and fill an ice chest for the ride home.

As for San Quintin fishing, there really isn't much going on inside the bay itself, except for dense schools of mackerel that will keep you awake at night (and one "big" exception that we'll discuss in a minute). However, just outside the entrance of San Quintin bay is a spectacular fishing world of rocky Pacific "bajos" surrounding the high volcanic cone of Isla San Martin. These high spots are plugged with rockcod, yellowtail, lingcod, ocean whitefish, and a richly-variegated smorgasbord of bottom species. The water is kept cool year-round by deep upwellings in the slowly moving California Current, and the fishing is similar to what it was, say, four or five decades ago off the coast of Central and Northern California. In other words, the fishing at San Quintin is as good as grandpa used to have.

How good? I recently fished a relatively "slow" day off San Quintin, and in a very short morning, our boat landed 6 big, big cow cod, 1 nice yellowtail, 8 whitefish, 25 miscellaneous rockfish, 1 sculpin, 5 lingcod, 8 salmon grouper, and 4 mackerel. And that was while spending most of the time telling jokes, looking at the whales, and generally foolin' around, rather than on serious fishing. Moreover, I only light used spinning tackle and did not fish with bait, just lures. Even so, we nailed a total of 58 fish, including those released, in a couple of hours.

In summer and early fall, this San Quintin bottom fishing paradise is supplemented by runs of yellowfin tuna, albacore, and dorado that bunch up in the warm currents just outside the cool upwelling zone during their northward migrations. At those times, a connoisseur hunter might score on perhaps 15 or 20 species while fishing a day out of San Quintin bay.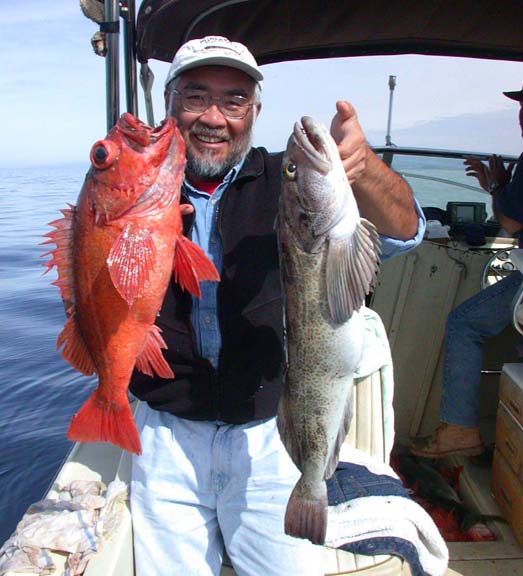 Gene Kira with a red rockcod and a lingcod caught while fishing at The 240 Spot off San Quintín, Baja California, Mexico.
Another fish species that is also encountered regularly at San Quintin, both at the Pacific rock piles, and also inside the entrance of the bay itself, is the giant black seabass, Stereolepis gigas. This noble fish is protected and quite rare north of the border, but can be caught legally in Mexico, and there are still specimens landed here that go to over 200 pounds. I would not fish for one, personally, but it's nice to know they are still around. They are not very good eating anyway, so it is best to let them live.

In all, Juan Cabrillo's "Bay of 11,000 Virgins" gives today's vacationer an easy-to-reach, marvelously well-preserved peek at how full of life the sea once was north of the border. Located only five hours south of Tijuana on the Transpeninsular Highway, the San Quintín fishing area is an easy drive into another world.

However you fish out of Bahia San Quintin--by launching your own boat at the ramp, or with a charter service--it is recommended that you pay close attention when leaving the shallow bay and have a professional guide with you the first few times, at least. Most of the bay is only a few feet deep, the exit channel is difficult to follow as it winds left and right, and the boca can be hazardous when there is surf or the tide is working against you.