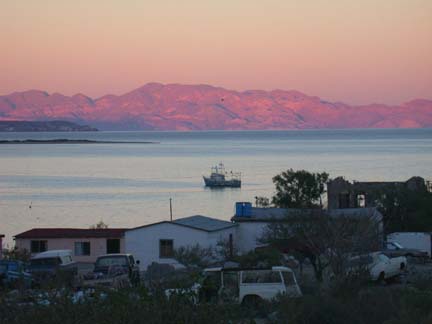 A beautiful evening settles over the quiet fishing village of Bahia de los Angeles, Baja California, Mexico.
Bahia de los Angeles fishing articles, maps, fishing reports, peak seasons, hot spots, and
vacation travel information for the sportfishing area of Bahia de los Angeles, Mexico.

Of all the great places to fish along either coast of Baja California, the Sea of Cortez Midriff Area's old-time fishing village of Bahia de los Angeles is easily capable of giving you the widest, and wildest, range of different "looks."

At "L.A. Bay," as many gringos call it, the most beautiful moment on most days comes at sunset, when the village lies deep in the shadow of its surrounding mountains, and the islands and hills across the bay are bathed in an otherworldly magenta-lavender light that is seen nowhere else in Baja.
Walk up the quiet dirt streets of the village to the highest houses and look down. Stretched out below you is a scene of infinite serenity and loveliness, as the azure waters of the bay darken to cobalt in the lowering twilight, the islands turn to gold, and the small sounds of the village's 700 or so inhabitants--preparing for their evening meals--drift upwards toward you.

But on some Bahia de los Angeles fishing days, you'd better hold onto your hat--literally--for the land and waters of the Sea of Cortez' famed Midriff Area can also show you a "look" of howling winds and mountainous, crashing waves, sometimes at a moment's notice. Like all of the Sea of Cortez, the Midriff fishing area and Bahia de los Angeles in particular, are subject to "nortes," the prevailing winter winds coming down from the north, mainly during the months of November through March. These 15 to 30 m.p.h. nortes blow rather predictably, for an average of perhaps three to five days at a stretch, and while they can certainly knock out most fishing and boating activities, they are less dangerous than you might think, mainly because of their very predictability; you learn to live with them and work around them.

But the Bahia de los Angeles fishing area's notorious "westerlies" are another matter entirely. These westerlies, of course, blow from the west, and they can go from dead calm to 60 m.p.h., literally within a matter of minutes. This is not a figurative literary statement. At Bahia de los Angeles, I have seen the wind go--in a measured 30 minutes--from "blowing smoke rings outside" stillness, to blowing with such force that water picked up off the top of the waves did not come back down again, but flew out of sight over the horizon, maintaining an altitude of about 50 feet above the surface of the sea. These Midriff westerlies are the most dangerous winds in the Cortez, and they cause more small boat accidents than any other. Thinking back over the last couple of years, I can recall seven tourist fatalities in accidents involving two pangas, a kayak, and a small aluminum boat.

But the particular, mountainous topography that causes such westerlies in the Bahia de los Angeles fishing area and many other locations in the Midriff is also what makes it such an unforgettable place of harsh, wondrous desert beauty.

All along Baja's shores, there is no other nearly-landlocked, almost island-choked bay such as Bahia de los Angeles--none at all. And as that same steep topography continues below sea level to the underwater depths of the Midriff's fantastically profound marine channels, it is also partly responsible for the often excellent and always interesting fishing to be experienced here.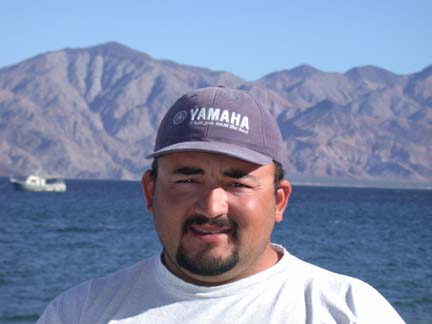 Top local Bahia de los Angeles fishing guide Igor Galvan is putting the finishing touches on a 30-foot ultimate panga fishing machine that will have full electronics.
Bahia de los Angeles is the most easily reached jumping off point for fishing access to the entire Midriff Area, which stretches some 90 miles, from the north end of large Isla Angel de la Guarda, down to about Punta San Francisquito in the south. Included in this remarkable area are at least 18 different islands or island groups, and a series of three very deep water, north-south channels quite unlike anything else in the Sea of Cortez.

Here, the Sea of Cortez narrows (hence the name "Midriff") to a mere 48 miles wide, and moreover, it is blocked by a series of large islands, leaving three major channels with a combined width of only 26 nautical miles. Even though these channels average only about 9 miles wide, they are close to a mile deep. To imagine the underwater topography, think of three parallel Grand Canyons filled with sea water, and with small islands separating them.

Each day, the tides raise and lower the level of the northern Sea of Cortez as much as 20 feet, and to do that requires a lot of water. All of this water must flow north and south through the Midriff's three channels, and it does so at such speeds that when it zips around points and the tips of islands, it can actually cause conditions similar to white water rapids.

Especially during the new and full moons, these fantastic currents cause all sorts of amazing effects, such as whirlpools, offshore waterfalls, "jumping water" that pops straight up and down, and eerie areas of total, glassy calm that trick the eye into seeing them as wide, bowl-shaped depressions in the surface of the sea.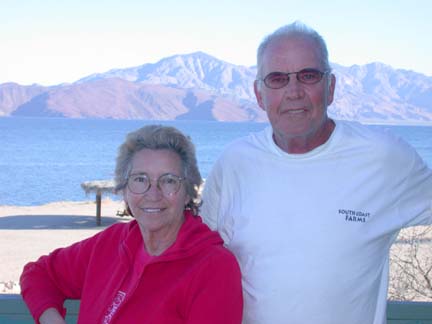 Raquel Duarte Fife and husband Larry at their beachfront motel just north of the Bahia de los Angeles fishing settlement on the shore of the Sea of Cortez.
These violent, chaotic currents flow vertically as well as horizontally, bringing cool, nutrient-rich water up from great depths to initiate the familiar nutrient-plankton-fish food chain.

In summer, these local cool currents, in the low-60s, mingle with very warm water, in the low-80s, coming in from both north and south, creating a habitat of complex water temperature gradients, plankton blooms, and fish runs of dizzying complexity. You see amazing things here. The waters of the greater Bahia de los Angeles fishing area rock and roll like no other part of the Sea of Cortez.
Thus, the Midriff is home to an extremely wide variety and richness of fish types, including all the usual suspects, plus a large roster of "weirdo" fish satisfying to the species hunter seeking to add notches to his or her lifetime list. If you'd like to become one of the very few Baja anglers who have caught a Pacific cutlass fish or a popeye catalufa on lures, this is your place.

Bottom fishing around Bahia de los Angeles with jigs and bait is productive all year-round, but the local resident reef action really is best from mid-June to about mid-November on such species as spotted bay bass, barracuda, leopard grouper (and their golden phase, called "golden grouper"), sierra, yellowtail, gulf grouper, triggerfish, ladyfish, jawfish, giant Humboldt squid, and to a lesser extent such species as halibut, minor cabrillas, black skipjack, puffers, lizardfish, and even roosterfish. If you fish deep, all kinds of other stuff will come up, much of which you can't identify, such as eels, flat fish, weird sculpins, strange "rockcod," scary lumpy things, etc., etc. It's a species bonanza!

Yellowtail are the top local quarry at Bahia de los Angeles, and inside the bay they can be found around the inner islands and points, with some of the best nearby action often centered around the northern end of large Isla Smith (also called Coronado), where there are warm-season 10 to 15-pound yellowtail caught on iron and bait in about 90 feet of water over various gravel bars. This fishing action typically is just getting started in May, when yellowtail are often found feeding on the surface, and it really gets going in June, peaks during the hottest summer months, and tapers off in November as the fish go deeper and deeper.

In January and February, another yellowtail fishery is available at Bahia de los Angeles, winds permitting, on what seems to be a completely different population of generally larger fish averaging about 15 to 25 pounds, at the Guadalupe Reef to the north. This deep winter hotspot is located roughly 7 miles north of Bahia de los Angeles' Isla Smith, and is only accessible on calmer days.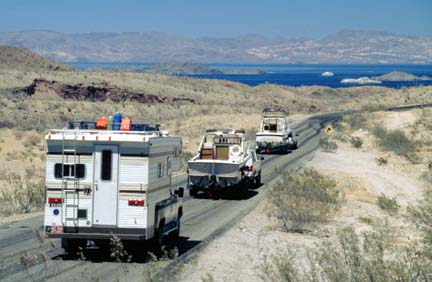 The breathtaking approach to island-filled Bahia de los Angeles, 40 miles off Mex 1, Baja California's Transpeninsular Highway.
Longer fishing runs to the outer channels, points and islands of the Midriff area give access to the productive and beautiful Refugio harbor at the north end of Isla Angel de la Guarda, the Snake Island reef at its south end, and the famed islands of "yellowtail alley" to the south of that: Islas Partida, Raza, Salsipuedes, Animas, and San Lorenzo. Here, and at coastal locations such as San Francisquito, Roca Bernabe, Ensenada Grande, Punta Remedios, and many others, the season peaks in the summer and early fall, and the locally available catch is joined by generally larger class fish, including yellowtail to over 50 pounds, big groupers, big white seabass, big pargos, a short but sometimes intense dorado run, and even a rare billfish now and then.

But Baja Sur's standard offshore "glamor fish"--marlin, yellowfin tuna, wahoo, and dorado--are not the Midriff's main event. Instead, the Midriff offers excellent yellowtail and bottom fishing, an amazing variety of species for the connoisseur, and easy access to Bahia de los Angeles, a remote fishing village little changed from the way it was during Baja's golden age of discovery from World War II until the Transpeninsular Highway was completed in 1973.

Actually, Bahia de los Angeles received the highway's first paved side road way back in 1974, but despite that promise and the fact that it is only one day's drive from the border, "L.A. Bay" just never developed as did San Felipe to its north and all of the coastal towns of Baja California Sur. That's fine with the present day residents of the village, and as a consequence the modern visitor to Bahia de los Angeles can--for a few more years at least--enjoy very easy access to a true "Old Baja" feel and ambiance, as well as some of the world's most beautiful and varied coastal seascapes, and very good fishing.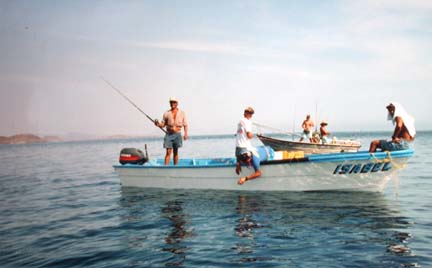 Veteran Bahia de los Angeles sportfishing guide Rafael "Rafa" Cuevas' well-known old panga Isabel.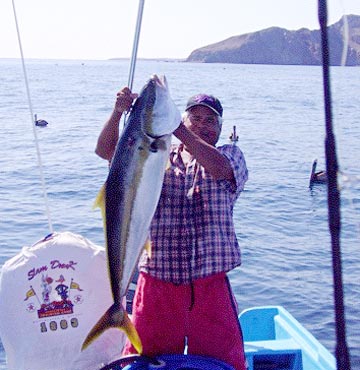 Cuevas in the summer of 2008 aboard his second panga Becky. Photo courtesy of Robert Cazares.
CONSTRAINTS TO FISHING: In summer, Bahia de los Angeles can be insufferably hot. It can be pretty dang cold in winter, too. And look out when the wind decides to blow. Because of the topography of the mountains surrounding the bay, the west wind, especially, can go from zero to over 50 knots in a matter of minutes.

ACCESS: No real issues. The road is paved all the way to Bahia de los Angeles from the U.S. border at Tijuana. The 40-mile side road from the Transpeninsular Highway is maintained better and better each year, but watch for potholes after the 25-mile point. For Baja neophytes, this is a look at what the whole Transpeninsular Highway used to be like.

ACCOMMODATIONS: Bahia de Los Angeles offers a variety of accommodations including dree, traditional, open beach camping at various locations including Punta la Gringa at the north end of the bay, eight miles from town, aeveral developed beach camps with tent spots, RV spots, cabanas, and simple rooms, and beachfront motels that serve meals.

FISHING: Bahia de los Angeles is home to perhaps a dozen pangueros who specialize in sport fishing.

LAUNCH RAMP: There are several serviceable, concrete launch ramps in town, but the best is located at Guillermo's restaurant and campground in the center of town. This add-on to the old Guillermo's ramp offers the best "reach" into the water at lower tides, and the slope can handle most any trailer boat. The new ramp is attached to the left side of the original Guillermo's ramp. There may or may not be a small fee charged for use of this ramp (usually not), so check at the store before use if you're so inclined. Offers a pleasant outdoor restaurant seating area beside the ramp, and the showers and restroom facilities of the campground. Semi-secure parking is in the campground or near the store.

"Mexico Fishing News":
Weekly reports and photos from Bahia de los Angeles and other Mexican vacation spots.

Other Mexican Vacation Fishing Spots:
Travel and fishing information for Bahia de los Angeles and other major Mexican sportfishing destinations.

Related Bahia de los Angeles Articles & Information:
Bahia de Los Angeles Still Remains.
Great Big Pangas at Bahia de los Angeles.
Midriff Islands Species Safari.
Yellowtail Fishing at Bahia de los Angeles.

Fishing Maps for the Bahia de los Angeles Area:
Bahia de las Animas Fishing Map.
Bahia de los Angeles ("L.A. Bay") Fishing Map.
Bahia de las Angeles Yellowtail Fishing Hotspots Map.
Midriff Islands Fishing Map.
Playa San Rafael Fishing Map.
Punta Remedios Fishing Map.
San Francisquito Fishing Map.
Sea of Cortez Midriff Area Yellowtail Fishing Hotspots Map.

Archived Bahia de los Angeles Sportfishing Reports:
Jan. 27-29, 2007, San Francisquito yellowtail fishing south of Isla San Lorenzo.
Jan. 7, 2007, Fishing inside the bay out of Larry and Raquel's Motel.
Jan. 3, 2007, The Baja Catch-style fishing with Rebel lures.
Dec. 27, 2007, Baja yellowtail fishing trip to Punta San Francisquito.
Nov. 22, 2006, Yellowtail and mixed species caught in fishing north to Punta Remedios.
Nov. 21, 2006, Yellowtail and grouper fishing, and mordida at Tijuana.
Oct. 10, 2006, Highway safety concerns and few visitors at Bahia de los Angeles.
Sept. 19, 2006, Two Big Roosterfish Caught South Of Bahia de las Animas, Mexico, Josh Schwartz.
Sept. 13, 2006, Good Fishing For White Seabass And Yellowtail, Harry Beckous.
Sept. 1, 2006, Drug Related Problems In Baja, Bahia de los Angeles, Baja California, Mexico.
Aug. 27, 2006, Good Dorado Action North Of The Village, Steve Barstow.
Aug. 15, 2006, Alejandro Rosas, Villa Vitta fishing tournament.
Aug. 10, 2006, Frank Navarro, Fishing at Bahia de los Angeles out of Casa Diaz.
Aug. 8, 2006, Jeff Riolo, Good dorado action with Capt. Guillermo Galvan.
Aug. 5-8, 2006, Mike Steele, Just missed the dorado at Isla Angel de la Guarda.
July 11, 2006, Terry Fair, Fishing with Capt. Marcos Blanco at Bahia de los Angeles.
July 8, 2006, Abraham Vazquez, Camp Gecko, Yellowtail fishing improved after a slow week.
June 28, 2006, Fly-in trip to Punta San Francisquito resort, Barry Webber.
June 27, 2006, Good yellowtail action at Bahia de los Angeles, Peter Lamy.
June 23, 2006, Chuck Decker, heavy bait, birds, and very good yellowtail fishing at San Francisquito, Mexico.
June 10, 2006, Jeff Riolo, fishing at Isla Angel de la Guarda, Mexico, with Capt. Guillermo Galvan.
June 9-12, 2006, Gil Marlin, Sandiegofishing.com, local fishing inside Bahia de los Angeles, Mexico.
June 9, 2006, Stan Woodward, fly-in trip to San Francisquito, Mexico, yellowtail fishing.
June 2, 2006, Chris Pennington, Daggett's Camp, Bahia de Los Angeles, Mexico, Fishing Report.
June 3, 2006, John Carroll, San Diego Rod & Reel Club, Bahia de los Angeles, Mexico, Fishing Trip Report.
Jan. 26, 2006, Abraham Vazquez, Camp Gecko, Bahia de los Angeles (L.A. Bay), Mexico Village and Sportfishing.
Jan. 18, 2006, Chuck Decker, San Francisquito, Mexico Fishing Report.
Jan. 16, 2006, Graham Mackintosh, Isla Angel de la Guarda, Sea of Cortez, Baja California, Mexico Trip Report.
Jan. 8, 2006, Tim Farwell, Baja Airventures, Bahia de Las Animas, Mexico Fishing Trip Report.
Jan. 6, 2006, Graham Mackintosh, Bahia de los Angeles, Isla Angel de la Guarda Two-Month Trip Report.
Jan. 6, 2006, John Carroll, Bahia de los Angeles, Mexico Sportfishing Trip Report.
Jan. 4, 2006, Brian Benson, Bahia de los Angeles, Mexico Panga Fishing Report.
Jan. 4, 2006, Harry Beckous, Bahia de los Angeles, Baja California, Mexico Sportfishing Report.
Jan. 3, 2006, Chris Pennington, Bahia de los Angeles, Mexico Fishing Report.
Dec. 31, 2005, Sam Koh, Bahia de los Angeles (L.A. Bay), Mexico Sportfishing Report.
Dec. 30, 2005, Abraham Vazquez, Camp Gecko, Bahia de los Angeles (L.A. Bay), Mexico Fishing Report.
Dec. 20, 2005, Abraham Vazquez, Camp Gecko, Bahia de los Angeles, Mexico Fishing Report.
Nov. 27, 2005, Abraham Vazquez, Camp Gecko, Bahia de los Angeles, Mexico Village Report.
Nov. 7, 2005, Abraham Vazquez, Camp Gecko, Bahia de los Angeles (L.A. Bay), Mexico Fishing Report.
Oct. 29, 2005, Roger Crenshaw, San Francisquito, Mexico Fishing Report.
Oct. 24, 2005, Abraham Vazquez, Camp Gecko, Bahia de los Angeles, Mexico Fishing Report.
Oct. 21, 2005, Tim Farwell, Baja Air Ventures, Las Animas, Bahia de los Angeles, Mexico Fishing Report.
Oct. 16, 2005, Barry Webber, San Francisquito, Mexico Fishing Trip Report.
Oct. 3, 2005, John Whitaker, San Francisquito, Mexico Fishing Trip Report.
Sept. 30, 2005, Abraham Vazquez, Camp Gecko, Bahia de los Angeles, Mexico Fishing Report.
Sept. 23, 2005, J.L. Terry, San Francisquito, Baja California, Mexico Fishing Report.
Sept. 20, 2005, Chris Okamoto, Bahia del los Angeles, Mexico Fishing Trip Report.
Sept. 18, 2005, Abraham Vazquez, Bahia de los Angeles, Mexico Fishing Report.
Sept. 11, 2005, Abraham Vazquez, Camp Gecko, Bahia de los Angeles, Mexico Fishing Report.
Aug. 27, 2005, Bob Wasilausky, Bahia de los Angeles, Mexico Fishing Trip Report.
Aug. 26, 2005, Abraham Vazquez, Camp Gecko, Bahia de Los Angeles, Mexico Fishing Report.
Aug. 19, 2005, Abraham Vazquez, Camp Gecko, Bahia de los Angeles, Mexico Fishing Report.
Aug. 18, 2005, John Segoria, Bahia de los Angeles, Mexico Fishing Report.
Aug. 12, 2005, Roger Crenshaw, San Francisquito, Mexico Fishing Report.
Aug. 7, 2005, Abraham Vazquez, Camp Gecko, Bahia de los Angeles, Mexico Fishing Report.
Aug. 5, 2005, Roger Crenshaw, San Francisquito, Mexico Fishing Report.
Aug. 4, 2005, Jason Jarrard, Bahia de los Angeles, Mexico Fishing Trip Report.
July 30, 2005, Abraham Vazquez, Camp Gecko, Bahia de los Angeles, Mexico Fishing Report.

More archived Bahia de los Angeles Sportfishing Reports:

(See weekly online fishing reports, news, photos, and weather and water conditions in "Mexico Fishing News." See the Mexfish.com home page for sportfishing and travel information for Bahia de los Angeles and other Mexican fishing vacation destinations.)