By Gene Kira, June 30 2003, as published in Western Outdoor News:

If you stand in the parking lot of Bahía de los Angeles' Casa Diaz and look toward the motel rooms, you'll see a row of bony little trees, braving the Mexican sun and trying their best to cast shadows on the hot dirt.

I don't know how long those trees have been there, but they were there on my first Baja trip--many, many moons ago--and they haven't grown a whole bunch since then, if they've grown at all.

Whenever I pass through Bahía de los Angeles, often referred to by Americans as "L.A. Bay," I drive up to the first tree on the left, and I put my hand on its rough trunk and I give it a pat, for it was under those poor, scrawny branches that I spent my first night in Baja.
It was a blazing hot September night, under a dome of huge stars, and the thing I remember most was the bats, turning and cutting all around me, and the shooting stars that would leave long trails of embers across the sky that seemed to last forever.

While fishing the next morning, we would run into a yellowtail bite that, for better or worse, would become a touchstone for the rest of my life, but as I lay down to sleep that first night, the main thing was the bats and stars--and the incredible Milky Way, that was so bright, it took me half the trip to realize that it wasn't a cloud.

You don't camp in front of Casa Diaz anymore, of course, but last week I was reminded of that first Mexico fishing trip, when I spent a few nights with Abraham Vazquez at his quiet beach front Camp Gecko, about four miles south of the village.

Abraham (pronounced ah-bram') is a real live physician who has been running Camp Gecko since he established it eighteen years ago, and even today the feel of the place is still evocative of what Bahía de los Angeles was like on my first trip, twenty-two years before that.
One night, after all the camp guests had settled in, we sat on some rocks near the water and waited for the moon to rise over the mountains across the bay. I was fascinated to hear Abraham's stories of how the traditional social fabric of the village has been affected by such outside distractions as television, and by such modern issues as environmental degradation and drug abuse. Which is better, to preserve the false innocence of Rousseau's noble savage, or accept the challenges of the modern world as the price of "progress"? I guess we didn't answer that eternal Baja conundrum, which, of course, will inevitably find its own resolutions anyway, without the help of such amateur beach philosophers as us.

As the darkness deepened over the bay, the bats came out, and Abraham showed me how their fantastically acute sonar systems allow them to track and chase small pebbles flicked into the air around them.

At four a.m. the next morning, I was standing beside my cot, in the silent moonlight, diligently rubbing in a good coat of sun block for the coming day on the water. There had been just a light breeze all night long, and the water of the bay was so glassy black and still, you could see individual stars reflected in it.

In the blackness, somewhere out there just past Isla Horsehead, the descendants of my first yellowtail--forty spawns removed from that first trip to Bahía de los Angeles--were cruising over the bajos, waiting for us. And back in the village, those small trees, clinging to life in the parking lot of Casa Diaz, were quietly gathering their strength to withstand yet another withering day of fire in the Baja sun.

Despite all the changes and all the years, Mexico's remote fishing village of Bahía de los Angeles still remains.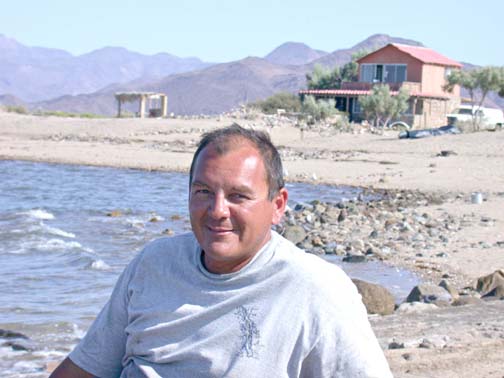 VILLAGE DOC--Dr. Abraham Vazquez at Camp Gecko, which he established on the shore of starkly beautiful Bahía de los Angeles 18 years ago. Photo by Gene Kira.
(Related Bahia de los Angeles (L.A. Bay) articles and reports may be found at Mexfish.com's main Bahia de los Angeles (L.A. Bay). See weekly fishing news, photos, and reports from the major sportfishing vacation areas of Mexico including the Bahia de los Angeles (L.A. Bay) area in "Mexico Fishing News.")