CABO SAN LUCAS, MEXICO: At Fly Hooker Sportfishing, Capt. George Landrum said dropping water temperatures were still holding as high as 81 degrees, but inshore water was cooler and cloudy after Thursday's rains. About the surprising run of mixed billfish, Landrum said, "What a strange week! There are still blues and a few blacks being caught, and a lot of striped marlin. Toss in a mix of sailfish, and just about every billfish we have available here in Cabo was around this week. Anything in dorado colors seemed to work will on the billfish, likely because there are so many of them around right now. Most of the bite has been on the Pacific side from 2 miles to 10 miles offshore."
"The average size dorado is up to around 20 pounds, and there have been plenty of them around. A lot of the action was within 2 miles of the beach. The key was finding frigate birds and getting in a pass with the lures. If you hooked up, drop back some live baits and wait for the action. Most boats were able to meet the 2 dorado per angler limit."
CABO SAN LUCAS, MEXICO: Larry Edwards of Cortez Yacht Charters said Gaviota Fleet's dorado counts jumped last week, with a combined catch including released fish of: 13 striped marlin, 2 sailfish, 3 wahoo, 15 yellowfin tuna, and 292 dorado.
In other mainland Mexico and Baja fishing action this week:
ENSENADA FISHING REPORTS
ALL ARTICLES, REPORTS AND FISHING INFORMATION FOR ENSENADA
ENSENADA, MEXICO: Local boats continued to find excellent catches of bottom fish last week. Sammy Susarrey of Lily Fleet said a private boat fishing at Punta Santo Tomas on Friday found a heavy catch of lingcod, sheephead, red snapper, and bass in about 100 feet of water, on plastics, jigs, and live bait. Earlier, the Tamara fished about 200 deep at Maximino Reef for early limits including a 30-pound white seabass, lingcod of 5 to 8 pounds, red snapper of 4 to 5 pounds, and salmon grouper to 8 pounds. "It looks like this year will be an early season for white seabass," Susarrey said. Locally, the Lily fished at Punta San Miguel for scattered barracuda and sand bass.
ENSENADA, MEXICO: Vonny's Fleet pangas were catching easy limits around the tip of Punta Banda on rockcod, lingcod, cabezon, calico bass, sand bass, and a few bonita. Ivan Villarino reported excellent catches on assorted swim baits for "Calico Brian" Foley and his wife Joanne of Playa del Rey, CA and for Gary Griffin and his family from Encinitas, CA. On Saturday, Ed Percell of Los Angeles fished with friends and caught a 16-pound lingcod on anchovies. Punta Banda weather was partly cloudy in the mid-60s, with water temperatures of about 60 degrees.
ENSENADA, MEXICO: Dennis Spike of Coastal Kayak Fishing said he'll be taking advantage of the good Punta Banda conditions when he leads of group of kayak anglers to Ensenada this weekend, Dec. 6-8. The inexpensive trips are designed for both novice and experienced kayak anglers, Spike said.
ENSENADA, MEXICO: Earlier, David Henderson fished out of Marina Coral on the 36-foot Riviera, Wide Open, with Capt. Jeff Jones, Brett Clark, Tim Slevcove and Tom McInally. "Although nothing except skipjack would tackle the trolled jigs, the crew were able to pick up 4 quality albacore in the 40-pound class on live bait and chrome jigs," Barbara Henderson reported. "Surprisingly enough, all of the albies were taken on 6 to 10-inch Spanish and green mackerel. Sixteen to 18 yellowtail taken off kelp paddies rounded out an excellent day."
PUERTO SANTO TOMAS FISHING REPORTS
ALL ARTICLES, REPORTS AND FISHING INFORMATION FOR PUERTO SANTO TOMAS
PUERTO SANTO TOMAS, MEXICO: Sam Saenz of Puerto Santo Tomas Resort said good water conditions prevailed over Thanksgiving, despite a gentle rainfall of about 3/8ths of a inch. "The light rain did not affect the ocean water," Saenz said. "The water was calm and clear, which made for good fishing." Mike Romero and David Hendrickson of Orange County, and Carlos Fernandez and his wife from Redondo Beach fished last week for limits of lingcod to 10 pounds, whitefish, rockcod, and sheephead.
Saenz said several thresher sharks were also seen on the surface, and there was a lot of boiling bait and bird activity in the area. Another angler worked the kelp beds with plastics at Soledad Bay and landed several calico bass to 7 pounds.
SAN QUINTIN FISHING REPORTS
ALL ARTICLES, REPORTS AND FISHING INFORMATION FOR SAN QUINTIN
SAN QUINTIN, MEXICO: Jim Harer of the Old Mill Hotel said the weather was mostly sunny and calm despite a brief spell of rain. El Capitan Sportfishing and Pedro's Pangas sent 15 boats out during the week for limits of lingcod, rockcod, whitefish, sand bass and calico bass, in water temperatures averaging about 64 to 65 degrees. White seabass were also caught to 50 pounds, and some yellowtail were found at Isla San Martin. Vince Delgado and Jose Luna won first and second places in a local tournament last week with an 18-pound lingcod and a 12-pound yellowtail, respectively. "They were very happy," Harer said. "They said, 'It sure pays to fish!'"
BAJA COASTAL FISHING REPORTS
ALL ARTICLES, REPORTS AND FISHING INFORMATION FOR BAJA COASTAL AREAS
BAJA CALIFORNIA, MEXICO: Enrique Achoy of Malarrimo Eco-Tours confirmed early reports of gray whales sighted off Cabo San Lucas and Bahia Magdalena, saying that the first whale has been sighted at Scammon's Lagoon. The main migration group is expected to begin arriving in the next few weeks.
MAGDALENA BAY FISHING REPORTS
ALL ARTICLES, REPORTS AND FISHING INFORMATION FOR MAGDALENA BAY
MAGDALENA BAY, MEXICO: Gary Graham of Baja On The Fly reported continued good catches of striped marlin, dorado, and wahoo at the Thetis Bank and south toward Punta Tosca. "Look for the bird schools crashing on sardines," Graham said. "There are still some quality yellowtail down deep at the entrada. Up in the esteros, snook, pargo and corvina provided good action." Graham said his first mangrove trip of the season will be Jan. 3-7. San Carlos weather was clear and calm in the low-70s, with local water temperatures of 72 to 79 degrees. Graham reported corvina active throughout the bay, and the best snook catches made near Lopez Mateos. Schools of sierra were seen from San Carlos south to the entrada.
SAN JOSE DEL CABO (LOS CABOS) FISHING REPORTS
ALL ARTICLES, REPORTS AND FISHING INFORMATION FOR SAN JOSE DEL CABO
SAN JOSE DEL CABO, MEXICO: Eric Brictson of Gordo Banks Pangas said rain and cloud cover lowered water temperatures to 76 to 77 degrees last week, and cloudy, green conditions put a damper on fishing.
Local boats were landing about 2 to 10 fish per day of mixed species including football yellowfin tuna, skipjack, wahoo, sierra, pargo, striped and blue marlin, and a few sailfish, primarily on abundant live sardina baits.
"Sardina were the baitfish of choice," Brictson said, "especially for a chance at catching the tuna. Lots of skipjack at times dominated the action, but on other days the yellowfin tuna would take over, and anglers were able to catch as many as 6 to 10 fish in the 10 to 20-pound class."
Brictson said the most consistent tuna action came from Red Hill to Cabo San Lucas. Dorado averaging 10 to 15 pounds were found in the same area, often near debris washed down by the rains. Only a few wahoo were caught, most north of Punta Gorda.
SAN JOSE DEL CABO, MEXICO: Randy Morishita of Carlsbad reported on a trip fishing with Gordo Banks Pangas together with Maged Mohammed Rasheed Ali: "My friend and I, as usual, had a great time fishing with Eric Brictson's guys for four days. Sporadic tuna bite inside, but plenty of variety to keep things lively. A quadruple hookup on tuna one day would have made a good video, as three of the four were miraculously landed. I caught about a 60 to 65-pound amberjack off the bottom, thanks to our guide, Jesus."
EAST CAPE FISHING REPORTS
ALL ARTICLES, REPORTS AND FISHING INFORMATION FOR EAST CAPE
EAST CAPE, MEXICO: Tami Moyeous of Rancho Buena Vista said 33 boats chartered last week had a combined catch including released fish of: 9 striped marlin, 8 sailfish, 12 roosterfish, 58 dorado, and 78 yellowfin tuna. "Great catches!" Moyeous said.
EAST CAPE, MEXICO: Gary Graham of Baja On The Fly said last week's rain brought little wind, and fishing stayed good for the few boats that went out. Quality dorado to 40 pounds were caught, in addition to striped marlin and 1 blue marlin reported. East Cape weather was in the high 70s with water temperatures of about 79 degrees. Overall, Graham called it "Remarkably good fishing for billfish and dorado this week."
On the beaches, Graham said, "The area in front of the arroyo next to Scott Glenn's house went off big time. Schools of sardina were being pounded by a variety of fish, including small roosters, jacks, ladyfish, and pompano." There were plenty of sierra hanging around the bait receivers off La Ribera, and for pargo and cabrilla in windy conditions, Graham recommended trying the sheltered rocky points heading north toward Punta Pescadero.
EAST CAPE, MEXICO: Gary Barnes-Webb of Rancho Leonero said there was, "excellent fishing to go with the great weather, with marlin, tuna, and dorado all active. A strong striped marlin bite all week, with lots of tailers readily taking live bait, spread throughout the bay. Anglers searching out tuna found schooling fish under porpoise about 25 miles north. The shark buoys off Punta Pescadero were producing lots of dorado every day this week, with some larger fish to 40 pounds mixed in with 15 pounders, taking mostly live sardinas. Kayakers and beach fishermen took big jacks, roosters, and pargo all week."
EAST CAPE, MEXICO: Pepe Murrieta of Pepe's Dive Service said surface water temperatures at Cabo Pulmo averaged 78 degrees, with 70-foot visibility. "The diving has been very good lately," Murrieta said. "We have been diving off Los Frailes Bay due to the north wind. Los Frailes has a submarine canyon, about 750 feet. There are a good number of good dive sites, including a coral reef."
Murrieta said biologists estimated that about 7 percent of the Cabo Pulmo coral has died recently, but they were waiting to see what happens next to determine if that represents a trend. "I have never seen so much dead coral," Murrieta said, "but coral grows on dead coral, so we are still waiting for the results."
EAST CAPE, MEXICO: Mark Rayor of Vista Sea Sport said, "Today was beautiful. The wind and rain the last few days did not hurt conditions. Water is still in the high-70s, clear and blue. Huge schools of manta and bat rays are cruising the reefs. The weather is the nicest it has been in recent history at Thanksgiving time."
LA PAZ FISHING REPORTS
ALL ARTICLES, REPORTS AND FISHING INFORMATION FOR LA PAZ
LA PAZ, MEXICO: Jonathan Roldan of Tail Hunter International talked about the unusually favorable late-season conditions: "You'd really never think that it's the Christmas season, the way the fish bit this past week. It's more like August!"
Roldan said bait has been plentiful, and flurries of dorado have been moving in at Los Muertos. "There were a few off days," he said, "but the bite has been steady on fish from 10 to 20 pounds with some larger up to 30 pounds. Yellowfin tuna were also caught off the south side of Isla Cerralvo, including fish of 40 to 80 pounds, in water temperatures hovering at about 75 degrees.
LA PAZ, MEXICO: Hugh Cobb of Oceanside's Pacific Coast Bait and Tackle fished the Las Arenas area with Mike Mercado of Fallbrook and Ron Casapulla of San Marcos for what he called "mediocre results" on a few dorado. "A few bigger dorado are being taken, but we didn't get any," he said. "The guys targeting roosters are doing quite well, but there isn't much else except for the dorado."
Cobb also fished at San Jose del Cabo with nine members of the Oceanside Senior Anglers. "There was not a lot of action although everybody seemed to be catching a few fish, mainly dorado and small yellowfin," Cobb said. "A fair number of wahoo were on the cleaning tables. Those went mainly to anglers who were lucky enough to locate chihuil for bait. Walt Soper of Fallbrook was the lucky guy on this trip, nailing a 108-pound yellowfin."
LA PAZ, MEXICO: David Jones of Fishermen's Fleet said boats were finding good numbers of middle-sized dorado from the south end of Los Muertos to the Punta Arena lighthouse, and out across the channel to Isla Cerralvo. "The big news, along with the ideal weather, has been the discovery of some tuna that have sardines on their minds," Jones said. Some tuna were caught from 35 to 80 pounds, in addition to a sailfish estimated at "a solid 200 pounds" at the island.
LORETO FISHING REPORTS
ALL ARTICLES, REPORTS AND FISHING INFORMATION FOR LORETO
LORETO, MEXICO: Arturo Susarrey of Arturo's Sportfishing said some north winds blew last week, and weather was in the 80s with water temperatures of 80 to 82 degrees. Grouper and yellowtail of 15 to 18 pounds were being caught around Isla Danzante to the south.
LORETO, MEXICO: Pam Bolles of Baja Big Fish Company said she's been running out to the east side of Isla Danzante after launching at Puerto Escondido "for a nice and easy day of fishing." The preferred mackerel live baits were sometimes hard to find in the area. "If you motor to Danzante from Loreto, take lots of mackerel with you," Bolles said. "Off Punta Coyote there is bait, but mostly sardines. We fished there on Sunday, and only managed to get three macks. When we sent down our mackerel, we got bit immediately. These fish command your attention. We broke off three times on 50-pound test and lost a few other fish. We saw an estimated 50 pounder brought in right next to us. This spot it hot right now."
Bolles said there are also large yellowtail, amberjack, and cabrilla being caught on the east side of Isla Catalan. In addition, an estimated 25-pound dorado was caught off Isla Danzante. At Villas de Loreto, Wendy Wilchynski said visitors have been bringing in yellowtail and late-season dorado.
SANTA ROSALIA FISHING REPORTS
ALL ARTICLES, REPORTS AND FISHING INFORMATION FOR SANTA ROSALIA
SANTA ROSALIA, MEXICO: Ross White returned from San Lucas Cove with reports of good catches of trolled up sierra and barracuda off Haystack, plus bass and lots of black skipjack released. Large 25 to 30-pound yellowtail were also caught on trolled Rapalas. "We broke off 50-pound test three times," White said, "loosing Rapalas to some of the larger yellowtails that got back to the rocks. We managed four nice 20 to 25 pounders."
On a windy final day of fishing, White said he caught and released 4 very large skipjack and 3 very large barracuda, lost 2 more yellowtail, and finally brought 1 of them into the boat.
On the trip home, White said, "As usual, driving back to the States, the Cortez was a beautiful mirror-flat blue in my rear-view mirror as I headed up the Cuesta del Infierno from Santa Rosalia." At Mulege, White said Alex at the Hotel Serenidad reported clients had caught 7 dorado on Friday.
SANTA ROSALIA, MEXICO: Jim Mori also reported on anglers out of San Lucas Cove landing both Pacific amberjack and Fortune jacks off the north end of Isla San Marcos.
SAN FELIPE FISHING REPORTS
ALL ARTICLES, REPORTS AND FISHING INFORMATION FOR SAN FELIPE
SAN FELIPE, MEXICO: Bob Castellon of Sea of Cortez Sportfishing reported on a trip to Bahia Magdalena by the panga mothership Celia Angelina, fishing Nov. 2-21 out of San Carlos for a catch including released fish of: 78 striped marlin to 200 pounds, 1 blue marlin, 20 wahoo to 75 pounds, about 50 dorado to 38 pounds, over 300 yellowtail to 57 pounds, 9 white seabass to 43 pounds, 28 yellowfin tuna to 29 pounds, numerous halibut, 18 snook to 19 pounds, and "many others I could not I.D." Four of the total 79 marlin were kept after they could not be successfully released.
Castellon said the fishing was relatively slow the first two weeks, and then turned on. Castellon said he saw, "plentiful sea life everywhere we went. There were birds, seals, four different species of sea turtles, lots of red crabs in the water, and at times I thought we were going to be swamped by the porpoise activity. The main snap was between the Thetis and the 23, also between the 23 and Uncle Sam Bank. All the high spots held fish."
Castellon said weather was 77 to 82 degrees, and water temperatures between 68 and 73 degrees. He added that he is undergoing tests after experiencing chest discomfort during the trip. "I want to thank all who helped me on board with my medical problems. At this time I'm undergoing further tests to determine exactly what happened."
SAN FELIPE, MEXICO: At San Felipe, Catalina Meders of the Title Company Bookstore overlooking the bay said the Alto Golfo got two days of unusual rain over Thanksgiving. "Rain is a very unusual happening here," she said. "The average is about two-and-a-half inches a year! People were walking around smiling and marveling. From all reports, everyone in the U.S. community had a wonderful Thanksgiving, despite being wet. I know I did."
MAZATLAN FISHING REPORTS
ALL ARTICLES, REPORTS AND FISHING INFORMATION FOR MAZATLAN
MAZATLAN, MEXICO: Geronimo Cevallos of Aries Fleet went surf fishing last week and reported 12 roosterfish released, all over 25 pounds, and the largest 48 pounds. Cevallos fished from the beach about 4 miles north of Marina el Cid, casting up to 160 yards from shore with a 13-foot carbon rod and a 4-ounce Ranger lure.
MAZATLAN, MEXICO: Larry Edwards of Cortez Yacht Charters reported Aries Fleet boats with a catch including released fish of: 2 blue marlin, 60 sailfish, 1 striped marlin, 13 yellowfin tuna, 21 dorado, 49 roosterfish, 43 red snapper, 22 jack crevalle, 6 corvina, and 22 triggerfish. Mazatlan weather was occasionally rainy, in the mid-80s, with water temperatures about 80 degrees.
IXTAPA ZIHUATANEJO FISHING REPORTS
ALL ARTICLES, REPORTS AND FISHING INFORMATION FOR IXTAPA ZIHUATANEJO
IXTAPA ZIHUATANEJO, MEXICO: Local guide Ed Kunze reported 84-degree blue water a mile off the beach and boats averaging 2 to 3 sailfish per day, plus a couple of dorado of 20 to 25 pounds. The best fishing area was 12 to 16 out of Zihuatanejo Bay on a heading of 180 to 200 degrees. Inshore, boats were landing 3 to 4 roosterfish per day to about 40 pounds.
IXTAPA ZIHUATANEJO, MEXICO: Paul Phillips of the Fintastic Total Tag & Release Tournament said occasional large yellowfin tuna, including one of 176 pounds, are being caught, and large barracuda were caught by boats fishing at night. Local captains are increasingly supportive of the tag and release program, Phillips said. Last week, he brought over 300 fish tags to town for use by local boats.
IXTAPA ZIHUATANEJO, MEXICO: Stan Lushinsky of Ixtapa Sportfishing Charters said Dale Yuzer from Seattle fished with Capt. Chiro and landed 5 sailfish in one day, and Vick Kitchingham of London landed 8 roosterfish, 1 yellowtail jack, and 1 bonito with Capt. Adolpho on the Dos Hermanos.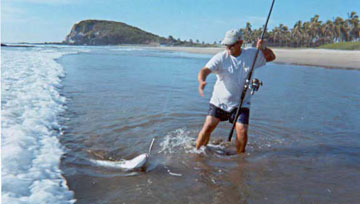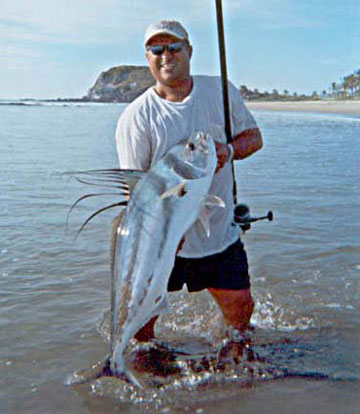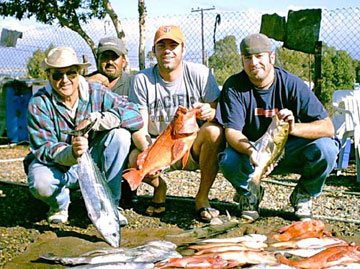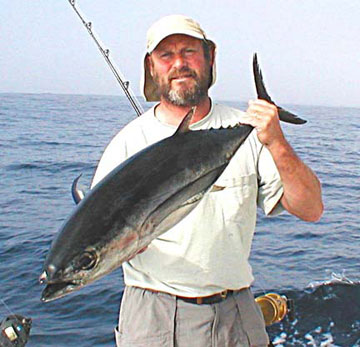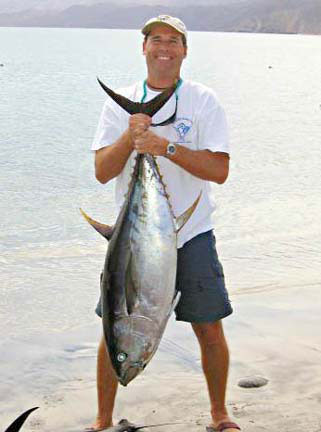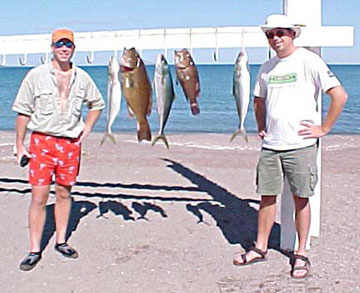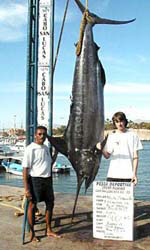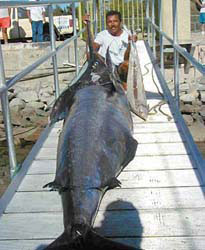 Baja coastal fishing reports and articles.
Ensenada fishing reports and articles.
Puerto Santo Tomas fishing reports and articles.
Erendira fishing reports and articles.
San Quintin fishing reports and articles.
Magdalena Bay fishing reports and articles.
Cabo San Lucas fishing reports and articles.
San Jose del Cabo (Los Cabos) fishing reports and articles.
East Cape fishing reports and articles.
La Paz fishing reports and articles.
Loreto fishing reports and articles.
Mulege fishing reports and articles.
Santa Rosalia fishing reports and articles.
Bahia de los Angeles (L.A. Bay) fishing reports and articles.
San Felipe fishing reports and articles.
Rocky Point (Puerto Penasco) fishing reports and articles.
San Carlos (Sonora) fishing reports and articles .
Mazatlan fishing reports and articles .
Puerto Vallarta fishing reports and articles.
Ixtapa Zihuatanejo fishing reports and articles.
Huatulco fishing reports and articles.
Cancun fishing reports and articles.
Mexico coastal fishing reports and articles.
Mexico Fishing Home Page < Mexico Fishing News Archives < Fishing Report