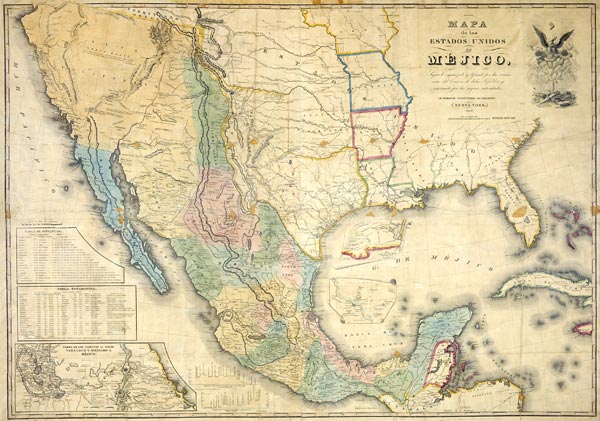 Mexico map, published by J. Disturnell, 102 Broadway, New York, 1847 (WIKIPEDIA.ORG).
Mexico fishing articles, maps, fishing reports, peak seasons, hot spots, and vacation travel information for the top sportfishing locations of Mexico, Mexico.

Mexico's roughly 10,000 kilometers of fishable coastline, hundreds of islands, and scores of sportfishing vacation destinations offer a virtually unlimited range of charter fishing boats and travel services of every type for the tourist angler.

In Mexico, you might fly to a five-star tropical resort and fish far offshore only for "granders" aboard a 70-foot luxury yacht if you wish, or you may risk life and limb during a week of four-wheel-drive madness and finally launch your kayak, inflatable or "tin boat" at a beach so remote and wild that a starving coyote and her pups become welcome "pets" in your camp.
Fantastic variations of all types await any angler able to explore Mexico's huge galaxy of sport fishing waters, including the lifetime opportunity of catching literally hundreds of species of fish that will hit a fly, other artificial lure, or bait.
In the Fish Identification Photo section of this website are pictures of about 300 species of fish caught in Mexico, including more than 250 species photos submitted by a single angler, John Snow, who continues to add to his record, almost entirely achieved by fishing on one Mexican skiff, from one beach, with a single Mexican fisherman, or "panguero" in Spanish.

While John Snow's life list is truly remarkable and achieved by a very skilled specialist fishing in very familiar waters, it must be remembered that Snow fishes mostly out of only one, admittedly outstanding, location (La Playita beach, San Jose del Cabo, Baja California Sur), and it is therefore arguable that any angler possessing sufficient knowledge, time, and dedication might aspire to match him while moving from place to place in Mexico's amazingly diverse and rich fishery (good luck, amigo!).

How is this so? Returning to those roughly 11,000 kilometers, or about 6,800 miles, of fishable Mexican coastline, we see that not only is this vast distance distributed along the shores of four major bodies of water (Pacific Ocean, Sea of Cortez, Gulf of Mexico, and Caribbean Sea) on Mexico's Pacific and Atlantic coasts, but also that it spans a majestic 18 degrees of latitude. That's roughly 1,200 miles of straight north-and-south distance, from Tijuana, Baja California, to Tapachula City, Chiapas, at the Guatemalan border.

The east-west span of Mexico's sportfishing coastlines is equally impressive, reaching across three time zones and about 1,500 miles of longitude from the foggy, rock-bound cliffs of Ensenada, south of San Diego, California, to the tropical, sandy, fly fishing flats of the Yucatan Peninsula near the famous vacation resorts of Cancun and Cozumel.
All this distance, spread over a relatively large part of the world's surface and subject to the currents of the east, west, north, and south coasts of four very different major bodies of water, provides a fantastic range of habitats for different marine species in Mexico.

Taking ocean surface water temperature as a handy, albeit narrow, paradigm for judging the diversity of fish habitats found in Mexico, one need only note that a maximum range of over 50 degrees Fahrenheit might easily be recorded during a single season, from a low of about 48 degrees in the upwellings of the California Current system on the Pacific coast from Ensenada to about San Quintin, to a blood-warm, southern high of about 92 degrees in the deeply tropical Equatorial Counter Current system near the Guatemalan border, and also in the upper reaches of the Sea of Cortez. Moreover, even a single-day water temperature reading might produce an amazing differential of about 35 degrees in those areas, as well as everything in between, found somewhere in those 11,000 kilometers.

And nestled between Mexico's Baja California peninsula and its mainland coast along the states of Sonora and Sinaloa is the crown jewel of its many fisheries, the 700-mile-long Sea of Cortez, also known as the Gulf of California, or sometimes misleadingly as Mexico's "fish trap."

The Sea of Cortez does not actually "trap fish," as many an observer and writer has surmised, ingenuously or not. But its fantastic range of depths, nutrient rich upwellings, and tremendous tidal currents does create a tumultuous petri dish of sea water, pounded by incessant, life-giving desert sun, than cannot help but "create life" of such volume and diversity that it is fully capable of blowing the minds of first-time observers.

For all of us who have lived our lives in the ecological disaster we have created called "civilization," this spectre and diversity of fish and other marine animals swimming, leaping, devouring, reproducing, and displaying every form unimaginable, of beauty and strangely seductive grotesqueness as well, can not only be a bit frightening at first, but also changes ones perception of what the world is, and perhaps what it could be again.

On this Mexfish.com website, then, is presented information about sportfishing and vacation travel in these unique waters, in the hope that one day Mexico's tourism industry, people and government will see fit to preserve this beauty and wonder for the perpetual benefit, enjoyment, and edification of all.

"Mexico Fishing News":
Weekly sportfishing reports and photos from Mexico.

Mexican Vacation Fishing Spots:
Travel and fishing information for major Mexican sportfishing destinations.

Sportfishing Destination Pages:
Baja California
Ensenada
Puerto Santo Tomas
Erendira
San Quintin
Magdalena Bay
Cabo San Lucas
San Jose del Cabo ("Los Cabos")
East Cape
La Paz
Loreto
Mulege
Santa Rosalia
Bahia de los Angeles ("L.A. Bay")
San Felipe
Rocky Point (Puerto Penasco)
San Carlos
Mazatlan
Puerto Vallarta
Ixtapa Zihuatanejo
Huatulco
Cancun

Mexico Fishing Articles & Information:
Photos of Sea Turtle Egg Harvest
Rainbow Trout Fishing in Mexico.
Acapulco Happenings at TIANGUIS.
Alto Golfo Fisheries Battle Looms in Mexico.
A Mexican Tale: Fox, Sharks, Ducks & Whales.
Big Mexico Fisheries Conservation Win for Baja Sur.
Defenders...of What?
Don Julio's Complaint.
Endangered Totoaba Left High and Dry in Mexico's Sea of Cortez.
Figuring Fishing Reel Line Capacities for Mexico Travel.
Fisheries Policies Beseiged from Baja to Mexico City.
Fishing for Science: Totoaba Survey Cruises.
Ganions, Ganglions, or Gangions?
Guillermo Alvarez: Mexico's Lone Ranger of Marine Conservation.
History of the Totoaba: Mexico's Gigantic, Marlin-Sized Croaker.
How Old Is That Fish? Myth vs. Hard Data.
Insights Into Mexico's Commercial Fishing "By-Catch."
Ken Jones' Tuna Pick.
Law at Alto Golfo.
Mexican Fisheries Policy: Revillagigedos Fog Lift.
Mexican Fishing License Games.
Mexican Sportfishing Regulations: Some Interesting Surprises.
Mexico Commercial Fishing: Business as Usual.
Mexico Fish I.D. Photos.
Mexico Fishing Reports Editor.
Mexico's 30-Mile Fishing Problem.
Mexico's Fisheries: Art of the Possible.
Mexico's Presidential Election: Dancing In The Streets.
Mexico's Revillagigedo Islands Fishery Redux?
Mexico's Sea of Cortez as "Fish Trap."
Mexico's Sea Turtles: Let Them Live.
Mexico's Shark Norma is Finito.
Mexico Stands Tough on Island Fisheries Closure.
Mexico Surf Fishing Licenses.
Mexico's Guardian Angel: Emergency Medical Evacuation.
"Ninety Percent" Vindication for Mexico's Embattled Fisheries.
One-Thousand Dorado Carnage.
Revillagigedo Islands Fishing in Focus.
Revillagigedo Islands: Mexico Slams Door on Long Range Fishing Trips.
Revillagigedo Reflections.
Revillagigedos: A Grinding Of Axes.
San Ignacio Lagoon Has Value Beyond the Sum of its Parts.
Shotgun Fishing: Ripping Lip During Jig Strikes, by Steve Ross.
Sonora Breakfast Bonanza.
Throwing a Marker Flag on Jig Strikes, by Steve Ross.
Visit to Mexico's Isla Socorro.
Winds of Change in Mexico's Fisheries Policy.

Archived Mexico Coastal Sportfishing Reports:
March 9, 2007, Mexican beach fishing for pompano a success with sand flea baits.
March 3, 2007, Peto, pompano, and world record giant candy for Mexican coastal town.
Feb. 27, 2007, Jeff Klassen of Cabo San Lucas Mexican fishing report from Costalegre.
Feb. 25, 2007, Atlantic Mexico snook fishing tournament.
Feb. 10, 2007, Good weather and fishing return to Veracruz coast.
Dec. 16, 2006, Atlantic Mexico fishing produces big catches or red snapper.
Dec. 2, 2006, Good king mackerel and shrimp fishing along the Veracruz coast.
Nov. 24, 2006, Weeds slow surf fishing after Atlantic Mexico coastal rains.
Nov. 17, 2006, Atlantic Mexico fishing and diving at Tecolutla, David Burns, Restaurant El Manglar.
Nov. 11, 2006, Multi-species spearfishing at Tecolutla and a trip to Puerto Escondido, Mexico.
Oct. 20, 2006, Very good calico bass and white seabass fishing near Isla San Geronimo, Bob Selvin.
Oct. 14, 2006, Commercial fishing good but beach casting slow at Tecolutla.
Oct. 7, 2006, A commercial bottom fishing trip at Tecolutla, Mexico.
Sept. 30, 2006, Fishing For Mixed Species At Tecolutla, Near Veracruz, Mexico, David Burns.
Sept. 26, 2006, Tournament Fishing Pressure Unsustainable For Slow-Growing Fish Species, Bert Schramm.
Sept. 23, 2006, Fishing At Tecolutla, Veracruz, Mexico, David Burns.
Sept. 9, 2006, Fishing At The Atlantic Coast Mexican Town Of Tecolutla, David Burns.

(See weekly online fishing reports, news, photos, and weather and water conditions in "Mexico Fishing News." See the Mexfish.com home page for sportfishing and travel information for Mexico and other Mexican fishing vacation destinations.)