Other late-week boats reported up to 3 or 4 striped marlin per day, plus a scattering of dorado and 15 to 25-pound yellowfin tuna caught at the Jaime Bank. Pisces Fleet boats were reporting water temperatures as low as 69 to 70 degrees on the Pacific banks, and inshore fishing was reported good for sierra and pompano.
CABO SAN LUCAS, MEXICO: HOTEL SOLMAR SUITES boats were again concentrating their efforts off the Old Lighthouse and doing well on striped marlin and dorado found under debris, but also scored on a 200-pound class blue marlin, caught on a live mackerel at the Golden Gate Bank by angler Bob Tessler of Hillsbourg, CA. According to fleet manager, Rene Santa Cruz, the top boat for Solmar Fleet last week was the 42-foot Solmar VIII, with anglers Shawn, Willas, Gayle, and Dallas Thompson of Vancouver, BC, who released 3 striped marlin and kept 3 dorado with Capt. Chuy off the Old Lighthouse.
Overall, Solmar Fleet boats reported a combined catch of 56 striped marlin (50 released), 1 blue marlin (released), 103 dorado, 65 yellowfin tuna, and 15 sierra.
CABO SAN LUCAS, MEXICO: Capt. George Landrum of FLY HOOKER SPORT FISHING said most boats were scoring on 1 or 2 marlin per day on the Pacific side, but he suspected that additional fish might be hanging around a warm area of clearing, 80-degree water around the 95 Spot and Gordo Banks. Landrum reported dorado action as up-and-down, and dependent on finding debris with bait under it. "When the bait is there, the bite is hot," he said. "The fish have been running mostly in the 10 to 40-pound range." Inshore, Landrum said sierra are becoming plentiful, with larger fish found on the Cortez side, but the Pacific side fish are still small. Roosterfish were also showing up on live bait, and there have been a few wahoo caught together with dorado under debris.
CABO SAN LUCAS, MEXICO: Larry Edwards of CORTEZ YACHT CHARTERS said GAVIOTA FLEET boats were scoring on an easy 1 to 2 marlin per day by drifting live mackerel on the Golden Gate and Jaime Banks, where the bait fish seem to have set up housekeeping. The Gaviota VII had the best day for the week, with 4 releases, and the overall fleet count included 46 striped marlin (36 released), 29 dorado, 36 yellowfin tuna, and 2 wahoo, Edwards said.
CABO SAN LUCAS, MEXICO: Gaviota Fleet also announced its annual fish count for the year 2001, which gives some indication of the relative abundance of species this season, with allowances made for the areas fished and type of fishing usually done:
Striped marlin, 950 (693 released); blue marlin, 81 (53 released); black marlin, 6 (5 released); sailfish, 14 (10 released); broadbill swordfish, 4; yellowfin tuna, 2,412; dorado, 2,642; wahoo, 59; roosterfish, 39; pargo/grouper, 36; yellowtail/amberjack, 18; and sierra, 230.
In other mainland Mexico and Baja fishing action this week:
ENSENADA FISHING REPORTS
ALL ARTICLES, REPORTS AND FISHING INFORMATION FOR ENSENADA
ENSENADA, MEXICO: Sammy Susarrey of Ensenada's LILY FLEET was reached by cell phone Saturday afternoon as he was fishing with his cousin, Arturo Susarrey of Arturo's Sportfishing, off Isla Catalan south of Loreto. Sammy said the water off Loreto was dead flat, but they were not finding any of the larger yellowfin tuna that were recently reported off the west side of the island, so they were making do with a steady catch of cabrilla.
ENSENADA, MEXICO: At Ensenada last week, Sammy Susarrey said Lily Fleet's boat Tamara has been in dry dock getting a $20,000 refurbishing for the coming season. The Lily and Amigo have been fishing deep in bumpy conditions for good catches of red rockfish, and fair catches of lingcod and other bottom fish, at Maximino Reef and the Punta Banda Bank. The fishing has been deep, Susarrey said, and anglers were having the best results with heavy lures, such as TNTs, in yellow-and-white, about 180 feet deep.
ENSENADA, MEXICO: At VONNY FLEET, Ivan Villarino said he's been fishing tight to the rocks around the tip of Punta Banda in bad, rough, windy conditions for a scratchy catch of sheephead, rockcod, and lingcod. The water temperature off Punta Banda has been about 62 degrees, Villarino said, and the fishing as been about 100 to 150 feet deep.
SAN QUINTIN FISHING REPORTS
ALL ARTICLES, REPORTS AND FISHING INFORMATION FOR SAN QUINTIN
SAN QUINTIN, MEXICO: Tony Marquez, reporting for DON EDDIE'S LANDING and TIBURON'S PANGAS, said "We were fooled last week!" Business on Christmas was super-slow, but the very next day a surprise rush began on both anglers and wide-open yellowtail, plus the biggest surprise of all, a 98-pound black seabass caught inside the bay.
By Saturday, 20 chartered pangas had been sent out, Marquez said, and additionally about 5 private boat parties had fished out of Don Eddie's, pushing the total number of angler-days for the week to over 100.
"The yellowtail are really hitting at 20 to about 35 pounds," Marquez said. "Almost all boats are limiting." Although mackerel live bait is being easily caught with Lucky Joes in about 15 feet of water at the mouth of the bay, few anglers are opting for it, he said. Most of last week's fish were caught on Salas 6X-type iron jigs in blue-and-white, silver-blue, and green-and-yellow, and most were caught at the 15-Fathom Spot, right on the bottom, in about 70 to 90 feet of water.
The surprise 98-pound black seabass was caught on a live mackerel at the "La Barcha" spot, only about 15 feet deep, just inside the bay, by Beverly Hawley Martin of Santee. She was fishing with Capt. Bear in his boat Fany at about 1 p.m., and the big catch occurred when they made an impromptu stop after limiting outside on yellowtail.
Other good catches for the week included a 30-pound halibut on live bait at Isla San Martin by Lemuel Gonzales of Highland Park, and daily catches of 15 to 20 yellowtail on iron by Curt Ljungquist's private boat trailered down from San Diego.
Marquez reported San Quintin water temperatures averaging about 58 degrees, with cold nights, sunny days, and calm seas.
SAN QUINTIN, MEXICO: Jim and Nancy Harer, reporting for THE OLD MILL HOTEL and EL CAPITAN SPORTFISHING, said Christmas was so quiet all the restaurants in town were closed, so they cooked up ham, rice and vegetables for 25 people and had an enjoyable evening of stories and laughs as everyone gathered around the outdoor fireplace.
Bird hunters continue to score limits on this year's big population of black brant in the bay, they said. Sixteen hunters showed up last week, and they hunted both on the bay, and in the hills for quail. The hotel also hosted 26 off-roaders in three separate groups who were exploring the area despite the cool evenings, and local anglers were catching rockcod, lingcod to 25 pounds, and yellowtail to 25 pounds.
BAJA COASTAL FISHING REPORTS
ALL ARTICLES, REPORTS AND FISHING INFORMATION FOR BAJA COASTAL AREAS
BAJA CALIFORNIA, MEXICO: "BLANKETS FOR BAJA CHILDREN." This winter, six weather-related deaths have been recorded among children living in poorly-heated housing along the U.S. border at the northern edge of Baja California, where nighttime temperatures have been dropping into the 30s.
For the past 13 years, the Binational Emergency Medical Care Committee (BEMCC) headed by Celia Diaz (see this week's Baja Beat Column) has distributed thousands of blankets to needy families, but this year donations have been very slow in coming in. As of last week, only about 40 blankets had been collected for the season's first trip to the area around Tecate, although at least 400 were needed, and the overall goal for the year is to deliver at least 10,000 blankets.
Donations are tax-deductible. Used blankets, or warm clothing, should be clean and in serviceable condition. For those who wish to send cash instead, a tax-deductible $5 donation will buy a new blanket, and possibly save a child's life this winter. Call for information, or send contributions to: BEMCC, 642 Third Avenue, Ste. I, Chula Vista, CA 91910. Phone 619-425-5080.
MAGDALENA BAY FISHING REPORTS
ALL ARTICLES, REPORTS AND FISHING INFORMATION FOR MAGDALENA BAY
MAGDALENA BAY, MEXICO: Gary Graham of BAJA ON THE FLY said offshore water temperatures are still above 70 degrees, but windy conditions limited fishing outside last week. Several trailer boats were in San Carlos, Graham said, and they were hoping for a chance to get outside to the Thetis bank for fair numbers of marlin, tuna, and wahoo being reported by local pangueros.
Inside the esteros and mangrove channels, fishing continued fair to good for corvina and pargo, plus 3 to 5-pound halibut coming from the sandy beach west of San Carlos, and several hot spots for sierra at Punta Belcher, the main entrada, and the entrance to Bahia Santa Maria. "Look for birds early in the morning," Graham said.
SAN JOSE DEL CABO (LOS CABOS) FISHING REPORTS
ALL ARTICLES, REPORTS AND FISHING INFORMATION FOR SAN JOSE DEL CABO
SAN JOSE DEL CABO, MEXICO: Eric Brictson of GORDO BANKS PANGAS said the fleet has been busy and the fishing for yellowfin tuna has notched up into the "wide-open" category at the Inner and Outer Gordo Banks.
"Since Christmas Day, the weather has been on a warming trend and the wind has lain down," Brictson said. "The improved conditions seemed to be the combination that the fish were waiting for, because throughout the week the bite has been very strong, and everyday there are yellowfin tuna being weighed in that tip the scales up to 70 or 80 pounds. Many of the fish are from 20 to 60 pounds. Despite the heavy fishing pressure, the pangas have averaged from 2 to 8 of these quality-sized tuna per boat each morning.
"The bite was on-and-off. There was a strong current running at times, and this seemed to slow the action some, but not for too long, as it then would turn back on. Anglers had the best success while using either sardinas or chunk bait from skipjack. Some fish were also hitting on yo-yo type lures and Rapalas."
Brictson said live bait has been plentiful, with live mackerel the preferred choice for marlin, and the smaller sardinas and chunk bait being the best bet for tuna on the offshore high spots.
Water temperatures off San Jose del Cabo have dipped down into the 74-degree range, Brictson said, and the dorado bite has dropped off, but some anglers were still running into schools of 15 to 20-pound fish that could quickly account for 5 or 6 dorado, Brictson said. Otherwise, near-shore anglers were enjoying a variety bite on a wide range of species, including roosterfish, sierra, jack crevalle, croaker, pompano, amberjack, and halibut. The most successful method on these fish was to get a yo-yo style lure down through the sometimes difficult current, and make a fast retrieve from the bottom.
SAN JOSE DEL CABO, MEXICO: Ozzie Castro of NEPTUNE ADVENTURES said La Playita Fleet was busy last week, and boats were scoring well at the Inner and Outer Gordo Banks on yellowfin tuna averaging about 40 pounds, but with one fish that weighed 107 pounds. Most fish were hooked on sardinas, and some were taken on cedar plugs. Dorado action was generally slow, and some boats were making good catches of red snapper and cabrilla with live bait sent to the bottom.
EAST CAPE FISHING REPORTS
ALL ARTICLES, REPORTS AND FISHING INFORMATION FOR EAST CAPE
EAST CAPE, MEXICO: Fishing was very limited last week as the whole East Cape area was ripped by strong northerly winds. Mark Rayor of VISTA SEA SPORT commented, "This is the easiest time of year to tell the tourists from the locals. The visitors our running around in tank tops and shorts enjoying the sunshine. The locals are wearing jackets and jeans all bundled up for the winter. This is about as cold as it gets for us. I have had people stop to get a picture of me wearing my sheep skin boots. They think it is funny. My feelings are it is better to be warm and laughed at."
Rayor said daytime temperatures have actually been in the middle and high 70s, but nights are dropping to the low 60s. Water temperatures are down to about 70 degrees at diving depth, he said, and sea life has been abundant. "Manta Rays and sea turtles have been easy to find. Huge schools of reef fish, snapper, and jacks have also been abundant. Visibility has been 20 to 30 feet, and the currents have been strong."
EAST CAPE, MEXICO: Gary Graham said the wind was so bad last week that BAJA ON THE FLY for the very first time sent clients south to fish at Cabo San Lucas. Boats attempting to fish at East Cape were returning early, Graham said, although a few hours of fishing were managed here and there.
EAST CAPE, MEXICO: On the beach, Graham said there was a good bite on sierra in front of La Ribera for anglers who got out very early in the morning before the wind hit, or late in the evenings after it died down again. Some boats were also reporting a decent bite on dorado near the color line off Punta Pescadero to the north.
EAST CAPE, MEXICO: Earlier in the week, John Ireland of RANCHO LEONERO said the hotel was full of guests, but only one boat ventured out to test the wind, and it returned with a 35-pound dorado.
LA PAZ FISHING REPORTS
ALL ARTICLES, REPORTS AND FISHING INFORMATION FOR LA PAZ
LA PAZ, MEXICO: Jonathan Roldan of TAIL HUNTER INTERNATIONAL said last week was pretty much nothing but a big windy story, but if you could have gotten out, there would have been a few scattered tuna, an occasional dorado, and probably some cabrilla and yellowtail along the rocks. "What more can I tell ya?" he said. "I don't wanna make stuff up!"
LORETO FISHING REPORTS
ALL ARTICLES, REPORTS AND FISHING INFORMATION FOR LORETO
LORETO, MEXICO: Pam Bolles of BAJA BIG FISH COMPANY said the winter weather has definitely settled in, with air temperatures ranging from the high 40s at night to maybe the high 70s during the day. Winds were blowing hard early in the week, but it calmed down toward the weekend, with beautiful clear skies. Seas have been rough enough to see the uneven horizon from town, even during periods of low wind. Bolles said she's putting the finishing touches on her Saltwater Fly Fishing 101 course scheduled for May, which she said will be all-inclusive, and feature special deals on fly tackle.
Local fishing was steady on deep, small to medium yellowtail around the northern points and off Isla Coronado, and medium-sized sierra were plentiful at the island, and mixed with barracuda right in front of the marina just before daylight.
MULEGE FISHING REPORTS
ALL ARTICLES, REPORTS AND FISHING INFORMATION FOR MULEGE
MULEGE, MEXICO: Diana Johnson of the HOTEL SERENIDAD said Mulege water temperatures were measured down to around 60 degrees last week, and the wind is blowing about four days out of six. Local pangueros were reporting yellowtail around Isla San Marcos, and productive bottom fishing for giant squid, pargo, bass, cabrilla, and whitefish. Johnson also said the hotel is planning to host a fishing tournament in October of 2002, and that details will be announced soon. Meanwhile, she said, they were getting ready for a full crowd of reservations for New Year's, and their first-ever softball tournament is scheduled for January 19.
MAZATLAN FISHING REPORTS
ALL ARTICLES, REPORTS AND FISHING INFORMATION FOR MAZATLAN
MAZATLAN, MEXICO: Nora Alonso Rice of ARIES SPORTFISHING FLEET said that winds knocked out fishing for half of last week, and cooling water temperatures have brought in striped marlin and shark. Bottom fishing was super-productive on red snapper, and a good fishing season was shaping up for this winter, with big schools of sardinas jumping all over.
MAZATLAN, MEXICO: Larry Edwards of CORTEZ YACHT CHARTERS said that when they could get out, Aries Fleet boats were running about 35 miles to find fish. Eight offshore fishing days last week resulted in a combined catch of 5 striped marlin, 1 mako shark, 5 dorado, and 5 yellowfin tuna.
IXTAPA ZIHUATANEJO FISHING REPORTS
ALL ARTICLES, REPORTS AND FISHING INFORMATION FOR IXTAPA ZIHUATANEJO
IXTAPA ZIHUATANEJO, MEXICO: Summer-like weather and very good fishing for sailfish continued last week, with water temperatures averaging about 80 degrees, and air temperatures in the high-80s.
IXTAPA ZIHUATANEJO, MEXICO: Stan Lushinsky and Susan Richards of IXTAPA SPORTFISHING CHARTERS said boats were reporting 2 to 4 sailfish per day, plus occasional dorado, wahoo, and blue marlin. The top Ixtapa Sportfishing Charters boat for the week was the Dos Hermanos with Capt. Aldolpho who checked in with 4 sailfish and 1 dorado. The super panga La Hawaiiana reported 1 sailfish, 1 dorado, and a 60-pound wahoo for Tom and Kenny Branoff of Blaskeslee, PA, and on another day, the same boat found 2 sailfish for Bertran Amezcua of New York City. Capt. Miguel Alvarez of El Soltar, reported a 3-sailfish day on Yellowfin II, and Capt. Chiro Barrgagan had 2 sailfish and 2 dorado.
Overall, Lushinsky and Richards said fishing was slightly off last year's pace, even though blue water is close to shore. The best fishing area was 5 to 15 miles out, they said, and seas were calm.
IXTAPA ZIHUATANEJO, MEXICO: Paul Phillips of the FINTASTIC TOTAL CATCH & RELEASE TOURNAMENT, reporting for the VARGAS SPORTFISHING, Mar y Tierra, and Whiskey Charter fleets, said "sailfish are the name of the game, and they are plentiful." Most boats were raising over 4 fish per day and averaging close to 2 fish per day released.
Over 70 sailfish were reported during the week, Phillips said, and almost all fish were released, including Vargas Fleet's 100 percent release rate. The trip of the week was turned in by Capt. Adolpho's Dos Hermanos, with a 7-fish day on Friday. Dorado were also showing up at the rate of about 1 fish per day, and there were yellowfin tuna averaging 50 to 80 pounds being caught about 20 miles outside on live bait. Roosterfish to 20 pounds were also being caught on Rapalas near shore, although few anglers were fishing for them. Blue water was being seen only 2 to 10 miles out, Phillips said, on a heading of 210 degrees.
IXTAPA ZIHUATANEJO, MEXICO: Ed Kunze of MAR Y TIERRA SPORTFISHING said captains have been finding blue water as close as half a mile off the beach, and his boats have been averaging 4 to 5 releases per day. "Some of the notable catches were with Capt. Mecate on the Aqua Azul with 12 releases, and Capt. Margarito on the Gaby with 11 releases," Kunze said. "Almost all the sailfish are being taken only 6 to 10 miles out of Zihuatanejo Bay."
Inshore, fishing as also been good for unusually large roosterfish and wahoo, Kunze said. Jeff Ching, a charter boat operator out of Sitka, AK, fished with Capt. Martin on the panga Isamar, and his 67-pound roosterfish was among the largest taken this year. "Capt. Hiram fished with client Don Sobezak on the Hawaiiana and took two wahoo near the white rocks," Kunze added. "The first one was a typical 30 pounds, but the largest, at 72 pounds, was very unusual for this area."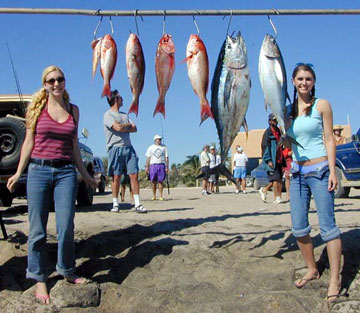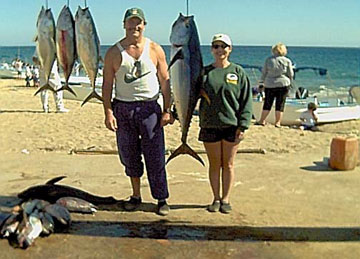 Baja coastal fishing reports and articles.
Ensenada fishing reports and articles.
Puerto Santo Tomas fishing reports and articles.
Erendira fishing reports and articles.
San Quintin fishing reports and articles.
Magdalena Bay fishing reports and articles.
Cabo San Lucas fishing reports and articles.
San Jose del Cabo (Los Cabos) fishing reports and articles.
East Cape fishing reports and articles.
La Paz fishing reports and articles.
Loreto fishing reports and articles.
Mulege fishing reports and articles.
Santa Rosalia fishing reports and articles.
Bahia de los Angeles (L.A. Bay) fishing reports and articles.
San Felipe fishing reports and articles.
Rocky Point (Puerto Penasco) fishing reports and articles.
San Carlos (Sonora) fishing reports and articles .
Mazatlan fishing reports and articles .
Puerto Vallarta fishing reports and articles.
Ixtapa Zihuatanejo fishing reports and articles.
Huatulco fishing reports and articles.
Cancun fishing reports and articles.
Mexico coastal fishing reports and articles.
Mexico Fishing Home Page < Mexico Fishing News Archives < Fishing Report