The average catch per boat was about 3 larger tuna and a handful of the football-sized ones mixed in. This was the first real action for these nicer-sized tuna in a couple of weeks, and it had anglers excited. It helped make up for a lack of dorado and wahoo, which have become very scarce."
Brictson said some fish of about 5 to 15 pounds, such as amberjack, pargo and cabrilla, were being yo-yoed off the bottom, but these fish were not numerous. Along shore, there was only fair action for jack crevalle, sierra and roosterfish, and there was no billfish activity at all reported on the Cortez side of the arch.
Dorado, also, were almost absent from the fish counts, although there were a few small fish in the 10 to 20-pound range caught around inshore schools of sardina early in the week. "With the cooler water temperatures now moving in, we expect the main concentrations of dorado and wahoo to be migrating south toward their more favorable tropical habitats," Brictson said.
In other mainland Mexico and Baja fishing action this week:
ENSENADA FISHING REPORTS
ALL ARTICLES, REPORTS AND FISHING INFORMATION FOR ENSENADA
ENSENADA, MEXICO: Reports continue to be received of very small broadbill swordfish showing up at the Ensenada fish market, including reader LARRY BROWN'S report of dozens of them laid out on the sellers' tables last week. These fish are undoubtedly being caught by small, unmonitored longlining boats fishing along the Baja coast. Ensenada is also one of the main markets for illegal totuava caught in the northern Sea of Cortez. These fish, on the endangered species list and theoretically protected by severe penalties for poaching and possession, are transported by truck to a village near Osos Negros, butchered, and sold as white seabass.
SAN QUINTIN FISHING REPORTS
ALL ARTICLES, REPORTS AND FISHING INFORMATION FOR SAN QUINTIN
SAN QUINTIN, MEXICO: Tony Marquez, reporting for DON EDDIE'S LANDING and TIBURON'S PANGAS, said last week was super-hot for yellowtail at the 15-Fathom Spot, located only 5 miles from the mouth of the bay on a heading of 260 degrees. Brian Runyan and Curtis Quanket of Los Angeles caught 22 yellowtail at that spot on Saturday, using Salas 6X jigs in blue-and-white and scrambled egg colors, Marquez said. Overall, only 6 boats with 18 anglers fished last week, but they scored on about 60 yellowtail of 15 to 20 pounds, about 30 rockfish of 4 to 8 pounds, and 2 lingcod to 10 pounds. No whitefish were caught. Most fish were found at the 15-Fathom Spot.
Marquez said San Quintin weather has been darn cold at night, down in the 40s, but sunny during the day, with windy afternoons. He also reported the bay was so full of black brant geese this year that they have been getting in the way of the pangas. "There are thousands and thousands of them," Marquez said.
SAN QUINTIN, MEXICO: Jim Harer reported for THE OLD MILL HOTEL and EL CAPITAN SPORTFISHING, saying there are not many visitors right now, but up to about 10 bird hunters are coming to San Quintin per week, getting limits all around, and last week there was also a party of free divers who did well on rockcod.
MAGDALENA BAY FISHING REPORTS
ALL ARTICLES, REPORTS AND FISHING INFORMATION FOR MAGDALENA BAY
MAGDALENA BAY, MEXICO: Virtually no sport fishing occurred last week, but Gary Graham of BAJA ON THE FLY relayed reports from local commercial pangueros fishing inshore, saying there were a few scattered firecracker yellowtail and some sierra near Punta Hughes, and some fair catches of snook at Los Barriles (Magdalena Bay) and Devil's Curve. No boats were fishing offshore.
CABO SAN LUCAS FISHING REPORTS
ALL ARTICLES, REPORTS AND FISHING INFORMATION FOR CABO SAN LUCAS
CABO SAN LUCAS, MEXICO: Marco Arechiga of PICANTE FLEET reported water temperatures of 76 to 81 degrees, air temperatures of 64 to 84 degrees, humidity at 54 percent, and winds of 10 to 12 knots on both the Pacific and Sea of Cortez. Four boats sent out Friday reported a total catch (including released fish) of: 4 striped marlin, 1 sailfish, 9 dorado, and 2 wahoo, fishing mostly on the Pacific side up to the Golden Gate Bank.
CABO SAN LUCAS, MEXICO: HOTEL SOLMAR SUITES manager Rene Santa Cruz said the few fleet boats fishing last week were mostly soaking live mackerel around the Old Lighthouse, and they scored on a total (including released fish) of 35 striped marlin, 66 dorado, and 15 tuna last week. "If the temperatures hang in there, we should be in for a great New Year's," Santa Cruz said. "Surface conditions have been calm with 1 to 2-foot seas and light winds."
CABO SAN LUCAS, MEXICO: Larry Edwards of CORTEZ YACHT CHARTERS said GAVIOTA FLEET was finding about 2 striped marlin per boat-day at the Golden Gate and Jaime Banks, which were still holding good quantities of mackerel. Edwards said the technique was simple: "Catch your bait and catch a your billfish, often without moving the boat." Weather on the Pacific side was typical for late December, Edwards said, fishable, even if a little bumpy on some days. Gaviota Fleet reported a combined catch of 29 striped marlin (24 released), 2 wahoo, 6 yellowfin tuna, and 45 dorado.
CABO SAN LUCAS, MEXICO: At FLY HOOKER SPORT FISHING, Capt. George Landrum was fishing again after a slow pre-Christmas week. Landrum noted the presence of a warm band of water in the low 80s located about 40 miles southeast of the cape, and said that generally, the water on the Cortez side was green last week, and much clearer on the Pacific where most of the billfish are being caught. Generally, billfish conditions ranged from good to very good, but tuna were slow, and wahoo non-existent.
Sierra continue to arrive inshore, Landrum said, and there were also some dorado caught close to shore, although overall, the raging bite of the last few weeks has faded away, and very few were being caught.
CABO SAN LUCAS, MEXICO: At PISCES FLEET, Tracy Ehrenberg said 74 percent of boats fishing last week scored on billfish, and 86 percent caught billfish or other species.
"These catch rates could have been higher, if it were not for a couple of slower days when it was hard to get fish to bite," she said. "The week started out fairly good, and then dipped down for a couple of days, but then the marlin bite really took off, giving us 4 striped marlin released aboard Valerie for the Lombardi family from Hollywood, and another 4 released aboard La Brisa for Randy and Michelle Crane from Oregon on Wednesday. This proved to be our best day of the week, with most boats averaging three stripers."
Pisces boats were fishing mostly at the Golden Gate Bank, but also around the Old Lighthouse and San Cristobal. "Right now, about half the fish are taking bait up on the surface, and the other half down deep with weighted bait. The odd sailfish has been mixed in with the stripers too," Ehrenberg said.
Pisces anglers caught a total of 42 striped marlin and 2 sailfish last week, all released, except for one striped marlin that died.
CABO SAN LUCAS, MEXICO: Resident angler JOHN AMBROSE of Maya Roca Real Estate in Todos Santos said there wasn't much going on last week except for wind, clouds, and cold weather in the 40s and low 50s in the mornings, and "maybe" 70 degrees in the afternoon, if the sun came out. "Made me think of moving south," said Ambrose. As for local fishing, there wasn't enough going on to get a fix on it.
EAST CAPE FISHING REPORTS
ALL ARTICLES, REPORTS AND FISHING INFORMATION FOR EAST CAPE
EAST CAPE, MEXICO: "RANCHO LEONERO OPENS NEW RESERVATIONS OFFICE." John Ireland, owner of East Cape's well-known Rancho Leonero fishing resort, announced last week that he has opened a new reservations booking office in Leucadia, CA.
Ireland, who spends about half of his time at East Cape and half in San Diego, said he expects the new office to give him more opportunities to deal directly with clients. "I missed talking to people," he said, adding that he will also be personally attending trade shows this spring at Long Beach, Del Mar, Denver, San Mateo, and Portland. Rancho Leonero's former exclusive U.S. agent, Cass Tours, is still booking reservations, but not exclusively, Ireland said.
The new Rancho Leonero office is connected to the East Cape beach front hotel by email, telephone, and fax, and will be able to respond to inquires on a near real-time basis, Ireland said. It is staffed by Ireland's daughter, Genie Ireland, and Gary Law, and is open from 8:30 a.m. to 5 p.m. Monday through Friday, in addition to extended weekend hours during the spring shows.
Operating under the name, "East Cape Escape," the new office may be contacted at its main telephone number, 800-646-2252. It is located at 1560 Pacific Coast Highway, Leucadia, CA 92024.
EAST CAPE, MEXICO: Mark Rayor of VISTA SEA SPORT said, "We're being invaded by land and by sea!" By land, Rayor said East Cape was seeing a big influx of visitors, after several weeks of being almost deserted. "Taxi cabs in numbers are arriving full of guests for the holidays," he said. "The quiet is over."
Rayor said the "sea invasion" was by large numbers of manta rays which were taking over the area. "You can't look out anywhere along the coast without seeing them jump. Whales are also starting to show, just in time for the holidays." East Cape water temperatures were in the mid-70s, and water clarity was good on the reefs, and slightly green offshore.
EAST CAPE, MEXICO: Gary Graham of BAJA ON THE FLY said hotel fleets were finding a few dorado, yellowfin tuna, and bonito scattered throughout the area, but that continued winds had given boats another rough week. "The main area for both inshore and offshore has been La Ribera," Graham said. "It has a good bait population and the fishing has been taking place from very early morning through mid-morning and then tapering off. The afternoon has seen fair action. Billfish action was slow."
Inshore, Graham reported some activity of small to medium roosterfish and ladyfish off the arroyo north of Los Barriles, and sierra, jacks, ladyfish and trumpetfish off La Ribera.
Beach fishing was fair to good at La Ribera, but the best action was still to the north, between Los Barriles and Punta Pescadero.
EAST CAPE, MEXICO: Slightly farther north, Eddy Beaulne of EL CARDONAL'S HIDEAWAYsaid the winds have been bringing him good luck. "I had some guests go out for 4 hours, and they lost a 20-pound tuna and hooked about 20 sierra, releasing 13 of them, and kept 2 good-sized cabrillas. We still have lots of bait in front of the hotel, and shore fishing is good."
Beaulne said the new road is being worked on, and is passable with care.
LA PAZ FISHING REPORTS
ALL ARTICLES, REPORTS AND FISHING INFORMATION FOR LA PAZ
LA PAZ, MEXICO: At HOTEL LAS ARENAS, Linda Glassman-Davis said the decorations are up, and 38 hotel staff were on hand for a good holiday turn-out about to arrive. Fishing was good when the wind let you out, she said, adding that airport security at La Paz has been "incredibly tight" recently. "There are 4 luggage and carry-on checks between the entrance to the airport and the cabin door of the aircraft," she said. "Tickets and passports are checked 3 times and then 1 last time on board the aircraft by an official who matches the manifest with the seat number and the passenger."
LA PAZ, MEXICO: David Jones of FISHERMEN'S FLEET said winter weather was in full swing last week, bringing consistent north winds and daytime temperatures down in the 60s. "We've had winds 5 of the last 8 days, making the scheduling of fishing days a little problematic," he said. Nevertheless, anglers were doing fine when they could get out, catching dorado to 20 pounds, yellowfin tuna to 65 pounds, and plenty of sierra. Jones was busy making arrangements for Fishermen's Fleet's new super panga service on the La Paz side, and he promised some announcements right after the first of the year.
LORETO FISHING REPORTS
ALL ARTICLES, REPORTS AND FISHING INFORMATION FOR LORETO
LORETO, MEXICO: Pam Bolles of BAJA BIG FISH COMPANY was planning some exploratory trips to Magdalena Bay in January and February, and was also working on arrangements for her Saltwater Fly Fishing 101 beach seminar, tentatively scheduled for May, with final dates and details promised soon.
"The temperature is really beautiful here right now!" said Bolles. Loreto highs were in the mid-80s, but there has also been consistent wind. "We have been experiencing wind most of the week," she said. "We've gotta be due for a good calm period soon, hopefully during the holidays. At this point, expect three to four days, or more, of windy weather per week."
Yellowtail action in deep water to about 90 feet has become consistent, according to Bolles, with fish reported on bait and iron at Punta Lobos, Punta Pulpito, and Isla Coronado. Also, there is an excellent early morning bite on sierra off the marina breakwall, and some of the locals have been getting a fish per cast when they are boiling. The best bite has been well before sunrise, and the sierra have been followed by jack crevalle and roosterfish until mid-morning. A light scattering of die-hard dorado were still being caught occasionally near shore off Juncalito, Puerto Escondido, Bahia Agua Verde, and even right in front of town.
LORETO, MEXICO: Mark Downing of LORETO FISHING said visitors were few and far between last week, and some mornings only a boat or two was leaving the downtown marina, but those fishing were scoring on good counts of sierra and roosterfish at San Basilio, plus the occasional dorado. The marina has just been re-dredged and some new docks installed, and the proposed $5 per day usage fee for the marine park is still not being collected. Regarding Hector Garayzar's lobster farm project, Downing said Garayzar is waiting for some government funding for the building of the necessary cages.
MULEGE FISHING REPORTS
ALL ARTICLES, REPORTS AND FISHING INFORMATION FOR MULEGE
MULEGE, MEXICO: Diana Johnson of the HOTEL SERENIDAD said the weather has been cold, about 55 degrees at night and only about 70 during the days, although it has been sunny.
MULEGE, MEXICO: Resident fly-in angler RON GRANT said he just went down on his recent flight to Mulege, loaded to the windows with Christmas turkeys, and he had a close call at customs, but no problems.
"It was one of the few times Customs did check the airplane," Grant said. "I knew the hammer was going to fall with all the Christmas stuff in the airplane. TVs, VCR, shoes, turkeys, and etc. The Customs Officer looked at all the goodies, said 'thanks' and walked away."
Grant said nobody fished while he was in town, due to 7 straight days of wind, but local pangueros said there would be yellowtail at Isla Tortuga and off the north end of Isla San Marcos, if anybody could get out for them. There were also sierra and small yellowtail known to be south of town and around the mouth of Concepcion Bay.
There were no tourists in town to speak of, Grant said. "My airplane was the only one on the ground for almost a week. Same story talking to some of the other operators in town."
BAHIA DE LOS ANGELES (L.A. BAY) FISHING REPORTS
ALL ARTICLES, REPORTS AND FISHING INFORMATION FOR BAHIA DE LOS ANGELES
BAHIA DE LOS ANGELES, MEXICO: Abraham Vazquez of CAMP GECKO at Bahia de los Angeles said water temperatures are down to the low 70s or upper 60s, and air temperatures are ranging from the low 50s at night to maybe the upper 60s during the day.
Boats fished only two days last week due to west and north winds, but they found yellowtail still in the 15 to 20-pound range at Isla Smith. Igor Galvan also found some fish to about 40 pounds, and one monster over 50 pounds at the Racito rock piles on iron.
Vazquez said the L.A. Bay road is deteriorating fast. "The first 8 kilometers are okay," he said, "but then reality sets in."
MAZATLAN FISHING REPORTS
ALL ARTICLES, REPORTS AND FISHING INFORMATION FOR MAZATLAN
MAZATLAN, MEXICO: Nora Alonso Rice of ARIES SPORTFISHING FLEETsaid seas were calm with light winds and sunny skies last week, and fishing was steady, with lots of bait in the area.
"Right now there´s a lot of skipjack and green jack," she said. "We are still using mullet and bonito for trolling bait to catch marlin and sailfish. We have seen a large school of striped marlin every day. They haven't bitten yet, and we expect to catch them as soon as the moon changes. We have lost the yellowfin tuna these last two days. The fish have moved, so our captains are looking for them again. This week we caught a big tuna with a black-and-purple trolling lure. This tuna weighed 154 pounds, and they found it 22 miles from the harbor at 220 degrees."
MAZATLAN, MEXICO: Larry Edwards of CORTEZ YACHT CHARTERS reported the combined catch for 14 offshore Aries Fleet boats: 1 blue marlin, 1 striped marlin, 4 sailfish, 1 hammerhead shark, 11 dorado, and 74 yellowfin tuna, plus about 100 sierra taken near shore on feathers and Rapalas.
IXTAPA ZIHUATANEJO FISHING REPORTS
ALL ARTICLES, REPORTS AND FISHING INFORMATION FOR IXTAPA ZIHUATANEJO
IXTAPA ZIHUATANEJO, MEXICO: Sailfish action was hot-hot-hot last week, with boats averaging near double-digits, according to Ed Kunze of MAR Y TIERRA SPORTFISHING. "It has been just outstanding all this week," he said. "The fish had moved to another area, and it took us one day to realize they moved, and another to find them again. The high boat was Captain Margarito on the Gaby with 11, then Captain Alberto on the Intruza with 9, and Capt. Calli on the Vamonos II and Capt. Mecate on the Aqua Azul getting 6 each." Kunze said clear, blue 80-degree water is only 4 miles off the beach, and the majority of the sailfish have been coming from an area 8 to 9 miles out, on a heading of 210 degrees.
IXTAPA ZIHUATANEJO, MEXICO: Stan Lushinsky and Susan Richards of IXTAPA SPORTFISHING CHARTERS said that despite the high counts, the main body of sailfish have still not arrived. Angler Don Sobczak of Milwaukee had a huge sailfish day on the super panga La Hawaiiana with Capt. Hiram Verboonen, getting 17 strikes, hooking 13, and landing 8. Sobczak returned the following day to land 6 more sailfish, plus 4 tuna to 42 pounds. On his final day of fishing, Sobczak then caught a roosterfish, a dozen bonito, a 27-pound wahoo, and finally an inshore sailfish on a trolled CD-9 Rapala. The best fishing area was 10 to 15 miles offshore, with the tuna found 20 to 25 miles out.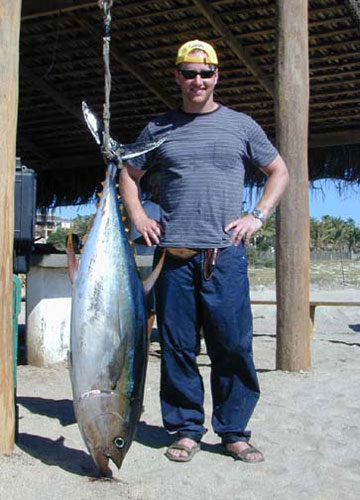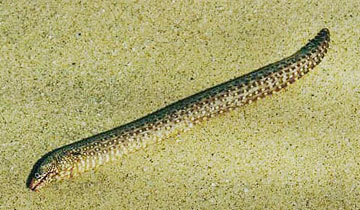 Baja coastal fishing reports and articles.
Ensenada fishing reports and articles.
Puerto Santo Tomas fishing reports and articles.
Erendira fishing reports and articles.
San Quintin fishing reports and articles.
Magdalena Bay fishing reports and articles.
Cabo San Lucas fishing reports and articles.
San Jose del Cabo (Los Cabos) fishing reports and articles.
East Cape fishing reports and articles.
La Paz fishing reports and articles.
Loreto fishing reports and articles.
Mulege fishing reports and articles.
Santa Rosalia fishing reports and articles.
Bahia de los Angeles (L.A. Bay) fishing reports and articles.
San Felipe fishing reports and articles.
Rocky Point (Puerto Penasco) fishing reports and articles.
San Carlos (Sonora) fishing reports and articles .
Mazatlan fishing reports and articles .
Puerto Vallarta fishing reports and articles.
Ixtapa Zihuatanejo fishing reports and articles.
Huatulco fishing reports and articles.
Cancun fishing reports and articles.
Mexico coastal fishing reports and articles.
Mexico Fishing Home Page < Mexico Fishing News Archives < Fishing Report