Yellowtail, California Yellowtail, Yellowtail Amberjack
Jurel, Jurel de Castilla, Pez Limó

(Seriola lalandi dorsalis)
Yellowtail, Seriola lalandi dorsalis: The Yellowtail is one of the prized game fish found in Mexican waters.
The Yellowtail is characterized by its long aerodynamic body with a long pointed, "smooth"-looking snout, a mouth ending at the front edge of the eye pupil, blue upper back, silver-white sides and belly, yellow fins, and distinguishing narrow bronze stripe along the middle of the body that becomes yellow posteriorly.
The Yellowtail is not easily confused with other species.
It is a close relative to the Pacific Amberjack, Seriola rivoliana (less aerodynamic, no body stripe, diagonal stripe through eye), and similar in size and shape to the much smaller Fortune Jack, Seriola peruana (short snout, mouth ending under the pupil, no bars or stripes on head or body, dark fins, and an overall bronze appearance).
The Yellowtail is pelagic and found in all Mexican fishing waters including the Pacific side of the Baja California peninsula, the Gulf of California, and along mainland Mexico fishing areas through to Guatemala. It is usually found in the first 250 feet of the water column.
They reach a length of 5 feet and up to 90 pounds. The current world record was caught in Mexican waters in 2004 and weighed 92.1 pounds. This species is sometimes confused with a much larger subspecies, Seriola lalandi lalandi, which resides in the South Pacific. A fish of 50 pounds is very rare in Mexican waters. The Yellowtail is a prime targeted game fish.
The Yellowtail is a member of the Carangidae or Jack Family.
Length vs. weight chart by John Snow.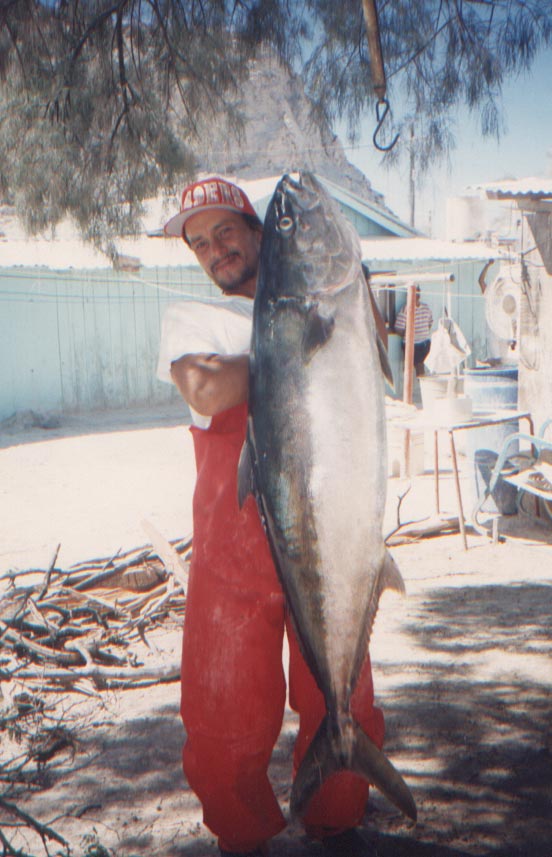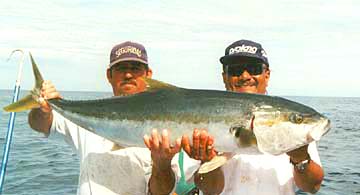 Mexico Fishing Home Page < Fish Photo List < Yellowtail