Tropical Two-Wing Flying Fish
Volador Dos Alas

(Exocoetus volitans)
Tropical Two-Wing Flying Fish, Exocoetus volitans: The Tropical Two-Wing Flying Fish has a dark blue-black back and upper sides, and is silver and white below. It is characterized by a snout that is shorter in length than the diameter of its eyes, short pelvic fins, and very long pectoral fins. Its fins are generally pale to slightly dusky in color.
The Tropical Two-Wing Flying Fish can be easily confused with the Barbel Flying Fish, Exocoetus monocirrhus (grey caudal fin, dark pectoral fins with clear margins). The Tropical Two-Wing Flying Fish is a coastal pelagic species that reaches a maximum length of 12 inches.
Distribution in Mexico fishing areas
It is normally found in the first 50 feet of the water column and is present only in southern Mexican fishing waters from the mouth of the Sea of Cortez, along the coast of the mainland to Guatemala and around all oceanic islands; it is absent from the Pacific Side of the Baja California peninsula and from the majority of the Sea of Cortez.
The Tropical Two-Wing Flying Fish is a member of the Exocoetidae Family which includes the genus Exocoetus, the flying fish, which are close relatives of the halfbeaks. The flying fish are found globally in all tropical and temperate seas. They are slender silver fish with elongated pectoral fins which reach past the origin of the anal fin base and to the base of the caudal fin.
They have short pelvic fins that do not reach the anal fin origin that are nearer the pectoral fin base than the anal fin origin. They have caudal fins that are deeply forked with longer lower lobes. Via extending and "locking" their pectoral fins in place, they have the ability to glide distances between 600 and 900 feet. The flying fish are a surface large-school species that feed on planktonic organisms.
They produce large eggs that contain a sticky substance that allows them to attach to floating debris and travel the seas. They are sought by large predatory fish. There are 65 species known globally of which two members from the genus Exocoetus are found in Mexican waters.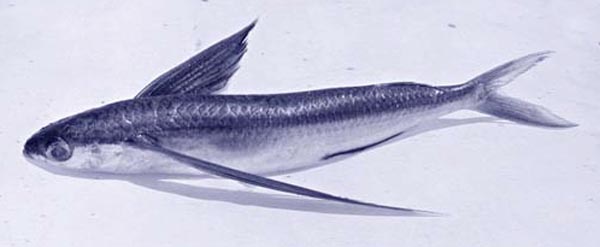 Mexico Fishing Home Page < Fish Photo List < Tropical Two-Wing Flying Fish