Totoaba, Totuava, Totuaba
Corvinata

(Totoaba macdonaldi, Cynoscion macdonaldi)
Totoaba, Totoaba macdonaldi: The Totoaba has an overall dusky silver appearance, and is characterized by its elongated body, sharp snout with large oblique mouth, and a projecting lower jaw, and especially its slightly convex tail. The Totoaba's gill covers have smooth edges and it has no barbells on its chin. The fins are darker than the body, and its dorsal fin is deeply notched.
The formerly very abundant Totoaba is now a rare, endangered, and protected species that is near extinction due to over fishing.
Distribution in Mexico fishing areas
It is usually found only in the northern one-third of Mexico's Sea of Cortez. We are aware of this species being as far south as Rio Fuerte, Sinaloa on the mainland and of a very recent report that it was caught in the East Cape area, Baja California Sur, Mexico. The Totoaba is generally found in the first 75 feet of the water column and reported to reach well over 200 pounds and well over six feet in length. They are viewed by locals to be excellent table fare.
The Totoaba might be confused with a series of other croakers, including the Gulf Weakfish, Cynoscion othonopterum (silver-blue above, with dark spots on sides, scaly fins, mouth ends before rear of eye), the Orangemouth Weakfish, Cynoscion xanthulum (short pectoral fins, caudal fin with a blunt point, bright yellow inside mouth), the Shortfin Weakfish, Cynoscion parvipinnis (silver-blue-grey appearance, short pectoral fins, two well separated dorsal fins, orange inside of mouth), the White Seabass, Atractoscion nobilis (ridge along the length of its belly, slightly concave caudal fin), the Yellowmouth Weakfish, Cynoscion squamipinnis (long pelvic fins, caudal fin with a blunt point, anal and dorsal fins dusky, tip of caudal fin black, yellow-orange inside mouth), and the Yellowtail Weakfish, Cynoscion stolzmanni (short pectoral fins, S-shaped caudal fin, and fins yellow except dusky dorsal).
The Totoaba is the largest of the Sciaenidae or Croaker or Drum Family.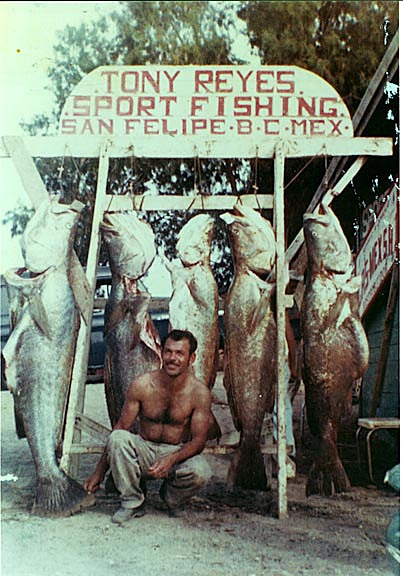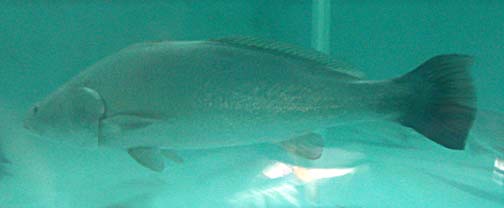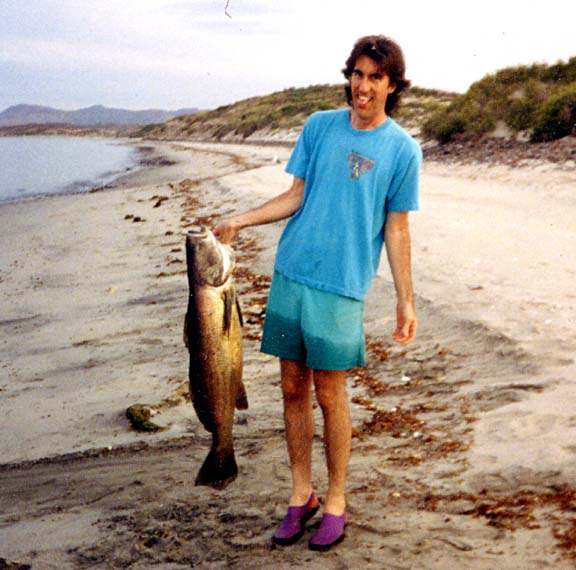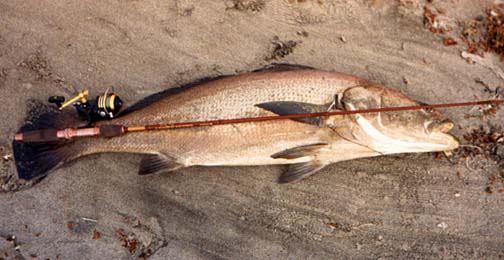 Mexico Fishing Home Page < Fish Photo List < Totoaba