Spotted Bay Bass, Spotted Sand Bass, "Calico"
Cabrilla Pecosa, Cabrilla de Roca

(Paralabrax maculatofasciatus)
Spotted Bay Bass, Paralabrax maculatofasciatus: The Spotted Sand Bass, or Spotted Sand Bass is characterized by an overall yellowish-tan color, covered with numerous orange, black and brown spots that coalesce to form mottled bars on its sides. The belly is white, and the third dorsal spine is elongated, about three times longer than the second dorsal spine.
The Spotted Sand Bass might be confused with three common members of the sea bass family including the Barred Sand Bass, Paralabrax nebulifer (no spots and oblique bars on its sides), the Goldspotted Sand Bass, Paralabrax auroguttas (larger orange spots on head, body and fins), the Kelp or Calico Bass, Paralabrax clathratus (large white blotches on its sides). The Spotted Bay Bass reaches a length of 18 inches and about 5 pounds in weight.
However smaller fish of about a pound are normal, making them of limited interest to most anglers or commercial fishermen. The Spotted Bay Bass is very common in shallow water less than 100 feet deep. It feeds on anything that will fit into its mouth.
Distribution in Mexico fishing areas
In Mexican fishing waters , the Spotted Sand Bass is abundant along the Pacific side of the Baja California Sur peninsula, throughout the Sea of Cortez south to Punta Chivato, and along the coast of mainland north of Guaymas, but it is absent from the oceanic islands.
It is eurythermal, being able to tolerate water temperatures in excess of 90 degrees Fahrenheit and as low as 45 degrees. The Spotted Bay Bass is commonly caught in the northern portion of the Sea of Cortez and is considered to be an excellent food fish.
Note: This fish is also called the "calico" in the Rocky Point (Puerto Penasco) area of the northern Sea of Cortez. Courtesy Jim Davis, Yuma, Ariz.
The Spotted Bay Bass, or Spotted Sand Bass, is a member of the Serrandae or Sea Bass and Grouper Family.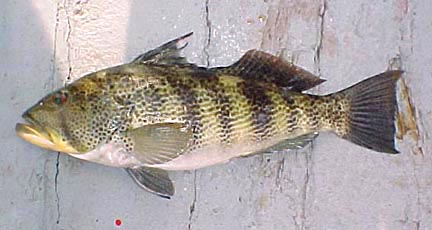 Mexico Fishing Home Page < Fish Photo List < Spotted Bay Bass