Sardina, Flatiron Herring, Pacific Flatiron Herring
Sardina, Arenque Plumita, Sardineta Plumita

(Harengula thrissina)
Sardina (Flatiron Herring), Harengula thrissina: The Sardina, or Flatiron Herring, has a moderately deep body, iridescent blue back, silver sides, and a characteristic and identifying black spot just behind the top of the gill cover.
The Sardina, or Flatiron Herring also has a faint yellow stripe on the upper side, anal fin with a short base, pelvic fins directly under the dorsal fin, and pectoral fins that reach the dorsal fin origin.
This fish species cannot be easily confused with any other sardine or herring due to its wide body and lack of elongated dorsal fin rays. It reaches a length of 7 inches and is virtually weightless.
It is normally found in the first 30 feet of the water column in massive schools over sandy bottoms.
Distribution in Mexico fishing areas
In Mexican fishing waters, it is found along the Pacific side of the Baja California peninsula south of Guerrero Negro, throughout the Sea of Cortez, and along the coast of the mainland south to Guatemala.
It does not appear to be present around the oceanic islands, however.
Note: Although it is a herring, in Mexican fishing areas , this species is almost universally called a "sardina," or "sardine," by natives and tourists alike.
The "Sardina" or Flatiron Herring is a member of the Clupeidae or Herring Family of small forage fish.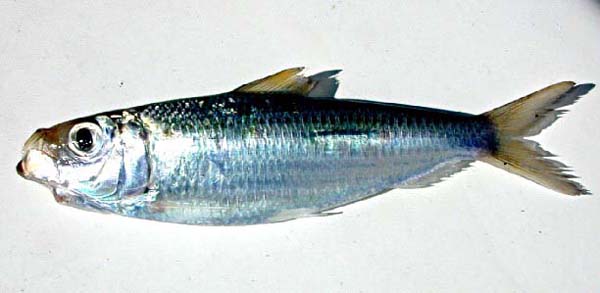 Mexico Fishing Home Page < Fish Photo List < Sardina or Flatiron Herring