Rainbow Runner
Salmón

(Elagatis bipinnulata)
Rainbow Runner, Elagatis bipinnulata: The Rainbow Runner is characterized by its torpedo shaped body with a small mouth, pointed snout, and deeply forked caudal fin with a series of midlateral stripes that start on top as dark olive green, then blue, then dark, then blue and finally with white coloration on its lower parts.
The Rainbow Runner is similar in coloration to and might be confused with the Rainbow Sea Chub, Sectator ocyurus, which is far less "aerodynamic," or the Chihuil or Jack Mackerel, Trachurus symmetricus, which has similar, somewhat similar "aerodynamics" but does not have the blue stripes.
The Rainbow Runner is pelagic and found only well out to sea, at the tip of the Baja California peninsula and on its Sea of Cortez coast, off mainland Mexico from Mazatlan south, and around all oceanic islands.
The Rainbow Runner is found in large schools which travel in the first 100 feet of the water column.
The Rainbow Runner is reported to reach six feet in length, but is most common under three feet.
Note: The world record Rainbow Runner is 37 pounds 9 ounces, with the fish caught in Mexican fishing waters.
The Rainbow Runner is a member of the Carangidae or Jack Family.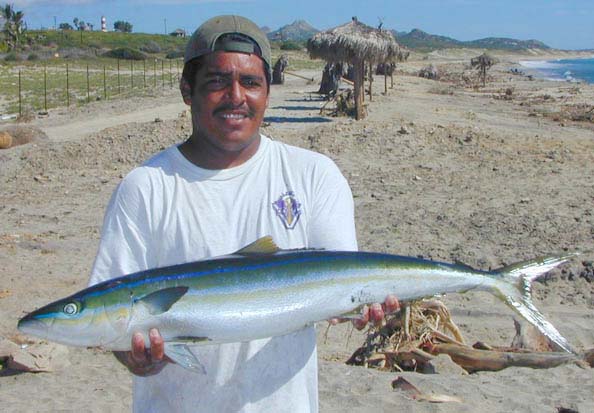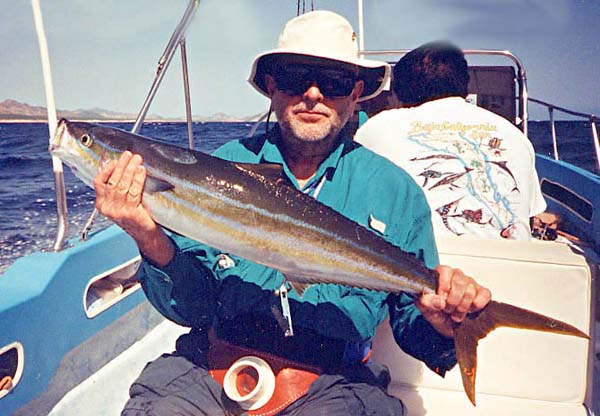 Mexico Fishing Home Page < Fish Photo List < Rainbow Runner