Roughjaw Frogfish, Roughbar Frogfish
Ranisapo Antenado

(Antennarius avalonis)
Roughjaw Frogfish, Antennarius avalonis: The Roughjaw Frogfish is one of the more exotic and most unusual fishes in the world and a member of the Antennariidae family which are known in Mexico as ranisapos. They have globular compressed bodies with large pectoral limb-like fins, small round gill openings, and a very large upward directed mouth with small teeth.
They have greatly modified fleshy first dorsal spines (illicium) on top of the head between the eyes that form a moveable "fishing rod" tipped with an enticing lure (esca). They wiggle the esca vigorously to attract fish prey that are swallowed whole. They are capable of consuming prey larger than themselves. They are poor-swimming bottom dwellers that are masters of camouflage and change colors to blend into their backgrounds. They have limited mobility and move by "walking" on their fins. There are 24 global frogfishes of which four are found in Mexican waters.
The Roughjaw Frogfish occurs in various colors including shades of brown to orange to gray and uncommonly green, yellow, red or black. Sometimes it is spotted. The Roughjaw Frogfish has a characteristic large ocellated black spot surrounded by a narrow orange ring at the rear base of the dorsal fin. It has hand-like margins on the pectoral and ventral fins. The pelvic fins are long, "leg-like" and originate before the pectoral fins. The gill openings are behind the pectoral fins.
The maximum length for this species is reported to be 36 cm (14.2 inches) but we have collected a fish that was 53 cm (20.9 inches) significantly extending the known maximum length for this fish species. The Roughjaw Frogfish is found up to 900 feet deep in the water column over flat sand or mud bottoms. It is similar to the Bandtail Frogfish, Antennarius strigatus (stand alone third dorsal spine with a large pointed hump; short fishing pole) and the Sanguine Frogfish, Antennarius sanguineus (belly with brown spots).
Distribution in Mexico fishing areas
The Roughjaw Frogfish is found in all Mexican fishing waters of the Pacific coast.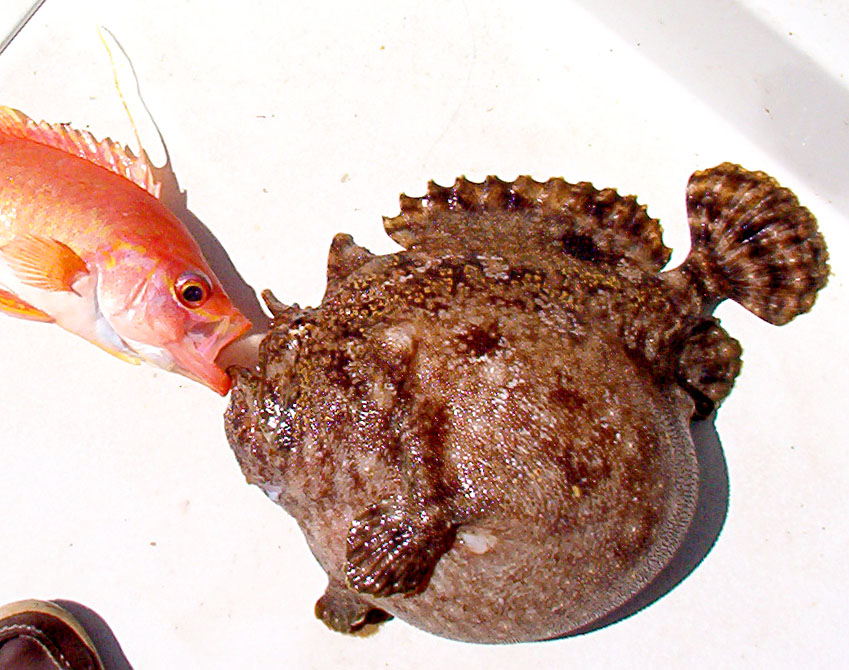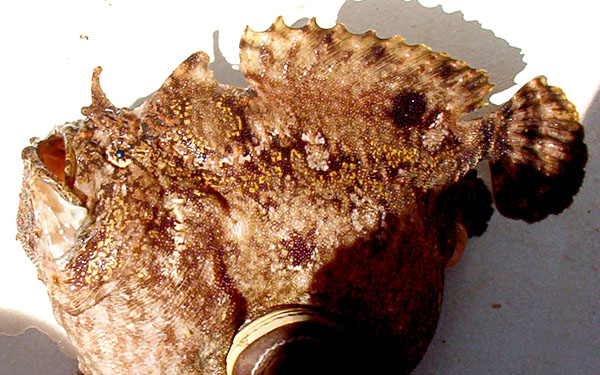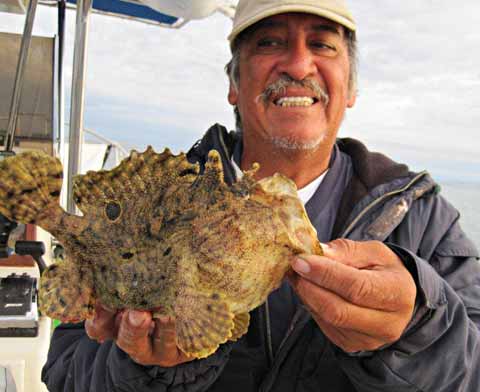 Mexico Fishing Home Page < Fish Photo List < Roughjaw Frogfish