Porgy, Pacific Porgy
Pez de Pluma, Mojarrón

(Calamus brachysomus)
Pacific Porgy, Calamus brachysomus: The Pacific Porgy is characterized by the distinct, steep profile of its large forehead, large silvery lips, long broad snout, and compressed body.
It is silvery brown, with irregular brown blotches, and five obscure bars on its sides. The Pacific Porgy is reported to have a barred or blotched color pattern when hiding, but the pattern fades when it swims into the open. Its identification is quite straightforward and it cannot be easily confused with other species.
Distribution in Mexico fishing areas
The Pacific Porgy is found in all Mexican fishing waters north to the central Pacific coast of Baja California, but not in great abundance. Although it grows to two feet in length, anything over 15 inches is rare. It is found over sandy bottoms near reefs in the first 200 feet of the water column. The Pacific Porgy is viewed as good table fare, utilized primarily as a component of soup.
The Pacific Porgy is one of a limited number of similar porgies, also known as Mojarrones, of which only one species resides in Mexican fishing areas. Five species are known in the Caribbean and about 100 globally.
The porgies are characterized by their deep bodies and long faces, and they are similar to the grunts with the exception that they have heavy, very strong molariform teeth. They feed on benthic invertebrates, especially shellfish, and shrimp, clams, and polychaete worms.
The Porgy is a member of the Serranidae Family known in Mexico as Meros and Cabrillas.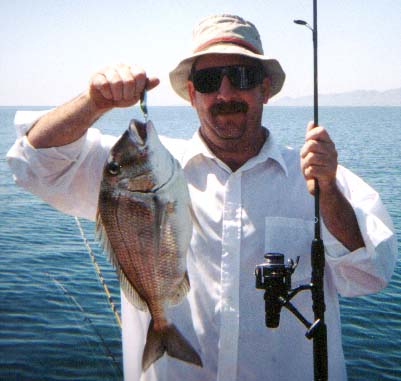 Mexico Fishing Home Page < Fish Photo List < Pacific Porgy