Popeye Catalufa
Catalufa Semáforo

(Pristigenys serrula)
Popeye Catalufa, Pristigenys serrula: The Popeye Catalufa has an overall pink to crimson coloration, and is readily identified by its distinctive deep oval body.
The Popeye Catalufa is characterized by its central dorsal spine being the longest; its pelvic and caudal fins are rounded, and the outer edges of the pelvic fins are black. The Popeye Catalufa's scales are also very large.
This fish species might be confused with the Glasseye, Heteropriacanthus cruentatus (overall silver sheen, spotted anal, caudal and dorsal fins, and short pelvic fins); the Panamic Soldierfish, Myripristis leiognathos (elongated body, not oval); and the Longfinned Bigeye, Cookeolus japonicus (eye with red iris, longest dorsal fin the last, and elongated pelvic fins).
The Popeye Catalufa is a member of the Bigeyes or Priacanthidae Family which are known in Mexico as catalufas or semáforos. There are only a limited number of species in the family. They have very large eyes, large oblique mouths, rough scales that are normally red or silvery red in color, and are deep water nocturnal fishes. There are 18 species of this family known globally, of which only two have been previously found in the Sea of Cortez.
Distribution in Mexico fishing areas
The Popeye Catalufa is found in most Mexican fishing waters, including along the Pacific side of the Baja California peninsula, the lower two-thirds of the Sea of Cortez, along the coast of the mainland, and around all oceanic islands.
The Popeye Catalufa grows to a length of 13 inches and is generally found between 10 feet and 300 feet deep in the water column over rocky bottoms. The Popeye Catalufa is viewed as good table fare but is so rare it is not of interest to most.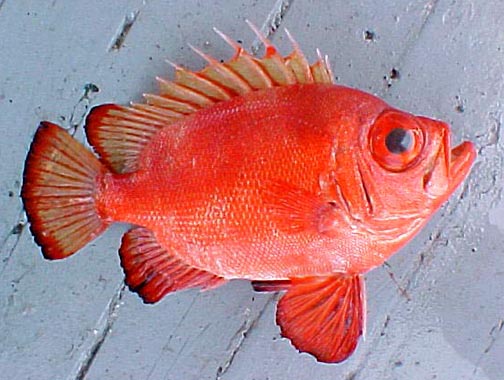 Mexico Fishing Home Page < Fish Photo List < Popeye Catalufa