Pacific Jack Crevalle
Toro, Torito

(Caranx caninus)
Pacific Jack Crevalle, Caranx caninus: The Pacific Jack Crevalle is one of the most famous species in Mexican waters, and is known for its strength.
The Pacific Jack Crevalle is characterized by its overall silver, broad body that is darker on the upper back, and yellow to golden on the bottom, with yellow anal and caudal fins. It has a rounded lateral line, pronounced scutes, and one prominent black spot toward the top of the gill cover and another smaller black spot at the pectoral fin base (as pictured below).
The Pacific Jack Crevalle is quite similar to the Green Jack, Carangoides caballus (which is more aerodynamic, with a straight lateral line and a black spot adjacent the pectoral fin on the gill cover), the Big Eye Trevally, Caranx sexfasciatus (large eye and small black spot at the top of the gill cover), and the Golden Jack, Gnathanodon speciosus (large lips, no black spot on the gill covers and intermediate black spots on its sides).
This fish species is pelagic and found in all Mexican fishing waters including around the oceanic islands. It normally travels in large schools which can be viewed fairly regularly from the boat, but sometimes these large schools are not interested in feeding. The Pacific Jack Crevalle is known to crash the beach chasing sardines in feeding frenzies that last about 15 minutes; if you are there and armed with a "Krocodile" you have an excellent opportunity to hook one. They are found as deep as 1,000 feet, over all types of terrain. They are reported to reach a length of 40 inches. The Pacific Jack Crevalle is viewed by locals to be marginal table fare. The Pacific Jack Crevalle is a member of the Carangidae or Jack Family.
Length vs. weight chart by John Snow.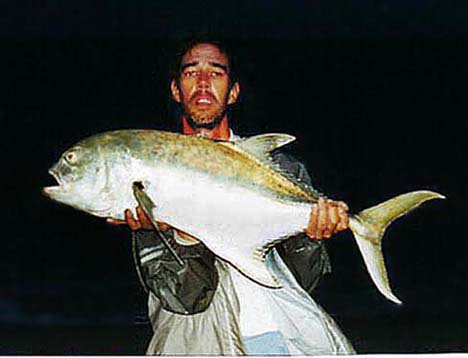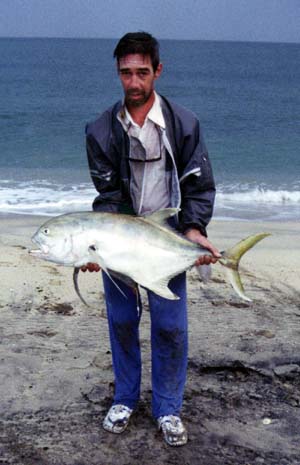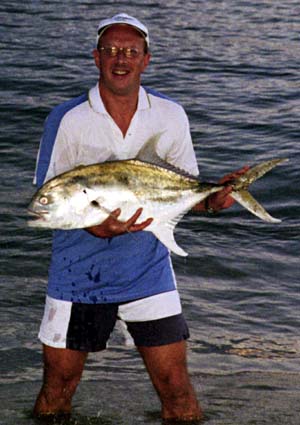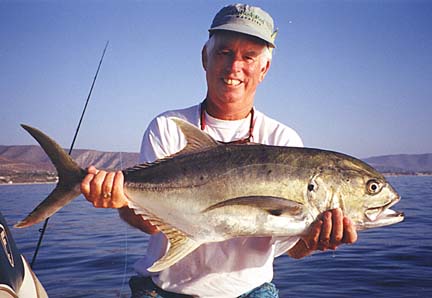 Mexico Fishing Home Page < Fish Photo List < Pacific Jack Crevalle