Pacific Golden-Eyed Tilefish
Blanquillo, Conejo

(Caulolatilus affinis)
Pacific Golden-Eyed Tilefish, Caulolatilus affinis: The Pacific Golden-Eyed Tilefish is characterized by its overall olive green appearance, silver sides, long anal and dorsal fins that maintain their width throughout their length, and a characteristic yellow stripe below and in front of the eye when alive
(Note: this stripe quickly fades to blue; see photo below). The caudal fin is very slightly forked and there is a dark spot above the pectoral fin base.
The Pacific Golden-Eye Tilefish is easily confused with the Hubb's Tilefish, Canlolatilus hubbsi (which has a large mouth, thick fleshy lips, blunt straight caudal fin, and a black spot at the base of the pectoral fins), and the Ocean Whitefish, Canlolatilus princeps (blue-grey with a more concave yellow caudal fin).
This fish species is a member of the Malacanthidae Family, also known as Tilefishes and Blanquillos. Three species of Tilefishes are found in the Gulf of California, each from the subfamily Latilinae. These are found in moderately deep water over rubble bottoms. The Tilefishes are robust fish having moderately deep bodies with a characteristic predorsal ridge and long anal and dorsal fins that maintain their width throughout their length. At present there are 39 species of Malacanthidae known globally.
The Pacific Golden-Eyed Tilefish is found at depths between 100 and 600 feet in the water column over both rock and sand bottoms.
Distribution in Mexico fishing areas
In Mexican fishing waters , it is found in all parts of the Sea of Cortez. and along the coast of mainland Mexico. However, it is absent from along the Pacific side of the Baja California peninsula and from the oceanic islands.
The maximum length for this species is reported to be 50 cm (19.7 inches) but we have caught a fish in September 2011 that was 62 cm (24.5 inches) extending the known maximum length for this species; however, they are quite common at 14 to 16-inches.
It is viewed by locals as good table fare.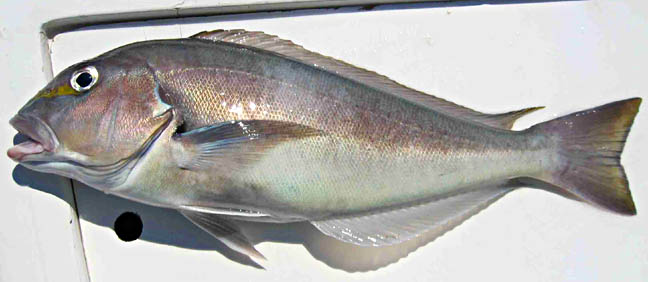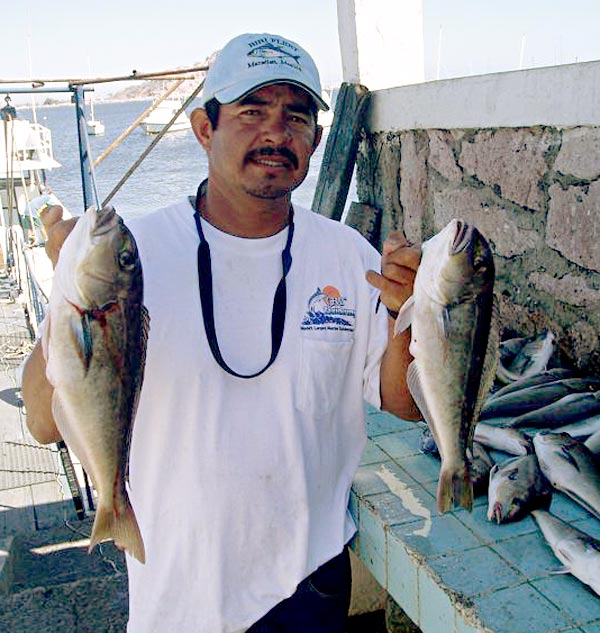 Mexico Fishing Home Page < Fish Photo List < Pacific Golden-Eyed Tilefish