Mexican Goatfish
Salmonete Barbón

(Mulloidichthys dentatus)
Mexican Goatfish, Mulloidichthys dentatus: The goatfishes, also known as surmullets, are characterized by a pair of long slender barbels on the chin. The Mexican Goatfish's barbels are usually folded along the jaw when swimming, but extend out at right angles when it is searching for food buried in the sand. The Mexican Goatfish has separated dorsal fins and one or two anal spines.
There are approximately 55 goatfish species known globally but only three in Mexican waters. They are seen in large schools over the reefs during the day, frequenting cleaning stations serviced by butterflyfish, whereby they hover vertically with head down and barbels extended and reportedly change to a darker color to make the parasites more obvious to the butterflyfish.
The maximum length for this species is reported to be 38 cm (15.0 inches) but we have collected a fish that was 40 cm (15.75 inches) extending the known maximum length for this species.
It is found over rocky-shore within the first 150 feet of the water column. It is identified by its broad bright yellow stripe running from the eye to the yellow tail.
Distribution in Mexico fishing areas
This fish species may be confused the less common Yellowfin Goatfish, Mulloidichtys vanicolensis, which is similar appearance but has a predominantly white back. In Mexican fishing areas , the Yellowfin Goatfish is found only at the very southern tip of the Baja California peninsula.
The Red Goatfish, Pseudupeneus grandisquamis, is common in Mexican fishing waters, but in deep water, well off shore, and has a much different appearance than either of the above. Goatfish feed primarily at night on small crustaceans, polychaetes and mollusks.
The Mexican Goatfish is viewed by locals as marginal table fare and a component of soup.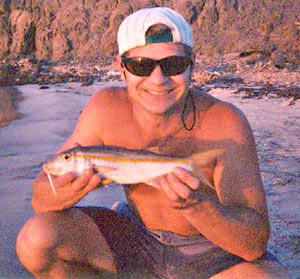 Mexico Fishing Home Page < Fish Photo List < Mexican Goatfish