The Leopard Grouper is characterized by its uniform, non-ragged tail margin and a head, body, and fins are covered with small red-brown dots over a grey-brown background. The fins have very narrow white margins. When alive, the Leopard Grouper's mottled background tends to form irregular, interconnected bars down its sides. After death, these fade away, leaving the field of spots.
Approximately 1 percent of Leopard Groupers exhibit the Golden Phase, and are called Golden Grouper, or sometimes Golden Cabrilla, an easy fish to identify due to its spectacular, overall orange color.
The Leopard Grouper reaches about three-feet in length and up to about 40 pounds. The Spotted Phase can be confused with the Spotted Cabrilla, Epinephelus analogus, although the Spotted Cabrilla has a rounded anal fin, while the Leopard Grouper has a pointed anal fin. The Leopard Grouper, Golden Grouper, lives in relatively shallow water up to 150 feet in depth with rocky bottoms and close to shore. It is most active just after dark, but also throughout the day, often feeding on Flatiron Herring (for which they are sometimes called "Sardinera") but also on almost any type of prey smaller than itself.
Distribution in Mexico fishing areas
In Mexican fishing waters , the Leopard Grouper or Golden Grouper are found in all areas south of Magdalena Bay, all around the Sea of Cortez, and on the mainland to Guatemala. It is considered an excellent food fish and is sold commercially. It is the bread and butter food fish of the Sea of Cortez.
The Leopard Grouper, Golden Grouper is one of the Serrandae or Sea Bass and Grouper Family.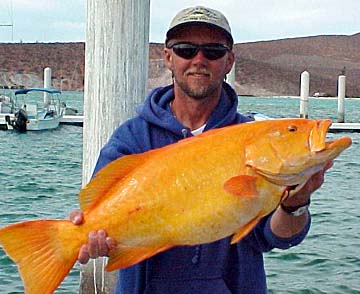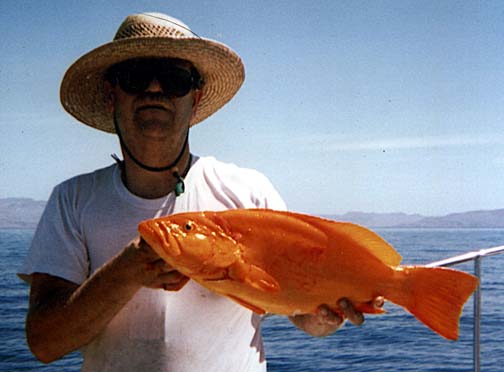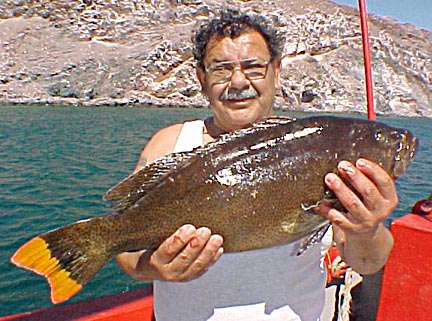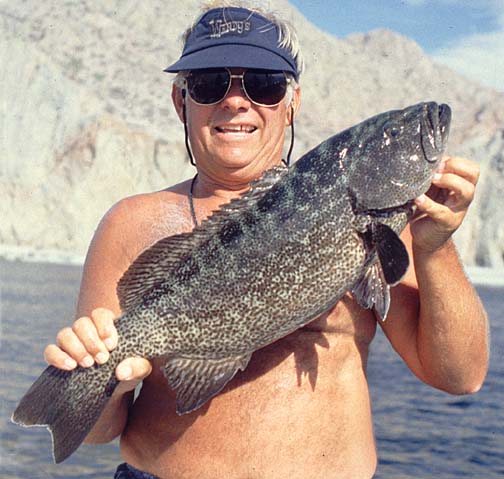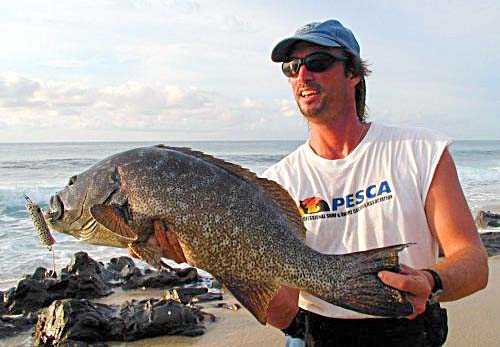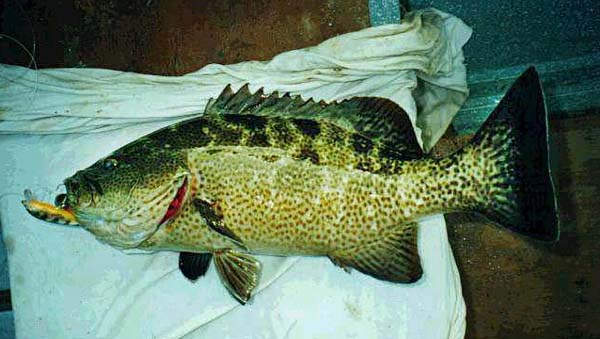 Mexico Fishing Home Page < Fish Photo List < Leopard Grouper or Golden Grouper