Humboldt Squid, Giant Squid, Giant Humboldt Squid
Calamar Gigante, Rojo Diablo

(Dosidicus gigas)
Humboldt Squid, Dosidicus gigas: The Giant Humboldt Squid is a cephalopod and member of the Ommastrephidae Family. Among the true monsters from the deep, it has generated much folklore. The lifecycle and biology of the Humboldt Squid are not well known since it normally resides at depths between 660 and 2,300 feet and spends a great deal of time in the ocean's "oxygen minimum layer" where very little life exists. It is considered to be the most alien intelligence in the sea and possibly the world since it is so different and exhibits totally unpredictable behavior.
The Giant Humboldt Squid is a fiercely cannibalistic opportunistic predator, attacking anything that moves with lightning strength and speed. It travels in large schools and employs cooperative hunting techniques, feeding primarily on fish. The Humboldt Squid has a large brain, large primate-like stereoscopic eyes, three hearts, blue blood, and eight arms equipped with suction cups rimmed with a bony ring of teeth about the size of a dime.
It seizes its prey with two lightning-fast, hook-laden tentacle clubs, draws the captive into a squirming nest of eight arms, and proceeds to tear chunks of flesh from its body with a disproportionately large, razor-sharp, parrot-like beak that is heavy in mass and very powerful. The tongue or radula has also has a series of rings of curved teeth. The Humboldt Squid has the ability to change color several times per second, from a deep maroon to an opalescent white. It reaches lengths of up to 8 feet and weights to 110 pounds, with lifespans of one to two years. The Humboldt Squid is considered by many biologists to be among the most cunning and ferocious of all animals.
Distribution in Mexico
The Humboldt Squid is a pelagic species found in abundance in the central portion of the Sea of Cortez and in other northern waters in times of El Niño. It is a target of commercial fishermen in the central portion of the Sea of Cortez with estimated annual catches of 100,000 tons per year, all on hand lines and most from pangas. Chumming with squid heads is utilized to start the bite. There are an estimated 10 million Giant Squid living in one particularly dense 25-square mile area off the coast of Santa Rosalia, Baja California Sur, Mexico, alone, where it is found in the summer. During the winters, for unknown reasons, the Humboldt Squid is found in the Guaymas area.
There are mixed reports, but the Humboldt Squid is generally not considered dangerous, unless provoked, to humans. In the Los Cabos area it is rare and only appears sporadically. The Humboldt Squid does not give up the fight once on a boat, but bites, grasps with tentacles, and in anger sends out a 5-gallon, fire-hose-like blast of blackish-brown ink that will cover humans from head to toe.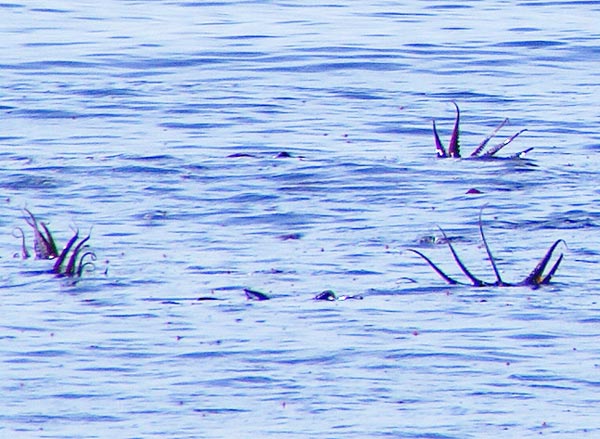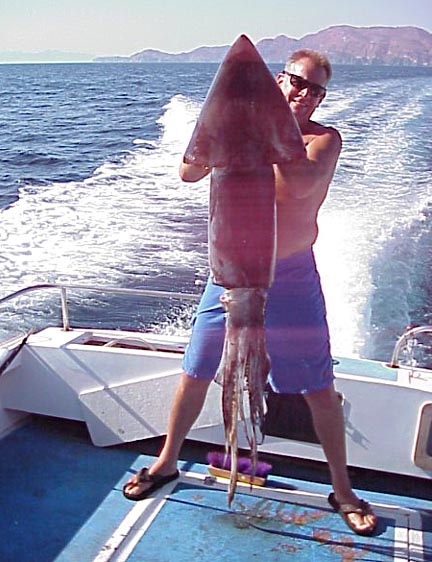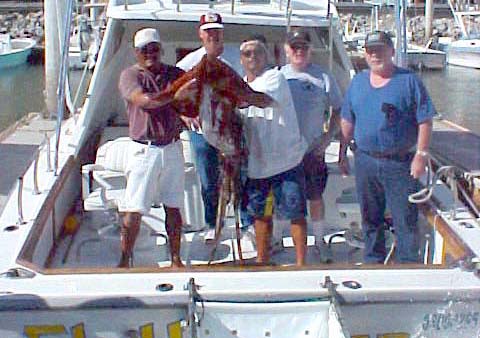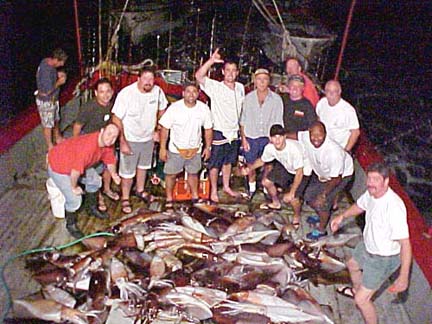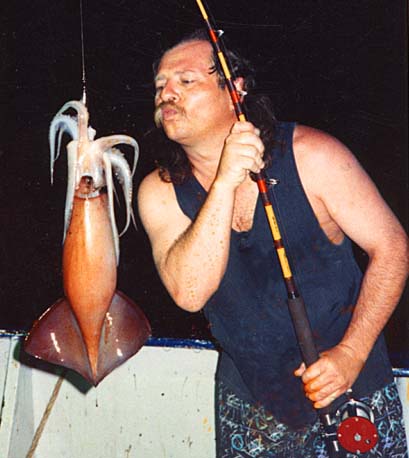 Mexico Fishing Home Page < Marine Life Flora and Fauna Photo List < Humboldt Squid