Gulf Sierra, Monterey Spanish Mackerel
Carite de Monterey, Carite Sierra

(Scomberomorus concolor)
Gulf Sierra, Scomberomorus concolor: The Gulf Sierra or Monterey Spanish Mackerel is one of the rarest members of the Scombridae or Tuna, Bonito, and Mackerel Family found in Mexican waters.
The Gulf Sierra is characterized by its elongated body with short snout. Males are metallic blue on the flanks with a white belly and no bars, stripes, or spots. Females are somewhat more colored (as pictured below) with a series of smaller brown spots on their flanks. The Gulf Sierra has 6 to 9 finlets between the second dorsal fin and the caudal fin, and between the anal fin and the caudal fin, and two small keels separated by a third larger keel.
This species might be confused with the Pacific Sierra, Scomberomorus sierra (which has medium-sized yellow spots on its flanks).
This is a coastal pelagic schooling species that is currently believed to be present only in the north half of Mexico's Sea of Cortez having become extinct in other waters and it is considered to be an endangered species. It was once an important commercial fish off the U.S. Pacific coast. The Gulf Sierra is normally found in the first 50 feet of the water column. It is reported to reach a length of three feet and 10 pounds. It has a set of horrific teeth and only those most skilled in the art of fishing can catch them without the use of a wire leader.
Note: an effort to introduce the Gulf Sierra to the Salton Sea in California in 1950 via a transplant from San Felipe failed.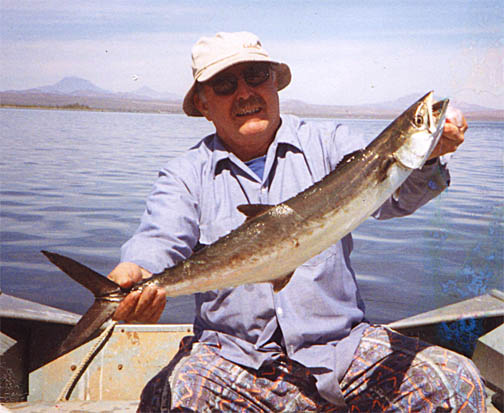 Mexico Fishing Home Page < Fish Photo List < Gulf Sierra