The Giant Mexican Needlefish has long pectoral and pelvic fins, and the bottom lobe of the caudal fin is much longer than the upper. It has a raised, prominent black keel at the tail base.
This fish species is quite similar to and can be confused with the California Needlefish, Strongylura exilus, and the Pacific Agujon Needlefish, Tylosurus pacificus, both of which have a longer beaks and other subtle differences that are difficult to distinguish without a detailed side-by-side comparison.
The Giant Mexican Needlefish is a member of the Belonidae or Needlefish Family.
Distribution in Mexico fishing areas
This fish is abundant and found in all Mexican fishing waters south of Cedros Island on the Pacific coast, on the Cortez Coast of Baja California, and throughout the Pacific coast of mainland Mexico, including the offshore islands Tres Marias and Revillagigedos.
Other needlefish species found in Mexican waters include: the Agujon Needlefish, Tylosurus imperialis melanotus; the Barred or Flat Needlefish, Ablennes hians; the California Needlefish, Strongylura exilus; and the Pacific Needlefish, Tylosurus pacificus. All of these needlefish are very similar in size and appearance and one can easily be fooled into an improper identification.
However, the largest of the needlefish is the Giant Mexican Needlefish, and the largest one caught that we are aware of was 64 inches in length and 16 inches in girth, caught off the beach near La Paz, Baja California Sur, Mexico, by Neil Kelly, coauthor of the Baja fishing guidebook, The Baja Catch.
The Giant Mexican Needlefish can be found at times in large, massive schools cruising the surface well out at sea. They will normally show up with live bait or in a chum line in the water. At times they can be difficult to hook, as they have very bony mouths, like to play with their food prior to ingestion, and can cut monofilament with their teeth. If found close to shore it is a indication that they have followed a school of prey to this location. They are viewed by locals as poor table fare and a "catch and release." However, their meat cooks up snowy white and is delicious, once you get past the blue-green bones, which turn white when cooked. Giant Mexican Needlefish feed mainly on small schooling fish such as anchovies, herrings and mullets, and they are not known to attack larger reef fishes.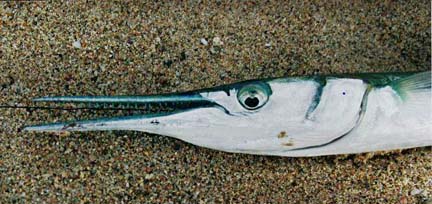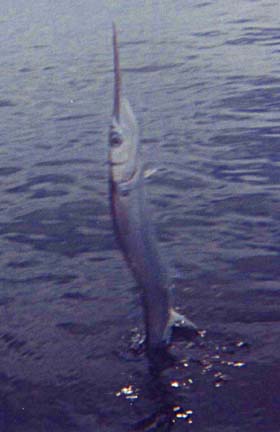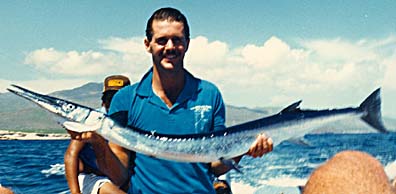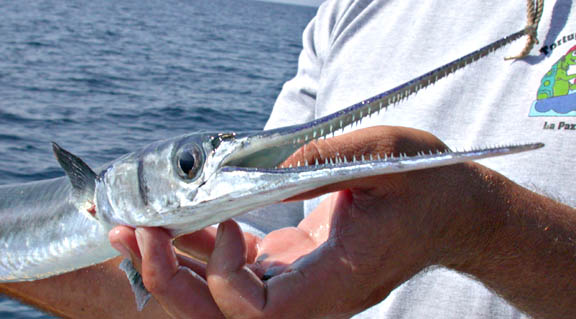 Mexico Fishing Home Page < Fish Photo List < Giant Mexican Needlefish