Gulf Grouper
Garropa del Golfo, Mero Baya

(Mycteroperca jordani)
Gulf Grouper, Mycteroperca jordani: The Gulf Grouper is gray-brown in color, and is characterized by its "grouper-like" appearance, with the fourth and fifth dorsal spines being the longest, and when alive, a series of solid, irregular blotches radiating out from the face area.
The Gulf Grouper's tail is straight or slightly concave, its gill cover is rounded with a notch, and the tips of its fins are white. The Gulf Grouper might be confused with the Broomtail Grouper, Mycteroperca xenarcha (jagged tail fin, ring-like markings on upper body, rather than solid blotches).
This fish species reaches six-and-a-half feet in length and up to 200 pounds. The Gulf Grouper can be found over rocky reefs at depths that vary with the seasons, typically in the first 100 feet of the water column, but between 100 and 150 feet during the summer.
Distribution in Mexico fishing areas
In Mexican fishing waters , the Gulf Grouper is found all along the Pacific Coast of the Baja California peninsula, throughout the Sea of Cortez, and around the Revillagigedos Islands; it is absent from the mainland coast south of Mazatlan. The Gulf Grouper is considered an excellent food fish and is sold commercially.
Although not as abundant as some of the other groupers, the Gulf Grouper is one of the more important food fishes of the Sea of Cortez.
The Gulf Grouper is one of the Serrandae or Sea Bass and Grouper Family.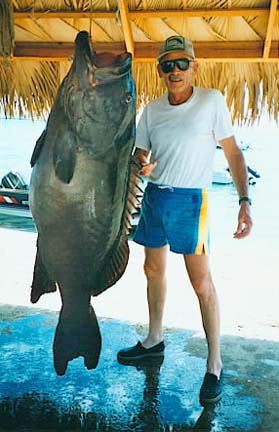 Mexico Fishing Home Page < Fish Photo List < Gulf Grouper