Guineafowl Puffer, Spotted Puffer
Botete Negro, Botete Dorado

(Arothron meleagris)
Guineafowl Puffer, Arothron meleagris: This fish is one of the puffers that is characterized by its black skin covered with white polka dots, and its large, strong, beak-like teeth. It has also been reported in a bright yellow form, the Golden Puffer or Botete Dorado. (Below is shown a rather unique picture as this color transformation is occurring.) The Guineafowl Puffer can be confused with the female Spotted Boxfish, Ostracion melearis, in the wild, but "up close and personal," the boxfish is easily distinguished by its rigid structure.
The Guineafowl Puffer is a member of the Diodontidae group of Porcupinefish of the Tetraodontidae or Pufferfish Family.
It is widely distributed across the central Indian and Pacific Oceans from Africa, throughout Micronesia and to the Eastern Pacific south to Ecuador.
Distribution in Mexico fishing areas
In Mexican fishing waters , they are found on the east coast of Baja California from La Paz to Cabo San Lucas and on mainland Mexico from Guaymas to Los Mochis, and then from Mazatlan to Guatemala. They are also common to all offshore islands including Tres Marias and Revillagigedos.
Other puffers found in Mexican waters include: the White-Spotted Puffer, Arothron hispidus; the Pelagic Porcupinefish, Diodon eydouxil; the Ballonfish or Barred Porcupine Fish, Diodon holocantus; the Spotted Porcupinefish, Diodon hystrix; the Oceanic Puffer, Lagocephalus lagocephalus; the Bullseye Puffer, Sphoeroides annulatus; the Smooth Puffer, Sphoeroides lispus; the Longnose Puffer, Sphoeroides lobatus; and the Peruvian Puffer, Sphoeroides sechurae.
The Guineafowl Puffer is reported to reach 16 inches in length and is found in water up to 100 feet in depth. The fish is a visual phenomenon that will inflate with encouragement but has no structure, no rigid backbone and resembles a "tube of goo" that is a 100 percent catch-and-release. It feeds on coral, small sea animals, sponges, seaweed, and detritus, and it can be caught from shore on cut squid that is allowed to lie quietly on sand adjacent to reefs.
Note: Like many puffers, the Guineafowl Puffer is reputed to be highly poisonous, even fatal, if eaten, due to the presence of tetrodotoxin believed to protect it from predation by larger fish.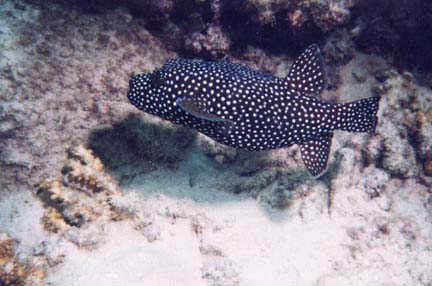 Mexico Fishing Home Page < Fish Photo List < Guineafowl Puffer