Eastern Pacific Bonefish
Zorro del Pacifico Oriental, Macabi del Pacifico Oriental

(Albula esuncula)
Eastern Pacific Bonefish, Albula esuncula: The Eastern Pacific Bonefish is a long slender cylindrical silvery fish with yellow pectoral and pelvic fins and a dark caudal fin.
The pelvic fins of the Eastern Pacific Bonefish originate under the middle of the dorsal fin and the mouth ends before reaching the eye, both of which are key identification characteristic.
The Eastern Pacific Bonefish is not an easy species to identify because it is quite similar to the Lady Fish or Machete, Elops affinis (pelvic fins commence before the dorsal fin commences); the Milk Fish, Chanos chanos (large eyes, small mouth, strong lateral line, short pointed dorsal fin); and especially the Shafted Bonefish, Albula nemoptera (prolonged filamentous last dorsal fin ray and long last anal fin ray with dorsal being longer than anal).
The Eastern Pacific Bonefish reaches 28 inches in length and is normally found in the first 30 feet of the water column over sandy bottoms.
Distribution in Mexico fishing areas
It is a coastal pelagic species reported to be found in all Mexican fishing waters with the exception of the oceanic islands.
This fish species is a member of the Albulidae or Bonefish Family.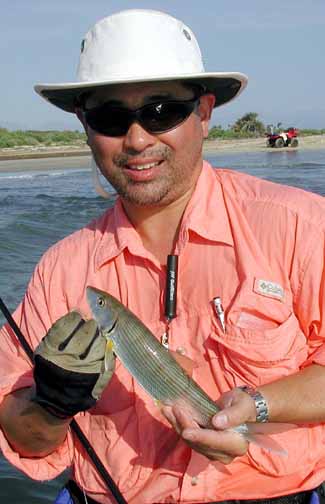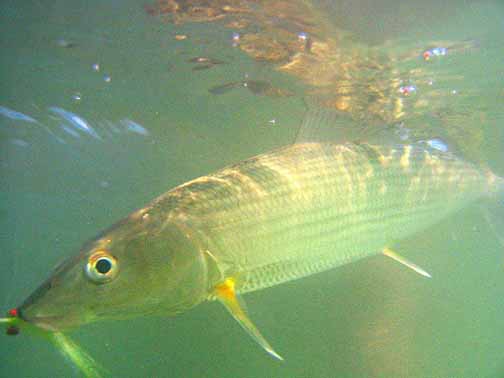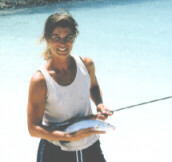 Mexico Fishing Home Page < Fish Photo List < Eastern Pacific Bonefish