Mahi-mahi, Dorado, Dolphin Fish
Dorado

(Coryphaena hippurus)
Mahi-mahi or "Dorado," Coryphaena hippurus: The Dorado, "golden" in Spanish, is instantly identifiable because of its unique shape and brilliant coloration. It has a compressed body with a long concave anal fin, a single long dorsal fin that extends the length of the body, very long pectoral fins that are greater than one-half the length of the head, pelvic fins that originate under the pectoral fins, and a deeply forked caudal fin. The fins are normally yellow.
The mahi-mahi, or "dorado" in Spanish, is sexually dimorphic, with males having a bony crest on the high, square forehead presenting a blunt vertical profile, much like a sperm whale, while females present a more normal profile. The Dorado is brilliantly colored with golden hues on its sides, irregular metallic blue and green blotches on the back and sides, and white to yellow underneath. These striking colors quickly fade to a uniform blotchy white shortly after collection. Characteristically, the body depth is less than 25 percent of the body length
The Dorado, also called "Dolphin Fish," is not easy to confuse with other fish, except for its close relative, the Pompano Dorado, Coryphaena equiselis (body depth greater than 25% of the body length, pectoral fins less than one-half the length of the head, anal fin convex).
The Mahi-Mahi is a member of the Coryphaenidae Family which has only one other species, the Pompano Dorado. The dorados are found in all tropic and semi-tropical waters of the Indian and Pacific Oceans, including Mexican waters. They are characterized by their compressed bodies with very long dorsal fins that extend from the nape to the caudal fin, an anal fin with a long base that also extends to the caudal fin, no finlets or scutes, and a deeply forked caudal fin.
Dorado are found in all waters, both oceanic and inshore, of the Western Pacific Ocean from 46 degrees north to 38 degrees south latitude. They are known to congregate under floating objects, to follow ships, and to be swift fast-moving predators that feed on other fishes and squid. They are preyed on by blue marlin, black marlin, porpoises, sailfish, sharks, swordfish, and yellowfin tuna. The Dorado is a highly prized game fish and of keen commercial interest. It is routinely caught by with lures rapidly trolled near the surface. Normally if you can catch one you can catch several since they are very inquisitive party animals and will follow hooked comrades to the boat. Small Dorado travel in schools that vary in size from a few fish to hundreds and larger Dorado travel alone or in pairs. They are found in the first 250 feet in the water column with temperatures of 21 to 30 degrees Centigrade. The Dorado is a very fast growing fish with a life span of four years.
Distribution in Mexico fishing areas
The Mahi-mahi is omnipresent in all Mexican fishing waters. They are reported to reach a maximum length of 6 feet and more than 65 pounds. However fish of less than 3 feet in length and less than 30 pounds are most common. The world angling record is 87 pounds. A dorado caught on lightweight tackle is one of the most exciting experiences in all of sportsfishing.
Length vs. weight chart by John Snow.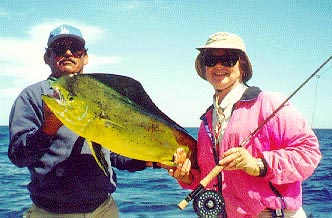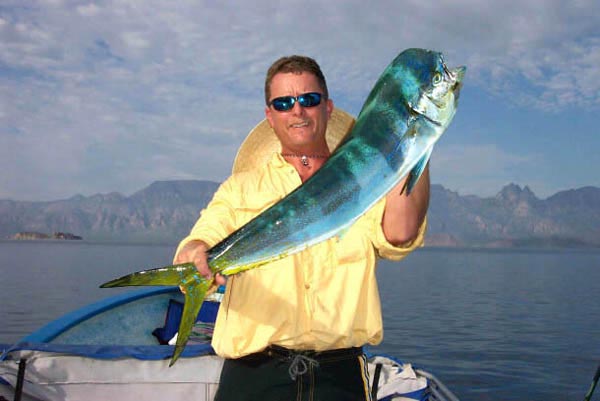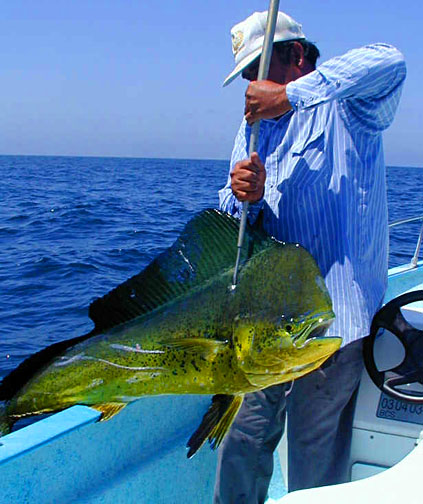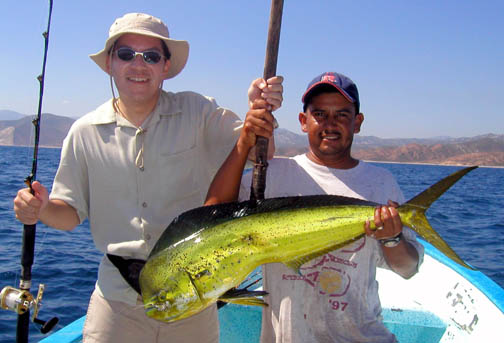 Mexico Fishing Home Page < Fish Photo List < Mahi-mahi or "Dorado&quot