Dog Snapper, Pacific Dog Snapper, Pacific Cubera Snapper
Pargo Perro, Pargo Prieto

(Lutjanus novemfasciatus)
Dog Snapper, Lutjanus novemfasciatus: The Dog Snapper is the largest of the snappers. It is distinguished by its massive size, a wide body that varies from deep red to light red in color, with eight or nine bars on the upper half of its sides and a silvery color on its bottom.
In younger fish, which are about one foot in length and quite accessible from the beach, the bars are more prevalent and vary in color from black bars on a silver background to a deep red background with light bars (as shown below).
The Dog Snapper also has its famous canine teeth which are longer than the pupil diameter of its eye. The large Dog Snappers are easy to identify and not easy confused with other species. However, the smaller fish are quite similar to the Greybar Grunt, Haemulon sexfasciatum (six thick dark bars) upon collection, and also might be confused with the Barred Pargo, Hoplopagrus guentheri (which has similar barring but a significantly less aerodynamic body profile).
Distribution in Mexico fishing areas
The Dog Snapper is a member of the Lutjanidea or Snapper Family, which are known in English as snappers, and in Mexican fishing areas as "pargos." In Mexico, the Dog Snapper is found from Magdalena Bay on the Pacific side of the Baja California peninsula, throughout the Sea of Cortez and along the mainland south to Guatemala; they appear to be absent from around the oceanic islands.
This fish species grows to well over five feet in length, reaching close to 100-pounds and it is found in the first 100 feet of the water column around rocky reefs. Dog Snappers feed on crustaceans and small schooling fish including croakers, grunts, and wrasses.
They are normally caught out of a panga on a slow trolled live Mullet hooked with a size #7/0 hook or on live sardinas hooked with a size #1/0 hook. The smaller one-foot models can be caught from the beach around rocky structure utilizing cut squid or dead sardines. The Dog Snapper is viewed as good table fare.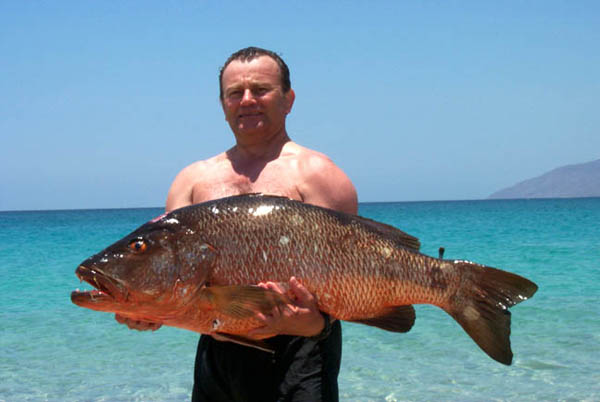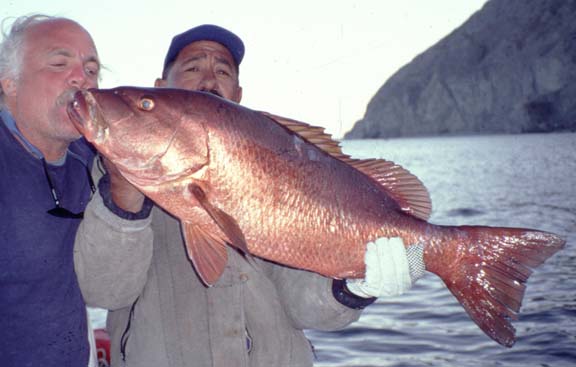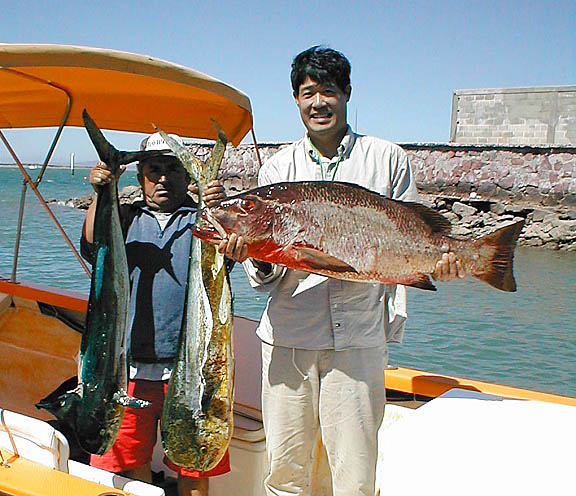 Mexico Fishing Home Page < Fish Photo List < Dog Snapper