Calico Bass or Kelp Bass
Cabrilla Alguera, Cabrilla Sargacera

(Paralabrax clathratus)
Calico Bass or Kelp Bass, Paralabrax clathratus: The Calico Bass or Kelp Bass is characterized by its similarity to a freshwater largemouth bass. Its third and fourth dorsal spines are of equal length, and are approximately twice the length of the second dorsal spine.
The upper head of the Calico Bass or Kelp Bass is brownish-olive with random yellow spots, and the upper back is mottled with characteristic white botches on a brown background.
There are two rows of the characteristic rectangular white blotches on the back. The Calico Bass or Kelp Bass is easily differentiated from other members of the bass family by these white botches. The Calico Bass or Kelp Bass reaches a length of 70 cm (28 inches) and just over 6 kg (14 pounds) in weight.
This fish species is normally found near or in kelp beds in the first 50 feet of the water column but larger specimens are found up to 130 feet deep. They feed on crustaceans and small fishes.
Distribution in Mexico fishing areas
It is a non-migratory fish found in Mexican fishing waters only along the Pacific side of the Baja California peninsula from Tijuana south to at least Magdalena Bay. The Calico Bass or Kelp Bass is considered to be an excellent food fish and an important game fish with catch levels being in excess of 500,000 per annum by California party boats.
The Calico Bass or Kelp Bass is a member of the Serrandae or Sea Bass and Grouper Family.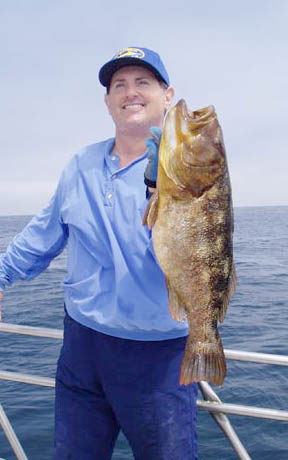 Mexico Fishing Home Page < Fish Photo List < Calico Bass or Kelp Bass