Caballito, Goggle Eye, Bigeye Scad, Selar
Caballito

(Selar crumenophthalmus)
Caballito, Selar crumenophthalmus: This fish is characterized by its very large eyes and elongated body with a widely forked tail. It rather unique in its appearance, being rectangular in shape and not easily confused with other species.
The Caballito is pelagic, widely distributed across the central Atlantic, Indian, and Pacific Oceans, from Africa, throughout Micronesia and to the Eastern Pacific south to Ecuador. It forms large in-shore schools.
Distribution in Mexico fishing areas
In Mexican fishing waters , the Caballito is found occasionally in the Los Cabos area of Baja California, north along Baja's Cortez coast to San Felipe, and throughout all coastal waters of mainland Mexico. They are also common to all offshore islands including Tres Marias and Revillagigedos.
We are not aware of any other known Selars in Mexican waters, but of course there are an abundance of other members of the Jack Family.
The Caballito is reported to reach 14 inches in length, but is more commonly found at 6 to 7 inches. It is found up to 500 feet deep during the night, and in shallow water with sandy bottoms during the daytime. It is normally caught by net, although in Asia it is also caught by hook and line. It is a substantial food source for all tropical Asian countries, and is also widely used as a live bait by anglers. Caballito feed on small invertebrates, foraminifers, and shrimp when near shore, and on zooplankton and fish larvae when offshore. The Caballito and other Jacks are found in all tropical and subtropical seas, with 140 individual species having been identified to date. They are voracious predators feeding primarily on small fishes. They frequently travel in large schools and roam considerable distances, normally following schools of smaller bait fish. They are generally silver in color, and exhibit a wide range in size from about 10 inches and 1 pound, to 6 feet and 90 pounds.
The Caballito is a member of the Carangidae or Jack Family.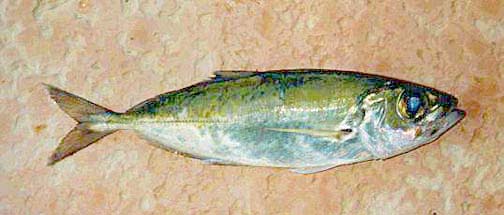 Mexico Fishing Home Page < Fish Photo List < Caballito