Bigeye Jack, Bigeye Trevally, Bigeye Crevalle Jack
Jurel Ojogordo

(Caranx sexfasciatus)
Bigeye Jack, Caranx sexfasciatus: The Bigeye Jack is characterized by its very large eyes and elongated body with a widely forked tail. It is blue-green on top and silvery below, with an elongated body, a very large eye, a small black dot at the top of the gill cover, and dark scutes along the straight portion of the lateral line. Its dorsal and anal fin tips are white, and its caudal fin is yellowish to black.
This fish species is pelagic and widely distributed across the central Atlantic, Indian, and Pacific Oceans, from Africa, throughout Micronesia, and to the Eastern Pacific south to Ecuador. It forms large inshore schools.
Distribution in Mexico fishing areas
In Mexican fishing waters , the Bigeye Jack is found in the Los Cabos area of Baja California Sur, north along Baja's Cortez coast to Santa Rosalia, and in the coastal waters of mainland Mexico from Mazatlan south to Guatemala. It is also common to all offshore islands including the Tres Marias and Revillagigedos.
The Bigeye Jack is reported to reach up to 3.5-feet in length, and is found up to 200 feet deep. It travels in large schools and frequents reefs in search of small fish for food.
It is abundant on the Cabo Pulmo Reef where it is seen in massive schools and is preyed upon by Sea Lions. The fish is of keen interest to scuba divers. Its food value is considered "marginal" by locals.
This is is a member of the Carangidae or Jack Family.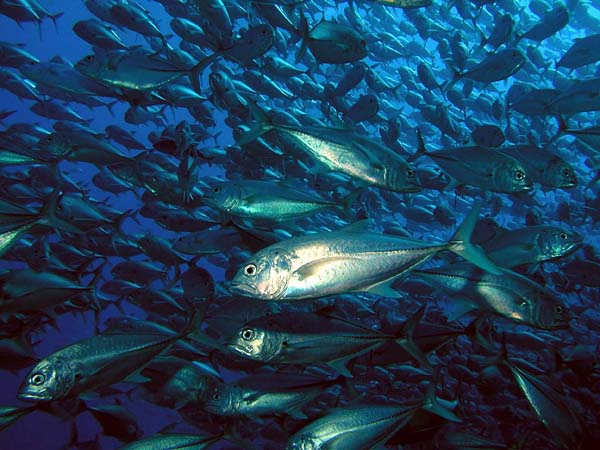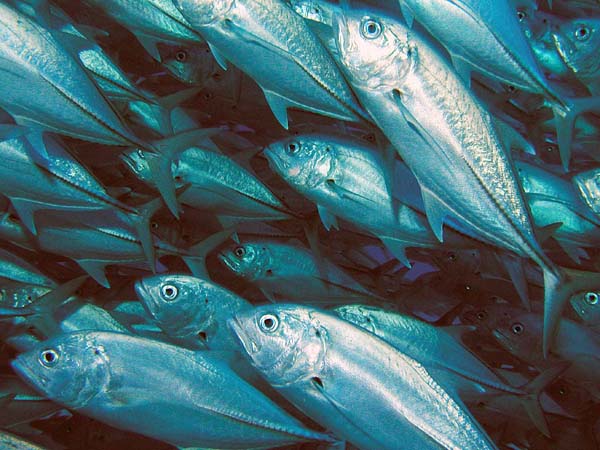 Mexico Fishing Home Page < Fish Photo List < Bigeye Jack