Barred Pargo, Mexican Barred Pargo, Mexican Barred Snapper
Coconaco

(Hoplopagrus guentheri)
Barred Pargo, Hoplopagrus guentheri: The Barred Pargo is a rather easy fish to identify with its all-brown head and about six alternating wide and narrow white bars running down its side. The Barred Pargo's bars are quite pronounced upon collection but fade quickly over time, as illustrated in the photos below.
The Barred Pargo is a member of the Lutjanidea or Snapper Family, generally known in Mexico as "pargos." It is the sole Hoplopargus species found in Mexican waters with the other snappers being of the Lutjanus genus.
Distribution in Mexico fishing areas
In Mexico fishing waters , the Barred Pargo has been observed on the Pacific coast of the Baja California peninsula south of Magdalena Bay, on the Sea of Cortez side of the Baja California peninsula south from Santa Rosalia, and along the Pacific mainland coast from Guaymas to Guatemala. It grows to three feet in length but actually catching one this size is virtually an impossible feat since the species is becoming rare and it prefers depths of up to 100 feet "in the rocks with caves." Getting them out of the rocks or caves is a major undertaking requiring a great deal of strength and luck.
This fish species normally feeds on crustaceans and small schooling fish such as grunts and sergeant majors. The Barred Pargo is also targeted by spear fisherman because it hides in caves during the daytime and thus is a captive. The Barred Pargo is viewed as a good eating fish.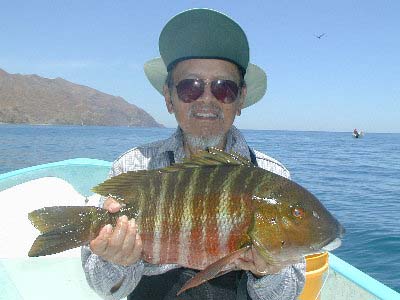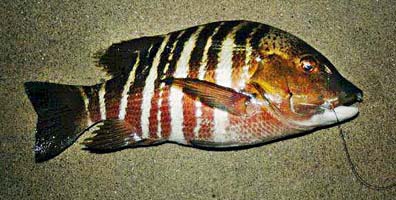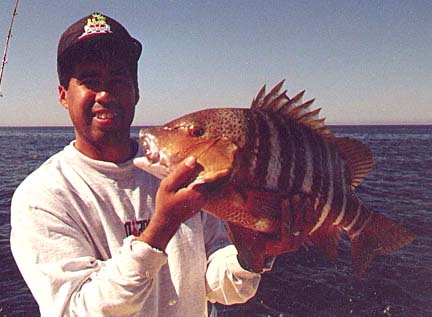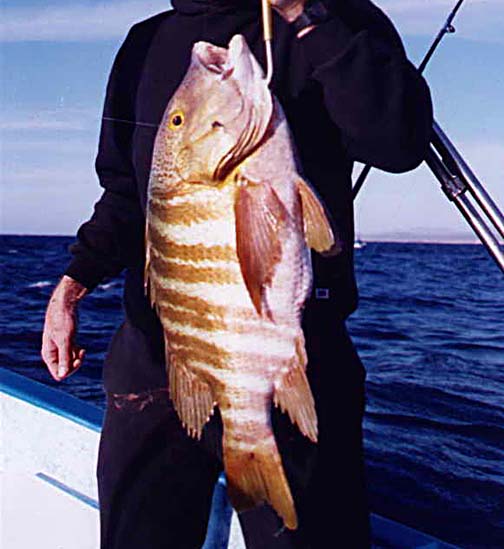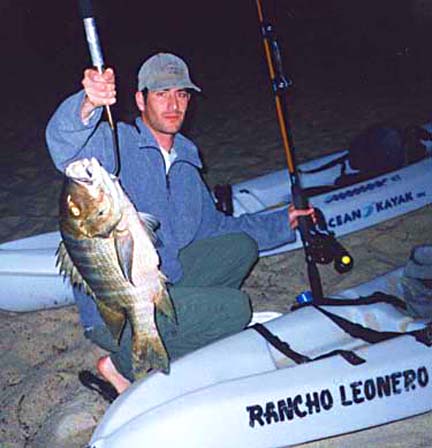 Mexico Fishing Home Page < Fish Photo List < Barred Pargo