This fish species is characterized by its overall amber-colored, massive body that is lighter on the undersides, a long snout, long anal and dorsal fins, and the very distinctive dark "bandit" stripe running diagonally through its eye obliquely to the front of its dorsal fin, which fades into a black background after death (see Baja On The Fly photo below) and significantly diminished with the age of the fish.
The Amberjack is quite similar to the Yellowtail, Seriola lalandi (which is more aerodynamic and not as deeply colored, with a smooth, pointed snout and a colored lateral stripe), and the Fortune Jack, Seriola peruana (much smaller in size, short snout, mouth ending under the pupil, no bars or stripes on head or body, dark fins, and an overall bronze appearance).
The Amberjack is also characterized by its slow, steady and consistent "pull," resembling a major locomotive, that can continue for several minutes without a pause.
Distribution in Mexico fishing areas
This fish species is pelagic and found in all Mexican fishing waters including around the oceanic islands. It is found as deep as 450 feet, over all types of terrain. It is reported to reach a length of 60 inches, but is more common at 2 feet in length. Note: The world record Amberjack, as of 2004, was caught in Mexican waters with a fish weighing 104 pounds.
The Amberjack and other members of the Jack family are found in all tropical and subtropical seas.
Length vs. weight chart by John Snow.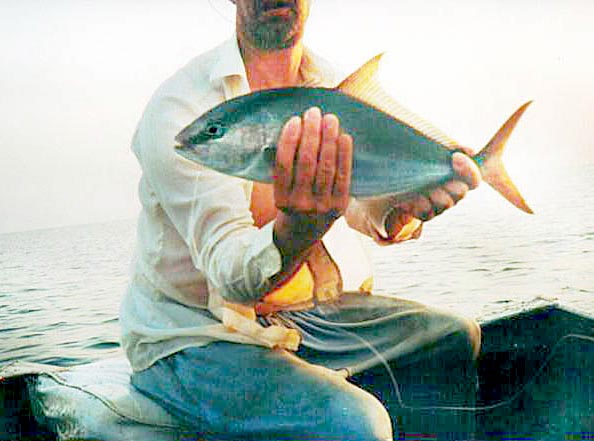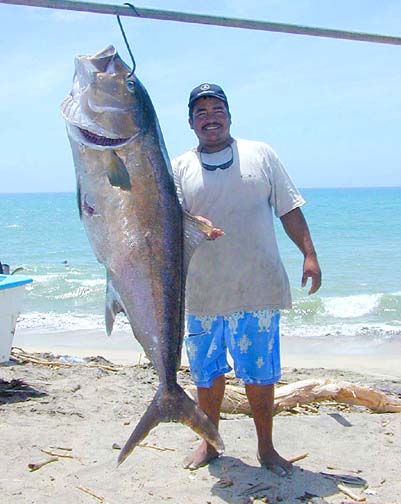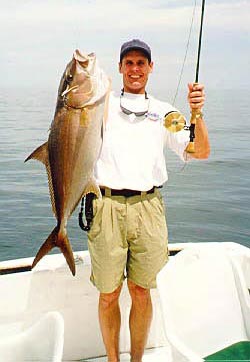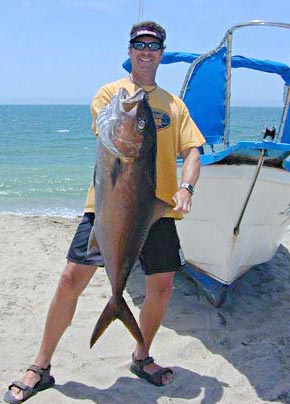 Mexico Fishing Home Page < Fish Photo List < Amberjack