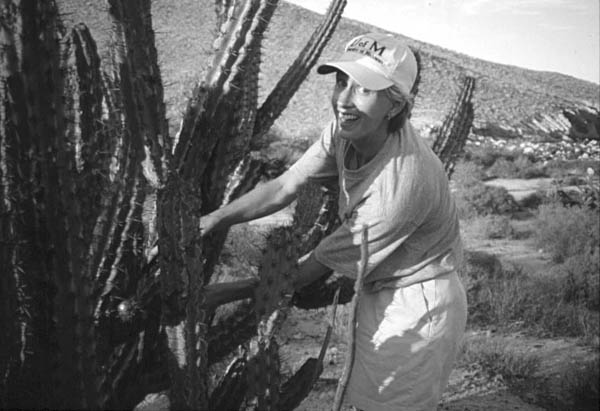 Julie Machen pickin' pitahaya near La Unica, south of Baja California's semi-remote village of Bahia de los Angeles.
Sept. 28, 1998, by Gene Kira:

"Eat it! Eat it!" the old man urged, as he split the fruit in two, jammed half into his mouth to show me how it was done, and held the other half out to me.

In a third of a century of exploring and fishing in Mexico's Baja California peninsula, I had never seen this before—the redder-than-red inside of a really ripe pitahaya fruit.

I had met the old fisherman while digging for clams on a deserted beach near Bahia de los Angeles, about one-third the way down Mexico's Sea of Cortez. He had two half-buckets of the spiny, baseball-sized fruits of the pitahaya or organ pipe cactus that he had gathered in the rocky hills above the bay.
I raised my titanium-framed, polarizing sun glasses to see if the unbelievable red color was merely a hi-tech mirage, or if something like that really did exist in nature. Yup, there it was, held out in a darkly-tanned, very wrinkled hand that had lost half of one finger in some long bygone mishap.

The price was certainly right.

I took the fruit and peeled back the green cactus skin as one would peel a small orange. For a long moment, I just held it, staring deep into the juicy redness that was so intense it seemed to shimmer from beneath with tiny flames of blue, orange, and yellow, impossible to describe adequately.

I had read of this organ pipe cactus fruit, of the fabled "second pitahaya harvest" of Baja's indigenous people, and of how the ripening of the fruit would set them off on an orgiastic mating frenzy abhorred by the early padres.

Expecting something like way-too-strong Cool-Aid, maybe mixed with "Love Potion #9," I took a big bite.

The flavor was something like kiwi, good, but not that good, certainly not as good as advertised, definitely sweet, but not that sweet, and soft crunchy with tender, fruity pulp. The hundreds of tiny black seeds were easily crunched up and swallowed with the rest of the fruit. The aphrodisiac effect, if any, hardly seemed up to setting off an orgy.

Nevertheless, the pitahaya harvest became an unforgettable part of this trip, as I and five other guests of Bahia de los Angeles' rustic La Unica Wilderness Retreat happily wandered through the cactus forest, using dinner knives and forks to snip the fruits from the spiny branches and drop them into buckets. Within an hour we had collected dozens and we returned to our little hidden bay in our "panga," an outboard skiff run by our local Mexican guide, "Maleno."

In Maleno's able hands, we rounded some rocky points and skimmed past sea lions, whales, pelicans, and shallow reefs loaded with colorful fish, and the panga's bow slid gently up on the beach of our remote seaside camp.

Other than La Unica's dozen small thatched cabins and central "dining palapa" there was no sign of human habitation anywhere.

La Unica is Baja's first wilderness retreat worthy of the name. There is no road. No airstrip. No piped water. No electricity, except for a portable generator used briefly to run a margarita blender and light the big palapa for dinner.

I had been eager to see La Unica because I felt the concept was an important part of what Baja California can offer today's tourist, the enjoyment of unspoiled natural beauty and tranquility, without the glitzy trappings, and on a schedule tailored to hectic lifestyles back in the "real world."

I had also wanted to visit Bahia de los Angeles as a sort of homecoming, a return to the venue that had been the beginning of my own life's journey in Baja California. It was in 1964 that I first came here as a high school boy and a guest in a friend's Cessna 182, completely unprepared for the natural spectacle that was the Sea of Cortez. In those days, the yellowtail of Bahia de los Angeles still gathered in schools so large that the horizon would be completely obscured at all points of the compass and "fishing" for them was not what we think of today; it was more like shoveling coal.

That trip was the beginning of a lifelong fascination with "Baja" that would take me on hundreds of remote camping trips, cause me to buy a dozen boats of various types and sizes, and result in the writing of three books.

In 1964, Bahia de los Angeles wasn't really even a village yet. It was a clutch of perhaps 20 homes clustered around "Casa Diaz," the fishing lodge and motel of the former prospector and miner Antero Diaz and his wife Cruz. Diaz had first come to Bahia de los Angeles from Sonora in 1932 and by 1956 Casa Diaz was fairly well established in the business of providing meals and lodging for fly-in tourist anglers from the United States. At the time of my 1964 visit, the clients' planes still landed right on the dirt main "street" of town and taxied literally up to the front doors of the cabins.

Nowadays, you land on a paved airstrip outside town and there is an army detachment that meets arriving planes to check for illegal drugs and other contraband. Those huge yellowtail schools are gone and much of Baja California has been "civilized" by the development of a modern tourist industry that caters to clients arriving not in Cessnas but in airliners and cruise ships. Today, even the sleepy fishing village of Bahia de los Angeles has noise, motels, campgrounds and restaurants. The many empty beaches I found on my first trip have faded into history.

So it was with great interest that I heard of the La Unica Wilderness Retreat run by professional pilot Kevin Warren and his brother Tim. The camp is located on an otherwise uninhabited little bay complete with its own picture perfect little island about ten miles south of the village. There is no way to reach it except by panga or perhaps parachute and the drama and stark, natural beauty of the desert setting is unsurpassed anywhere in Baja.

The real key to understanding this place is the notion of "time" and how it can be detached from the modern context. At La Unica, you can be on a completely unspoiled, completely uninhabited beach, seemingly at the end of the world, cut off from time, within about five hours of leaving Interstate 805 in San Diego. La Unica's guests are flown to Bahia de los Angeles from San Diego's Brown Field in Kevin's seven-passenger Cessna. There, they transfer into a panga and arrive at camp after a forty-five minute boat ride.

In camp, the rustic accommodations take you back another step in time. You stay not in a hotel-like "room" but in a simple, thatched-roof cabin facing directly onto the beach. Your bed is a homemade canvas cot. Your private, inside "shower" is supplied by a hanging plastic water bag. Nevertheless, despite the rustic nature of the place, there are real flush toilets that really work.

On arrival, your guide gives you a five-minute briefing on desert and water safety, hiking trails, camp routine, meals, and how to use the kayaks, sail board, fishing tackle, sailboat, snorkel gear, and other items available to guests on an unlimited basis. There are no schedules. Nothing to sign up for or keep track of. You do what you wish, whenever you wish.

In addition to Kevin or another American pilot/guide, a three-person local staff takes care of everything that sounds like "work." Your shower bag is magically refilled as you empty it. The cook and helper prepare snacks or hearty Mexican ranch-style full meals, either by individual request, or by group consensus that "it's time to eat."
The La Unica Wilderness Retreat provides Baja visitors with the "primitive" experience that we old timers fell in love with in the 1960s, but at a level of convenience, comfort and ease that were unheard of back then. This is in-your-face unspoiled natural beauty, virtually at a moment's notice, and without all the hard work of camping on your own.

At La Unica, the subliminal urgencies of your life's routines fall away, and the rhythms of nature reassert themselves over your artificial sense of time. The passage of days is marked not by hours and minutes, but by the rising and falling of the tides, the rotation of constellations around the North Star, and the splashes of the early morning fish. Within a short time, you begin to appreciate the subtle differences from one day to the next, and the arrival of the afternoon breezes becomes an "event" worthy of note.

In the meeting of an old fisherman and in the gathering of pitahaya fruit, clams, and fresh fish brought steaming to your table, you begin to appreciate the priorities of an earlier, simpler era. The wilderness experience is certainly not for every vacation trip, but it's nice to know that the old unspoiled natural beauty of Baja is still there for those of us who use it to keep track of who we are.

And the fishing? Yes, it was excellent. Using the inshore trolling techniques described in THE BAJA CATCH, and timing our efforts according to the tides, we caught-and-released about one fish per minute of trolling at three highly-defined spots within half a mile of camp. In three days, we caught more than half a dozen species, but suprisingly, not a single bass. Boo!

GETTING TO BAHIA DE LOS ANGELES:

Bahia de los Angeles, or "L.A. Bay" as it is called by Baja aficionados, is reached in one very long day's drive from the U.S. border at Tijuana. The distance is only 400 paved miles but the road is narrow and its condition is highly variable. Your first time will be an "adventure." Figure a typical average speed of about 40 m.p.h., plus time for stops.

La Unica Retreat is reached by light aircraft from San Diego's Brown Field, then a short boat ride from the village. Guests may also drive to the village on their own, if desired. Information on rates and schedules is available from Baja AirVentures.

(Related Baja California, Mexico, articles and reports may be found at Mexfish.com's main Baja California information page. See weekly fishing news, photos, and reports from the major sportfishing vacation areas of Mexico including the Baja California area in "Mexico Fishing News.")