FISHING THE SEA OF CORTEZ AT SAN JUAN DE LA COSTA, LA PAZ, MEXICO
San Juan de la Costa Map
(La Paz Area)
Baja California Sur, Mexico
This fishing map for San Juan de la Costa, Sea of Cortez coast, Baja California Sur, Mexico, shows some important fishing grounds of pangas and boats working out of the La Paz fishing area and other nearby Baja fishing locations.
Principle sportfishing areas shown on this map include: Punta Mechudo, Punta Coyote, Punta Tarabillas, the bay and mining complex of San Juan de la Costa, Bahia de la Paz, Isla Partida, Isla Espiritu Santo, and the beaches of El Mogote leading south to the city of La Paz, capitol of the state of Baja California Sur.

Current and archived weekly fishing reports for the San Juan de la Costa area and other important Baja and mainland Mexico fishing vacation destinations, including fish species caught during each season, fish counts, sportfishing operations, weather conditions, sea water temperatures, and other sportfishing information may be found online each week in Mexico Fishing News.

This San Juan de la Costa fishing map is reprinted with permission from the Baja California fishing guidebook, The Baja Catch: A Fishing, Travel & Remote Camping Manual for Baja California, Third Edition, by Neil Kelly and Gene Kira.

This is one of 60 detailed fishing maps in The Baja Catch showing small boat fishing and launching locations on the Pacific and Sea of Cortez coasts of Baja California, Mexico. Reproduction of this San Juan de la Costa map is prohibited without prior permission.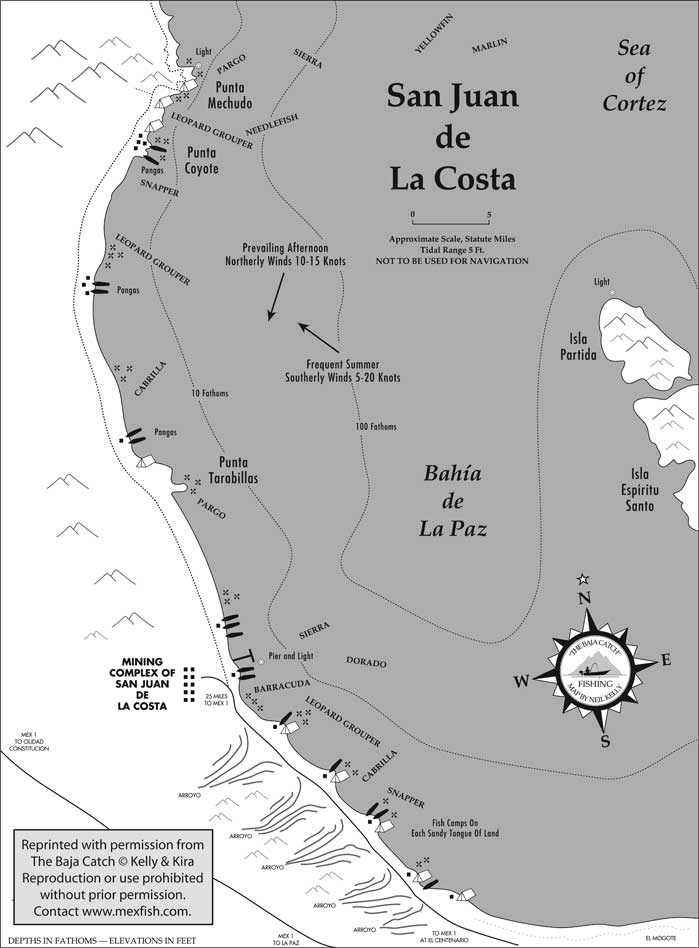 (Related La Paz articles and reports may be found at Mexfish.com's main La Paz information page. See weekly fishing news, photos, and reports from the major sportfishing vacation areas of Mexico including the La Paz area in "Mexico Fishing News.")