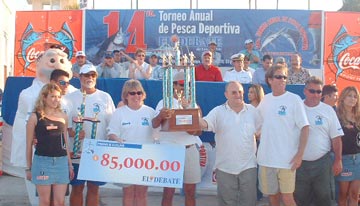 ACROSS THE CORTEZ--East Cape winners of a car and 85 thousand pesos cash in the recent Topolobampo El Debate tournament included Rod Albright, Barb Albright, Capt. Javier Cota holding trophy, Bob Breaux and Perry Jones.
EAST CAPE BOAT CROSSES SEA OF CORTEZ TO WIN
TOPOLOBAMPO, MEXICO FISHING TOURNAMENT
May 29, 2005, Rod Albright, Buena Vista East Cape, Mexico Fishing Report:
Our East Cape fishing team from Buena Vista, B.C.S., Mexico, won the El Debate Tournament in Topolobampo, Sinaloa, Mexico. We fished this past weekend May 21-22, 2005. There were 116 boats with about 700 anglers. We caught the largest fish of the tournament which was a striped marlin that weighed 151 pounds. We won a car, a VW Pointer, 85,000 pesos, and entry into the East Cape Bisbee's and another tournament in Cozumel next year. We had a great time. Our team members were my wife, Barb, Bob Breaux, Perry Jones and myself. Our captian Javier and mate Arturo did a super job too! We fished on my friend, Don Giottonini's new 34-foot Blackwatch boat.