By Gene Kira, April 5, 2004, as orginally published in Western Outdoor News:

Okay, I've never been to Guatemala either.

But our very own Gary Graham of Baja On The Fly, who guides fly anglers in Baja and mainland Mexico, now runs trips down there, and it cost me some sushi the other day to get the true skinny on the "crazy" sailfish numbers he's been putting out.

We do catch sailfish in Baja, of course. For some reason, I've always run into more of them around Mulegé than anywhere else. Off Punta Concepción I've doubled a couple of times, and tripled once, and one September off San Lucas Cove, I gave up on dorado fishing after releasing four stinkin' sailfish in a row during a single trolling pass from Haystack halfway out to Isla San Marcos. (Fishing solo with a 30-pound Jigmaster in a tin boat, that's spelled w-o-r-k.)
But we in Baja are really at the north edge of the sailfish's natural distribution range, and our counts pale in comparison to what Gary and others regularly publish for Guatemala during the peak season, from about February to April (like right now, for instance).

To review some numbers from Gary's recent Guatemala reports:

"...21 sails and a large dorado in one day."

"...four days of fishing, raised fish 142 times, hooked 91, caught 36."

"...boats averaging 25 releases on 40 shots."

Others regularly publish comparable numbers, including such claimed "records" as 83 sailfish landed in one day by four conventional anglers, 24 releases on fly by three anglers, and so forth (although I'd be willing to bet the real record is probably held by a couple of anonymous Guatemalan pangueros fishing with handlines and cut bait).

Anyway, Gary's seen a whole lot of billfish action while fishing off Baja California's Pacific and Cortez coasts, and he seems to be a fairly honest guy (just kidding), so I really wanted to get his personal take on this Guatemala sailfish silliness.

"I didn't believe it either, until I saw it for myself," he said. "But it's for real. It's the capital of sailfish. It's a definite WOW!"
If you check around, some people try to explain the presence of this phenomenal sailfish population as being caused by an eastward-flowing current that comes down from Mexico, hits the coast of El Salvador, and curls back to form a big eddy off Guatemala. That's a nice theory, but where is the heavy population of blue and black marlin, tuna, and other warm water species that should be equal to the sailfish? Why so danged many sailfish?

It's logical to conclude there is something more subtle and selective going on that makes Guatemala a paradise for this particular species--something like our Baja California fishing area's striped marlin core zone between Bahía Magdalena and Isla Socorro.

Anyway, the fact is that Guatemala's winter sailfish action is right up there in the Mel Brooksian "ludicrous zone" where double-digits are actually expected. Like a ten-pound box of chocolates, Guatemala is an opportunity for conventional, fly, or even spinning gear anglers to finally, once-and-for-all, get their complete fill of sailfish.

On fly tackle, Gary's last trip averaged 36 sailfish "events" (fish in the pattern) per day, 20 hookups per day, and nine landed per day.

On a couple of occasions, I've seen Gary in conditions about half this good on Baja striped marlin, and I can well imagine that this Guatemala sailfish show must achieve true "trip of a lifetime" dimensions.

Guatemala itself is a still-pretty-exotic, deeply-tropical tourist destination, about five air hours from Los Angeles, that spans the Isthmus of Tehuantepec and offers not only an incredible sailfish bonanza, but a chance to experience a "different" Hispanic culture and a sportfishing-tourist environment that is still quite undeveloped. Gary's next trips are scheduled this month: 800-919-2252, bajafly@aol.com.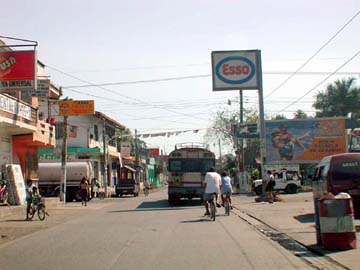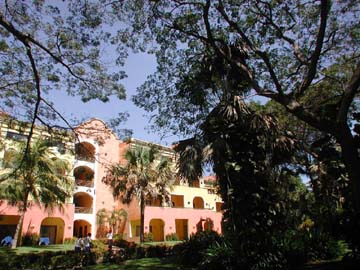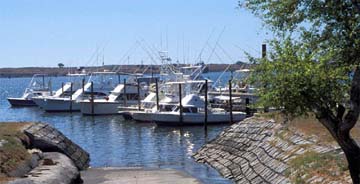 Scenes from downtown, the hotel complex, and the marina at San Jose, Guatemala. Photos courtesy Gary Graham.