By Gene Kira, Dec. 2002, as published in Western Outdoor News:

After last year's Hurricane Juliette wiped out communications and roads in southern Baja California, there was a period of about two weeks when supplies ran short and people started running out of things like fresh lettuce, eggs, baby diapers, gasoline, and so on.

It was never really critical, and nobody actually starved, but it got a little thin there for a while, until the resupply helicopters started arriving, and the state government cleared the roads again.

During the height of the shortages, as concerned emails leapt around the world and website message boards lit up with hurricane news, the loudest hue and cry on the internet wasn't about food, or diapers, or anything like that. Not at all. What people were really up in arms about was that... Jimmy Smith was out of cigarettes!
Baja neophytes everywhere wondered: "Who is this guy?"

It's impossible to get a true feel for James Pledger Smith merely by reading about him. You need to shake his hand, sit down for a spell on his front porch, and have a couple of beers while Jimmy lights one smoke after another, and slowly, very slowly, you realize that you are in the presence of a Mexican national treasure.

Lean, tough, and as stubbornly vital as an old mesquite tree, Jimmy was born 75 years ago on a cattle ranch in Collinsworth County, Texas.

Today, he lives with his wife, the former Guadalupe del Socorro Romero Lopez, in the fishing-tourist village of Los Barriles, about 70 miles up the Sea of Cortez from the tip of Baja California. The house is almost hidden by a dense garden of trees and flowers, blooming just a few yards from Baja's Transpeninsular Highway, and in front sits Lupe's small grocery store, the "Minisuper Playa del Tesoro," with its constant flow of neighbors bringing the latest gossip, its parrot cage in the open front window, Mini the chihuahua running about, and the refrigerator that is always being raided for cold cervezas whenever Jimmy is entertaining visitors on the front porch.

Sooner or later, just about everyone who's anyone in Baja California makes the pilgrimage to Jimmy Smith's front porch--the artists and writers, the historians, the friendless, the ambitious, the wealthy, the éminence grises with their hidden agendas.

Mexicans and Americans alike, they come to pay their respects to the man often referred to here as "Don Jimmy," and it isn't because he has two first names. In the Spanish-Mexican mind, the honorary title of "don" connotes great wealth and power, which Jimmy Smith does not have, but more than that, it implies respect, almost reverence, for the wisdom attained through a man's lifetime experience, his battles, his victories and losses, his perseverance, his progeny, and most of all, his honored place in the community in which he finds himself.

And so they arrive at Jimmy's front porch--in the hot afternoons, when the sport fishing boats are coming back to the hotels--to ask Jimmy's advice about this or that, to obtain a bit of confidential information, or oftentimes, just to sit and listen to the stories of Baja California's golden past and of the amazing diversity of people than Jimmy has known.

Somewhere between Collinsworth County, Texas and Los Barriles, Baja California, Jimmy has found several lifetimes worth of adventures, each filled with stories. Ask him about his limp and cane, and you discover that as a young man, he was severely injured in a head-on collision with a Cadillac when he was a motorcycle policeman in Los Angeles.

Have another beer, or several, and more lifetimes emerge from Jimmy's weather beaten treasure chest. You hear of smuggling parrots and snakes up from Central America in the cockpit of an old airplane, shadowy jobs for the U.S. government in Vietnam and Saudi Arabia, and--most of all--his participatory role in the history of Baja California ever since he first arrived half a century ago.

The Baja stories come so thick and fast, it's difficult to sort through them, as Jimmy leans forward to light another cigarette and then resettles into his rocking chair (salvaged after a hurricane, it once belonged to Col. Gene Walters of Rancho Buena Vista...but that's another story).

Jimmy Smith's Baja journeys began in 1953. Still on the mend from his horrendous motorcycle accident, he hopped on an old hard-tailed Triumph TR5 and rode south alone from the U.S. border, following a route that would not see pavement for another two decades. At the Maneadero immigration checkpoint near Ensenada, he paid a 50-peso bribe and received a handwritten card instead of a standard tourist visa. Satisfied, he proceeded on his way. Later, he had the card translated, and it said: "This dumb gringo paid me 50 pesos for this worthless card, and if you think I'm going to sign my name to this, you're dumber than he is." It was Jimmy's introduction to the wonders of the Mexican legal system.

Jimmy's traveling equipment for that first desert crossing consisted of: a sleeping bag, one pair of Levis, three tee-shirts, three pounds of motorcycle tools, a one-pint canteen, and food for one meal. He slept, ate, and drank at remote Mexican ranchos and met the likes of Anita Espinoza, Arturo Grosso, and Col. Harvey Greenlaw while exploring south as far as San Ignacio. Here, he injured his foot, and ended up meeting his future wife, Lupe, although it would require another sixteen years of energetic courtship before she finally submitted to his charms in 1969 (but that's another story entirely).

In the decades that followed, Jimmy Smith became one of the original Baja bush pilots, flying up and down the peninsula with essential supplies, smuggling lobsters, ferrying Mexican generals to remote desert whorehouses, evacuating emergency medical patients, and getting to know just about every Mexican local and every American adventurer passing through, including the likes of the famous author, Erle Stanley Gardner, who was at that time writing books about his Baja explorations.

About Gardner, Jimmy tells the story of hunting for ancient Cochimi arrowheads in the remote caves that the writer claimed to have "discovered." Aghast at Gardner's penchant for not giving proper credit to others, Jimmy called on a friend who had taught himself to make arrowheads just like the ones they were looking for. On one particularly important hunt, they made sure Gardner found his arrowheads, and their prank was discovered only when a researcher later discovered the tiny legend carefully hand-lettered on the back of one of them: "MADE IN JAPAN" (but alas, the final outcome of that story is...another story).

Another writer that Jimmy was well acquainted with was none other than Ray Cannon, the legendary original Baja columnist for Western Outdoor News, who began writing for the paper with its first edition in 1953. One of Jimmy's favorite stories about Cannon concerns the giant black snook that were once caught in the brackish estuary of the Rio Santa Rosalia at Mulege. According to Jimmy, at least a couple of those famous snook photographs were made after he was paid to fly a plane to Los Mochis on the mainland Mexico coast and buy a couple of big fish at the local market. If that story actually happened, one thing is certain: Cannon never wrote about it!
But eventually, Jimmy and Lupe settled in the village of Los Barriles, where Jimmy became a living part of Baja California's magical Golden Age, when it was transforming itself into a world-class sport fishing destination. He worked odd jobs for such people as John Mitre, who had built what is today the Hotel Palmas de Cortez, and Bobby Van Wormer Sr., when he and Cha Cha Ruiz were still building the Hotel Punta Colorada...and on and on. Jimmy lived through it all, as a witness to the Baja epic story that is still being played out today.

In 1985, he and Lupe bought the house by the road where they still live, and they built the "Minisuper Playa del Tesoro."

Beside the house, is a small, very cluttered trailer full of books and manuscripts where Jimmy studies, researches, and writes, in what has become the latest stage of his love affair with Baja California. In his latest incarnation, James Pledger Smith of Collinsworth County, Texas has become the most accomplished scholar and historian of Baja lore that the peninsula has ever known. On subjects as diverse as the Baja 1000 off road races, the 19th Century Tragedy of Concepción Aguello, or Why Mexican Septic Systems Can't Handle Toilet Paper, Jim Smith is the acknowledged expert, the final authority, the font to which all researchers travel for enlightenment.

(There is one untrue myth about Jimmy Smith that he asks be corrected: that he won the first major Baja off-road race in 1967. Actually, says Jimmy, he came in second, co-piloting with George Haddock.)

In 2001, Jimmy Smith took his place on the dusty shelf, beside the many authors he has known and aided in their researches, with the publication of his own book of authoritative and insightful Baja stories, The Grinning Gargoyle Spills the Beans and Other Yarns of Baja California, about which he writes with typical, self-deprecating humor, "Some of this stuff might have happened. I don't remember."

But Jim Smith, to be sure, is well remembered today, with affection and respect at virtually every rancho along Baja California's El Camino Real, by the many Mexicans and Americans who have known him through the years, by his wife and children, by his colleagues in the study of Baja's golden past, and--apparently--by an enormous unseen world of internet amigos, who become quite concerned if he runs out of cigarettes.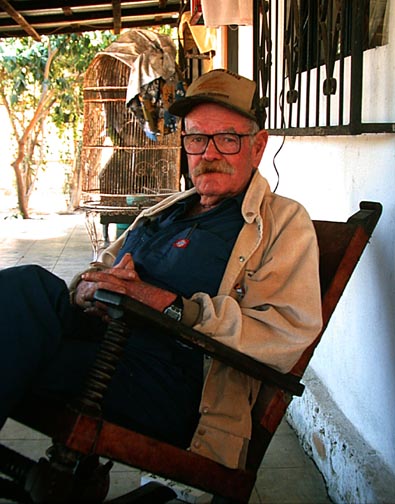 (Related Baja California, Mexico, articles and reports may be found at Mexfish.com's main Baja California information page. See weekly fishing news, photos, and reports from the major sportfishing vacation areas of Mexico including the Baja California area in "Mexico Fishing News.")