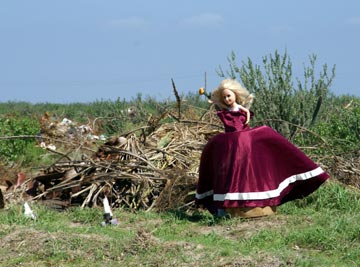 At a town dump, Puerto Lopez Mateos after the storm...
RESIDENTS OF MAGDALENA BAY TOWN PULL TOGETHER IN STORM RECOVERY
BAJA CALIFORNIA SUR, MEXICO, BILL ERHARDT, SEPT. 15, 2009 -- These are some photos taken during my trips from Loreto to Puerto Lopez Mateos to fish aboard my boat, Soledad, at the Thetis Bank off southern the Pacific coast of Baja California. These trips were on September 7th and September 13th, which were 5 and 11 days after Hurricane Jimena passed through the area.
As of Sunday, September 13th, the army was at Puerto Lopez Mateos in force, coordinating and participating in clean-up efforts. Electric power, water, and telephone service was restored 24 hours per day, and there was ice at the ice house.
Most residents of Puerto Lopez Mateos were still involved in clean-up, household repairs, and removing fallen trees, etc.
It is amazing how quickly and effectively the government and the Mexican people react to a natural disaster like Jimena.
From the top down, the photos show:
1. At a town dump in Puerto Lopez Mateos.
2. One of over 100 electrical towers down between San Carlos and Loreto that left Loreto without electricity for about four days before generators arrived from Cabo San Lucas.
3. A downed electrical tower and temporary support over the Ciudad Insurgentes to Puerto Lopez Mateos road of the power line to La Purisima.
4. The Puerto Lopez Mateos fish cannery which suffered significant damage and is closed indefinitely, and the whale dock next door.
5. The road between Ciudad Insurgentes and Puerto Lopez Mateos 4 to 5 days after the storm.
6. The Soledad, back in Ciudad Insurgentes from Puerto Lopez Mateos on September 7th.
7. A wind damaged roof in Puerto Lopez Mateos.
8. Tree fallen on a Puerto Lopez Mateos house.
9. Signs in Ciudad Insurgentes.
10. Capt. Ruben Duran with fish for distribution to his list of needy, Sunday, September 13th.
11. Boca de Soledad on Sunday afternoon.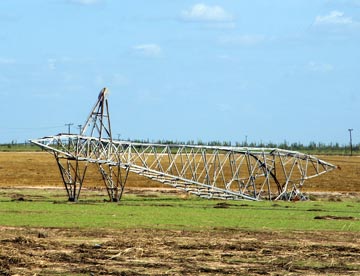 Downed power lines...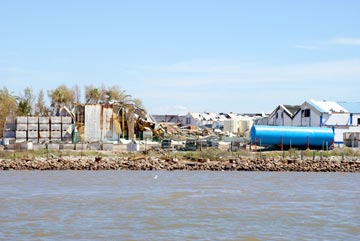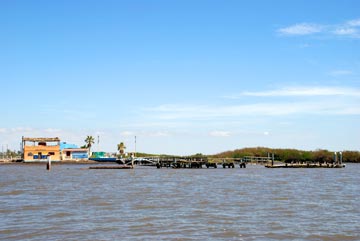 Baja's first fish cannery and the whale watching dock beside it...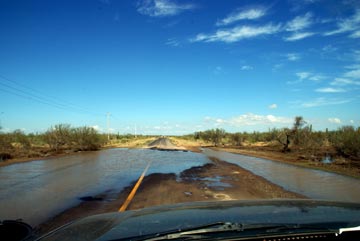 The road to Ciudad Insurgentes...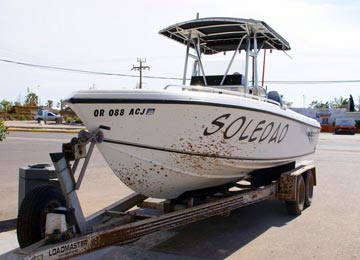 Erhardt's boat Soledad on its way out...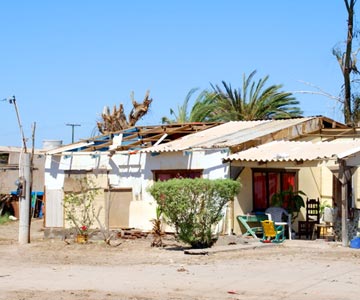 Damaged homes at Puerto Lopez Mateos...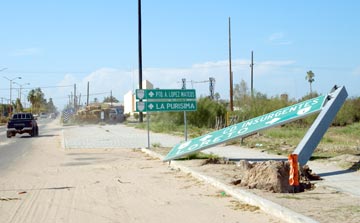 At Ciudad Insurgentes...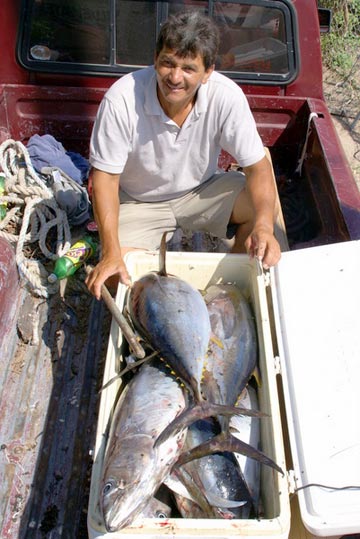 Capt. Ruben Duran with fish from distribution...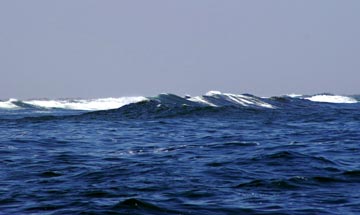 Boca de Soledad... PHOTOS COURTESY OF BILL ERHARDT.