He said the trip was "just unbelieveable" and "they ought to do a story on the menacing marlin at Mag Bay. We spent a mere 1.5 days in the area, releasing some 52 stripers and leadering 40-50 dorado. The 5-man angling team, put together by San Diego angler, Shane Strickland, included two other San Diego anglers, Alec House and Tim Bryant, along with two friends from Saudi Arabia. Most of the group had fished together before, but no other trip came close to the fast-paced action of thie 5-day non-stop fish catching."
The group got bored with catching stripers and dorado; it was just too easy and just too many. They asked Robert if they could pursue some tuna action, maybe some blue marlin, a wahoo, as they had already overindulged in the striper and dorado action.
Robert headed down the line, back toward Cabo San Lucas and found more spectacular action, inclduing a single wahoo, 2 released blue marlin in the 350-pound range, 29 yellowfin tuna, mostly in the 70-150 pound ranges, and a couple of released sailfishes to round out the trip.
Robert said, "It's hard to imagine how many stripers we could have released, had we stayed in the thick of it at Mag Bay. Surely, it would have been well over a hundred." Not every year is like that at Mag Bay, but most are, and this appears to be the beginning of one of those 'catchalot' Mag Bay seasons.
CABO SAN LUCAS, MEXICO: FLY HOOKER SPORT FISHING, Cabo San Lucas, October 16, 2000, Capt. George & Mary Landrum, Reservations Tel 011-52-117-01271; 011-52-114-87452. WEATHER: The weather this week has once again been a reminder of why fishing at Cabo San Lucas is considered the Prime Vacation Destination in Mexico. The evening temperatures have been in the high 60's to low 70's and daytime it has varied between 75 and 88 degrees. The humidity has been lower than last month, varying between 55% and 65% all week. Mostly sunny skies with consistently light breezes from the northwest have made for extremely comfortable conditions.
WATER: With no storms passing through the region this week our water has remained clear and clean inshore and a beautiful blue offshore. The water temperatures varied between 82 and 85 degrees in all areas with very little in the way of sharply defined temperature boundaries except for the 1 and 2 degrees current lines forced up by the bottom structure at the banks. Swells on the Pacific side as large as 4 to 5 feet with the wind chop factored in on Thursday but has been 1-3 feet the rest of the week. The swells on the Sea of Cortez side have been slight with little wind chop all week.
BAIT: Cabillito at $2 each have been available, but you have to be early for the larger sizes. I have seen no Mackerel in the morning since I returned Wednesday night so I am not sure if anyone is finding them or not. No report on the sardines.
BILLFISH: Hopefully the Blue and Black Marlin will start showing up in force soon! This is the time of year but so far the best Billfishing has been for the Sailfish with a number of Striped Marlin mixed in. This is not to say there has been no Blue or Black Marlin caught, they have just not been there in the numbers expected yet. One of the factors that may have a large effect on this is the moon phase. Friday was full moon and Bisbee's is during the new moon so the bite may be much improved by then. Lures have been effective in Petrolero, Mean Joe Green and Pink/White.
YELLOWFIN TUNA: Tuna were the star of the week and just in time! The Western Outdoors Tuna Tournament is this coming to Cabo San Lucas week, Wednesday and Thursday. Most of the fish are being found by the charter boats working dolphin and many of the Tuna have been in the 80 lb+ range with a few over 150 lbs.! The best areas this past week were 20 miles out of Red Hill and Cabo Real and 25 miles south of the old lighthouse. A few of the private boats have been honing their skills in preparation for the tournament by chunking and slow trolling live bait on down-riggers. The results have been fair with a few of the larger Tuna reported for the week being taken with these methods. A half dozen of these were reported to weigh over 200 lbs. when weighed on the public scale. Best lures were straight runners in black and cedar plugs ith a few nice fish being caught on chrome Marauders.
DORADO: Still a bright spot and a very happening species right now! There has been an abundance of these acrobats close to the Marina and a large concentration of them out at Golden Gate Banks. The sizes have run the course from 8 to 60 lbs. with the majority in the 15 to 25 lb. range. There has been no problem finding the Dorado and many boats have had a hard time trying to avoid them in favor of Billfish. Anything pulled through the water has worked and it almost goes without saying that live and cut bait have been very effective as well. Most of the fish have been concentrated on the Pacific side and there are a few scattered on the Sea of Cortez side.
WAHOO: It must be the moon! I have seen quite a few Wahoo flags since I returned and got to eat some Thursday. Then again it could be that more boats are working the banks for large Marlin and are finding the Wahoo as a result. This may well be the case since most of the ones that have been brought in were reported as having been caught on Marlin lures as opposed to the plugs that are the usual choice for targeting these speedsters. Either way, there have been Wahoo available this past week and I hope the fishing stays good for them for a while!
INSHORE: The lack of storms and large swells have kept the inshore waters clear but the inshore species are small this time of year, at least on the average. Small Roosterfish in the 5-10 lb range are being caught and a few scattered Snapper and Grouper, also in small sizes. The pangas have been having fun with football Tuna and Skipjack while having a blast with the Dorado bite. With the water warm and clear there has been no need for a long run to find the fish.
NOTES: First of all I would like to thank everyone who sent prayers, cards and best wishes for my father this past six weeks. He is much better since receiving the new lung but is still in the hospital in I.C.U. The chest muscles had not been use much since the lung reduction surgery and being on oxygen full time so he has been on a respirator since the operation. He is receiving both pulmonary and physical therapy and the Drs. expect him to be able to leave the hospital in another 4 or 5 weeks. Please do not hesitate to continue sending supportive e-mails as I can forward them to my sister who can then print and deliver them to Dad. A 28' charter boat was reported to have caught a Black Marlin in the 650 lb. range on Saturday while in the area of Gordo Banks. All Right!!! Also on another note for you travelers. Mexico has passed a law that anyone entering the country must have a Passport. There is word around that they will start implementing this soon. Rumor has it, some people being turned away at the airport because of no Passport. The new Administration is suppose to decide when this will be required of everyone. Until next week, Tight Lines! Capt. George Landrum
CABO SAN LUCAS, MEXICO: PISCES FLEET, Cabo San Lucas, October 12, 2000, Tracy Ehrenberg, Reservations Tel 011-52-114-31288; Fax 011-52-114-30588. BILLFISH: Another excellent week here in Cabo San Lucas, with an increase on striped marlin, sailfish and blue marlin. An almost perfect week, with only one boat getting "skunked" for us, giving us an overall catch success rate for all species combined of ninety-nine percent. There was a change of location, with nearly all of our boats heading up into the Pacific. The week started out with more dorado than anything, but as it progressed with saw more catches of billfish, combined with smaller game. B.R Allen and Ben Allen, from San Antonio and Richmond, respectively released a blue marlin and sailfish aboard, Tracy Ann, on October 12th, as well as boating a dorado. Mike Moehrtl also fished Tracy Ann and was ecstatic with a blue marlin, sailfish and plenty of dorado, during his two day trip . "Ruthless" released two blues over 200 lbs, on the 7th, for the Daimler Chrysler Group, here on their annual trip. "Andrea" had three blue marlin this week, with the largest on October 6th, 360 lbs, caught by Dallas Peterson from Gilbert, Arizona. Ruthless also had a 316 lb blue, caught on October 10th, by Bill Dunphy from Perrysbury, Ohio. We had several boats that caught sailfish, striped marlin and dorado the same day and it looks like the upcoming striped marlin will be good, from what we're hearing from Mag Bay - one boat reported 72 stripers in two days! We are very happy to see an increase of blue marlin, especially those getting up over 300 lbs, as this bodes well for the upcoming tournament scheduled for October 25th, 26th & 27th. Pisces anglers caught a total of 9 blue marlin this week of which 7 were released, 11 striped marlin all released and 8 sailfish all released.
OTHER SPECIES: Dorado, dorado, dorado..boats caught anywhere from one to fourteen per outing, ranging in size from 15 to 60 lbs - giving us a total for the week of around 250. Feathers, live bait and lures all worked on this species and they were found most anywhere Cabo San Lucas charter fishing boats went. We were pleased to see a bit of a comeback on yellowfin tuna, which is good, as there is a tuna tournament next Wednesday and Thursday, we had some up to 80 lbs, though the average was closer to 30 lbs. Some wahoo, Rebecca had two the same day weighing in at 40 and 60 lbs, not giant, but good eating.
WEATHER CONDITIONS: We had much needed rain, for a fair part of Sunday morning, but otherwise, skies have been clear and seas calm to moderate. LOCATION: Golden Gate, Los Arcos, San Cristobal, off the Old Lighthouse. AVERAGE WATER TEMP. 83 F. BEST LURES: Live bait, green/yellow, orange/yellow red.
CABO SAN LUCAS, MEXICO: GAVIOTA FLEET, Cabo San Lucas, October 13, 2000, Larry Edwards, Cortez Yacht Charters, Reservations 619-469-4255. While dorado set the pace in Cabo, all of the prospects point to an excellent series of tournament action, starting with the WON Tuna Tournament, fishing on October 18th and 19th, followed by the Bisbee Alumni on October 21tst & 22nd, and the Bisbee Black & Blue on October 25th, 26th and 27th, and the grand finale with the "For Pete's Sake" on November 3rd and 4th. There is currently good tuna action to the south and west of Cabo, along with fair numbers of blue and black marlin begin taken. Once the boats get focused on the exact tournament species, look for the catch numbers and sizes to increase substantially. largest fish for the week was taken by angler Frank Rodrigues, Grants Pass, Oregon, fishing aboard the Minerva III. The trophy-sized blue marlin tilted the scale at 580 pounds. Overall catches for the Gaviota Fleet reflected 1 blue marlin taken, 8 released; 3 sailfish released; 6 stripers taken, 14 released; 69 yellowfin tuna; and 175 dorado.
CABO SAN LUCAS, MEXICO: JEFF KLASSEN SPORT FISHING, Cabo San Lucas, October 15, 2000, Jeff Klassen, Reservations Tel 360-402-3474. It's great to be back in Cabo again, seeing old friends, meeting new ones, fishing and all that. Surf fishing is awesome right now in Los Cabos, and no one is doing it! I've been surf fishing every day and catching one big leopard grouper after another, with as many as 9 fish on in a couple of morning hours fishing. We've been catching them exclusively on Klassic poppers cast around the rocks. Average ones are 10 to 14 pounds. I caught one, which we weighed in at 18 pounds and released several 8 pounders. I haven't seen such a great grouper bite in years. There are tons of small sardines along the rocky areas now, which bring these grouper in, in big numbers. Their name in Spanish is Cabrilla Sardinera, which means "eater of sardines". By the way, these are the tastiest of all fish down here, in my opinion. Both sides have them at the moment. Los Zacatitos, just north of Gordo Point past San Jose has more fish in those rocks, but the 97 spot on the Pacific side has larger fish. I busted a couple off that were better than 20 pounds, I'm sure. We've also been getting some nice jack Crevalle between 10 and 20 pounds on poppers as well along the sandy edges of rocky points. They seem to be traveling in packs of a half dozen or so and are very aggressive. There are big time numbers of roosterfish right now along most of the Pacific side, but are mostly smaller fish, between 5 and 10 pounds. There have been a few caught to 30 pounds, but only a few. These smaller roosters are real feisty and will hit most top-water lures and even spoons. It appears that just after sunrise, for a few hours, is the best time to fish for them as we haven't done real well anywhere yet in the afternoons. I haven't personally seen any sierra mackerel yet but have been told by a few anglers that they are in now. There are also some good-sized needlefish in amongst the rocks, but they are tough to stick on any lure. Tomorrow I'll try fly-fishing from shore.
If Dorado are your bag, then you ought to be here now. You can't get away from the damn things. They show up everywhere, especially on the Pacific-side. I don't think I've ever seen such a hot bite for them. I, of course, have no personal interest for them this trip, still having a freezer full back home. I've been trying to nail a big Blue marlin. In two outings so far, I haven't even been tagged by one. These pesky Dorado are all over our lures, sometimes as many as 4 on at a time. They will hit any lure you have back there but seem to show a slight preference towards flying fish (blue/white). I had to finally pull any lure of that color out of the water, trying to avoid these fish. Anyway, it's a good time to load the cooler. Most fish are 15 to 20 pounds but we've nailed a few to between 40 and 50 pounds. Several of our boats though have caught them to over 70 pounds this last week. If you are targeting Dorado, you won't find a better place than about a mile or 2 offshore, from Los Arcos (Cristobal Point) onwards north. In that area there are pretty good quantities of striped marlin and some sailfish as well. They tend to be a bit skittish towards live bait and no wonder. We paid the $20 for 10 bait and when I came to my first opportunity to cast one at a tailer on the surface I found that the largest caballito in my tank was about 5 inches long. They looked more like large sardines. They were absolutely useless and next time I see that sneaky bastard bait vendor be sure that I'll give him a real "ear-bashing". Check your baits as you are buying them folks, otherwise you may as well just throw your 20 bucks overboard, as it's not as smelly. The surface fish we came across rushed towards the lures, then disappeared as soon as a bait was dropped back. Give the fish a chance to strike the lures, they will. These two billfish seem to be striking brighter colors these days, such as pink/yellow, bleeding mackerel and flying fish. The blue marlin bite dropped significantly, with only a handful of boats getting them, despite what you'll see in some fish reports. The larger fish seemed to have moved out further offshore, as much as 30 miles or more out. I would suggest lure color combinations of blue, green, white and yellow as there are good offshore schools of bait fish and Dorado. The Pacific-side of Cabo San Lucas would still be the best bet as you can fish right from land's end as far north as the Golden Gate banks and beyond, where as if you head gulf-side, there's not much happening until you get to Gorda Banks and even there it is somewhat flaccid. There have been a few knock-downs though from Chileno to Palmilla Point, 12 to 15 miles out. There have also been some tuna around there, although that bite has died somewhat too. There are several medium sized schools of tuna around, with the best bet being almost straight out from the point, 8 to 10 miles. The sizes have dropped dramatically however with a 10 pound one being average, a 20 pounder being special and a 40 pounder being exceptional. Not a lot of great news for tournament anglers arriving now but, it can change overnight. Water temps range between 83 and 86 degrees on the Pacific-side, as high as 88 on the gulf-side.
ENSENADA FISHING REPORTS
ALL ARTICLES, REPORTS AND FISHING INFORMATION FOR ENSENADA
ENSENADA, MEXICO: LILY FLEET, Ensenada, October 17, 2000, Sammy Susarrey, Reservations Tel/Fax, 5 to 9 p.m., 011-52-617-46747; Cell 011-52-618-67485. The Amigo today with 5 anglers aboard reported 8 lingcod 10 pounds, 17 red spapper 3-4 pounds, 6 calico bass 4 pounds, 2 sandbass 2-3 pounds, 11 miscellaneous. All fish caught at reef north of island. Water temperature 64 degrees, nice and calm day with no wind or waves. Today we had nice 2-inch sardines mixed with medium anchoives. The skipper saw nice schools of yellowtail swiming on top, but they didn't bite.
Ensenada, October 16, 2000. Today the Lily fished locally at Soledad Reef south of Ensenada with 3 anglers reporting 18 log barracudas 3-7 pounds, 9 calico bass 3-5 pounds, on bright pink Scampis, 6 red snapper, 1 lingcod 10 pounds, 2 bonito 4 pounds. Most fish caught with light lures, blue and white, and live sardines for bottom fish. Best fishing was 150 deep, close to the reef of Todos Santos. Nice water, 66 degrees, and a nice flat day.
Ensenada, October 14, 2000. Today the Tamara fished out of Ensenada the Punta Banda bank (Soledad Reef) with 4 anglers, reporting 16 red snappers 4 pounds; 2 lingcod 10 pounds; 5 salmon grouper 4 pounds, and 12 miscellaneous. Water temperature 64 degrees. Fish were found with medium sized sardines at 200-265 feet deep. Today's weather conditions nice, no wind.
ENSENADA, MEXICO: GORDO'S SPORTFISHING, Ensenada, October 16, 2000, Erick Ptacnik O, Reservations 011-52-617-83515; 011-52-617-82377. Gordo's Constellation fishing results: 12 anglers, 12 yellowfin tunas, 1 dorado and 5 albacores. The fishing is still good.
PUERTO SANTO TOMAS FISHING REPORTS
ALL ARTICLES, REPORTS AND FISHING INFORMATION FOR PUERTO SANTO TOMAS
PUERTO SANTO TOMAS, MEXICO: PUERTO SANTO TOMAS RESORT, Puerto Santo Tomas, October 16, 2000, Sam Saenz, Reservations Tel 714-256-2577; Ensenada 011-526-174-5683; Remote Santo Tomas Cell 011-52-617-13364, after 6 p.m. or 6:30-7:00 a.m. The Puerto Santo tomas fish report for this last week end is as follows: 1. Ocean surface very calm, but swift currents at the bottom, and only mild winds. 2. Sport fishing activity demand has been slow here for the last two weeks only three pangas have gone out within the last two weeks. 3. The bottom fishing has been good up to last Saturday when fast under water currents made it difficult to keep the lines at the bottom. Up to one pound weights would not keep the lines down. The fish caught at the bottom were rock cod, ling cod. white fish and sheep head. The average catch was one half to three quarter sack per panga. 4. Surface action trolling using Rapalas and Krocodiles brought in several barracuda and bonita, the yellow tailbite slacked off. Sam.
MAGDALENA BAY FISHING REPORTS
ALL ARTICLES, REPORTS AND FISHING INFORMATION FOR MAGDALENA BAY
MAGDALENA BAY, MEXICO: BAJA ON THE FLY, San Carlos, October 18, 2000, Gary Graham, Reservations Tel 800-919-2252; Fax 760-746-7260. Temperatures: 77-degree high; Low 63. Water temperature: 77 degrees in the mangroves and 83.5 offshore. STRIPED MARLIN - Action continues to be good. DORADO - Some fish reported to 50 pounds. TUNA - Plenty of action on the smaller tuna near the entrance. CORVINA - Devil's Curve produced the best action this week. SNOOK - Mario's spot produced several fish in the teens. YELLOWTAIL - Good catches at the entrada. Look for fish feeding on the surface. QUICK COMMENT - Good show of yellowtail on the surface. Look for the bird schools and slide up to the school and try an olive deceiver with an erratic retrieve.
San Carlos, October 14, 2000,Temperatures: 77-degree high; Low 63. Water temperature: 77 degrees in the mangroves at Magdalena Bay and 83.5 offshore. STRIPED MARLIN - Continues to get better and better. DORADO - Shark buoys still the best bet. TUNA - Plenty of footballs near the entrance. CORVINA - A few in several different spots including the Power Plant and Devil's Curve. SNOOK - Mostly smaller fish this week at Devils Curve. YELLOWTAIL - Good catches at the Entrada. QUICK COMMENT - The offshore reports continue to be favorable and it looks like conditions are on track for a Bonanza in November.
MAGDALENA BAY, MEXICO: MAG BAY TOURS, Punta Hughes, October 16, 2000, Brian Freitag, Reservations 800-599-8676. What's Biting: Dorado, Striped Marlin, offshore. Halibut, Grouper, Corvina, - inshore. Red Hot! Dorado & Marlin at the Thetis bank. This week's fish count: Striped marlin, 40; Dorado, 55+ (including 1 over 60#); Black Sea Bass, 1; Halibut, 8; Corvina, 6; Broomtail Grouper, 5; Snook, 2; Bass, "lots." Anglers Kent Twomey and Mark Brackman of San Diego landed 16 marlin in a single day! Ross Warren and Don Knutsen of the Seatle, Wa. area landed 3 marlin and 8 dorado on a 1/2 day trip offshore of Magadalena Bay!
SAN JOSE DEL CABO (LOS CABOS) FISHING REPORTS
ALL ARTICLES, REPORTS AND FISHING INFORMATION FOR SAN JOSE DEL CABO
SAN JOSE DEL CABO, MEXICO: GORDO BANKS PANGAS, San Jose del Cabo, October 15, 2000, Eric Brictson, Reservations 800-408-1199; Fax 619-447-4098; 011-52-114-21147. Another very busy week here for the sportfishing fleets and the excitement is building towards the much anticipated up coming tournaments which start in a few days. The weather settled down after being a bit stormy last weekend and was beautiful all week, early mornings are now just starting to have that slight fall chill to them and the daytime highs are reaching close to 90 degrees. Water temperature is hovering between 83 to 85 degrees and should start to drop a bit in the next few weeks, clarity has been excellent, deep blue and almost purple. Anglers found good action for a combination of gamefish, a much improved bite over last week, most common catches were yellowfin tuna and dorado but there were also some wahoo being caught, along with sailfish, striped, blue and black marlin. The most consistent area continued to be on the Gordo Banks, especially for the tuna and billfish, although there were dorado and wahoo to be found around the Iman Bank. There have been plenty of live sardinas available and on the Banks there are large schools of skipjack, bolito and chihuil, which all are being used as bait.
San Jose del Cabo fishing action on the yellowfin tuna really broke wide open, average sized fish was between 50 and 70 pounds, with several over one hundred pounds being accounted for. One panga out of Palmilla had one tuna that they estimated weighed around 300 pounds, it hit on a trolled skipjack, that was intended to attract a large marlin. Most of the tuna are striking on either sardinas, chihuil or chunk bait, with the sardinas probably accounting for the largest percentage of hook ups. Anglers were using tackle that ranged from 30 to 80 pound, with the size and strength of the fish the heavier line was more successful. Everyone was catching fish and most people were coming in early due to sore arms and full fish boxes. Wahoo were taken daily in limited numbers by San Jose del Cabo boats, they would hit lures on the Inner Gordo Banks for anglers that arrived there first in the morning and after that it was at the Iman Bank where there was a chance for these elusive speedsters, mostly trolling with live chihuil but also with Marauders and skirted lures. The fish taken were of average size, weighing between 25 and 45 pounds. Some dorado were found on the Gordo Banks mixed in with the tuna but there were much more of them further north at Iman. Average size was 10 to 20 pounds but there were some larger bulls taken, including one that tipped the scales to 47 pounds. Trolling with live chihuil, sardinas and strip bait was the best technique but they also would hit the feathers and hoochie skirts. A mix of billfish were keeping anglers anxious on the Gordo Banks, there was now a chance at the big grand slam, with there being sailfish, striped , black and blue marlin all around. The largest marlin recorded for the San Jose del Cabo panga fleet out of La Playita was a 561 pounder, it was landed by a group of three locals after it hit on a trolled skipjack near the Outer Gordo Bank, they were warming up for the coming Bisbee tournament. Good Fishing, Eric
EAST CAPE FISHING REPORTS
ALL ARTICLES, REPORTS AND FISHING INFORMATION FOR EAST CAPE
EAST CAPE, MEXICO: BAJA ON THE FLY, Buena Vista, October 18, 2000, Gary Graham, Reservations Tel 800-919-2252; Fax 760-746-7260. TEMPERATURES: High of 90 with a low of 73; with the water temperatures in the mid-80's. Moderate wind in the afternoon. BLUE MARLIN - Slowed way down this week. STRIPED MARLIN - Rarely seen for the month. YELLOWFIN TUNA - Continues to be good with several different areas producing good catches. Some larger fish off of the white sand beaches. DORADO - Good action a quarter of a mile off of the lighthouse. SAILFISH - Continues to be the best we have seen in a few years at East Cape. ROOSTERFISH - Very few seen this week. JACK CREVALLE - Lots of jacks and ladyfish feeding along the shore at gray light from Rancho Buenavista to La Ribera. BARRILLETE OR MEXICAN SKIPJACK - A few mixed in with the tuna. PARGO AND CABRILLA - Plenty of smaller ones near the shore feeding on sardinia. OFFSHORE: Blue marlin just didn't bite this week, but there's plenty of sailfish around to occupy your time. INSHORE: Tuna continue to bite well from Punta Pescadero to below Los Frailes. BEACH: Great fishing early morning at gray light. QUICK COMMENT - We finished up our filming at East Cape with the Inside Sportfishing crew yesterday with an action packed day on one of Rancho Leonero's new Super Panga, "Ole." Capt. Renee did a great job of putting us on five different species of fish. The double on dorado near the lighthouse should look great in the video. Our Baja deepdiver with chartreuse flash attracted a 20-pounder that put on a great show for the camera. As soon as we know when Inside Sportfishing plans to air the show, we will include it in our report.
Buena Vista, October 14, 2000TEMPERATURES: High of 90 with a low of 73; with the water temperatures in the mid 80's. North winds and high surf the last couple of days. BLUE MARLIN - If you want to try one on the fly, now is the time. STRIPED MARLIN - Not very many here yet. YELLOWFIN TUNA - Continues to be good with several different areas producing good catches. DORADO - The shark buoys continue to provide the best action. SAILFISH - Continues to be the best we have seen in a few years. ROOSTERFISH - Off color water slowed the action down this week. JACK CREVALLE - Lots of jacks and ladyfish feeding along the shore at gray light from Rancho Leonero to La Ribera. BARRILLETE OR MEXICAN SKIPJACK - A few mixed in with the tuna. PARGO AND CABRILLA - Plenty of smaller ones near the shore feeding on sardinia. OFFSHORE: Unsettled conditions persisted this week and that slowed the action down somewhat. INSHORE: Several different spots of tuna being found each morning just a few miles from the hotels. BEACH: Great fishing until today for the jacks, ladyfish, pargo, pompano and lookdowns from Los Pinos to La Ribera. QUICK COMMENT - Action along the beach continued red hot and the timing couldn't have been better with the film crew from Inside Sportfishing along to film the action, yesterday, Ray Barker Smith from England and myself had a great early morning. Glenn Star's angel hair Clouser was the hot ticket, attracting ladyfish, jacks (three different varieties), Mexican lookdown and pargo. Be sure to pick up the Nov./Dec. issue of Fly Rod & Reel Magazine. There is a great article with plenty of photos about East Cape and the beaches we fish. --Gary
EAST CAPE, MEXICO: RANCHO BUENA VISTA, Buena Vista, October 14, 2000, Tamara Moyeous, Reservations 800-258-8200. Hi Gene:, this week at Rancho Buena Vista the fishing weather was hot with rain and clouds scattered throughout the week. Twenty-seven East Cape charter boat trips netted 124 fish. Two blue marlin, 15 sails, 40 dorado, 52 tuna and 15 skipjack. Best regards, Tami.
EAST CAPE, MEXICO: BUENA VISTA BEACH RESORT, Buena Vista, week ending October 15, 2000, Axel Valdez, Reservations 800-752-3555. Boats out: 53. Weather Temperature: Mid 80´s to Low 90`s Water Temperature: 76°- 82°. Fishing results (kept/released): Blue Marlin 6/2; Striped Marlin 0/1; Sailfish 3/31; Dorado 84/16; Tuna 153/42; Wahoo 1/0; Skip Jack 0/20; Red Snapper 8/7; Needlefish 0/10; Triggerfish 0/1.
EAST CAPE, MEXICO: RANCHO LEONERO, Bahia de Palmas, October 15, 2000, John Ireland and Roy Baldwin, Reservations 800-646-2252; Hotel 011-52-114-10216. Awesome conditions continue, with daytime highs about 90, evening lows near 70, calm seas with water temp around 84deg and cooling. Extraordinary fishing again this week, with yellowfin tuna, dorado, sailfish, striped marlin, blue & black marlin all biting aggressively. Fly and light tackle inshore fishing has been wide open this week. Lots of sailfish were taken, from 1 to 6 miles offshore; owner John Ireland took and released 3 sails in 2 1/2 hours this past Friday. The sails are coming up to lures, but are almost exclusively taking live caballitos and sardinas. The blue/black marlin bite has slowed a bit since last week, but our fleet is still catching a couple per day, with fish averaging 250 lbs taking green/black or bleeding mackerel pattern trolled lures. The incredible tuna bite continues on, with 3 separate concentrations of fish within 5 miles of Leonero, with limits for all anglers averaging 15 lbs, and larger fish to 74 lbs outside under porpoise, taking mostly live sardinas and small jacks. The strong dorado bite continues, with schools of fish averaging 15 lbs under floating debris taking live sardinas, with some larger fish to 40 lbs outside taking marlin lures. Lots of sierra and jacks were taken inshore, taking hoochies and live sardinas. Bill Sharp and family, of San Diego, CA, while fishing 4 days on Leonero cruisers, took a blue marlin, 2 sailfish, 5 dorado, sierra, and limits of tuna.
EAST CAPE, MEXICO: HOTELS PALMAS DE CORTEZ, PLAYA DEL SOL, PUNTA COLORADA, East Cape, October 12, 2000, reported by Dave "Smokey" Manuel, East Cape Smokehouse, Hotel Reservations, 800-368-4334. It's Friday the 13th! It's also a full moon tonight! Superstitious beings should be locked up at home, not venturing forth for fear of bad luck or strange happenings. Not on the East Cape. Not a chance of staying in today here, because the fishing's just too damn good! Those of you that adamantly believe a full moon period means poor fishing (and there are many of you), make a note of the numbers above; they'll prove that rule isn't written in stone. Nearly a 10 fish per charter average the last three days. The Dorado are back and the Tuna and Sailfish haven't gone anywhere. The little lull on Dorado action we had last weekend is over, with good numbers the past three days and some more encouraging sizes. Many are running in the upper teens and into the mid twenties and a few are up in the 40's to 50's. Many are mixed in still with the Tuna bites, but better action was found off Punta Pescadero on these mid sized Dorado using Sardines. This same area is where a lot of the Sailfish numbers are coming from, so most charters fishing here are having good days on both. You don't have to go far to get into Tuna. A very good bite has been located just off shore between Rancho Leonero and La Ribera; about a 20 minute boat ride max. from Los Barriles. This happens to be the same spot my partner, Clarence, has his ranch, so he offed a day of work and went fishing in his back yard. A panga arrived at sunrise and picked him up in front of his house on the beach, they traveled all of a mile to the bite and had 11 Tuna on board by 10:00 a.m. Most of the fish from this bite were around the 20 lb mark and under, but some bigger Tuna are still coming from farther South, around the Los Frailes area. Those are more consistently running in the 20's to 40's, although fewer charters are going that far. Blue Marlin still have not materialized in any significant numbers yet and I'm beginning to wonder if they will. We would consider the "normal" Blue season to run through the month of November and since that is not very far off, it better start soon if it's going to happen at all. Adios, Smokey
LA PAZ FISHING REPORTS
ALL ARTICLES, REPORTS AND FISHING INFORMATION FOR LA PAZ
LA PAZ, MEXICO: HOTEL LAS ARENAS, Punta Arena de la Ventana, October 16, 2000, Linda Glassman-Davis, Reservations 888-644-7376. Hi Everyone, the Las Arenas smorgasborg of species continues to be great. Just ask the captains what you would like to see on your plate for dinner and/or in your chest to take home and he will oblige in just a few minutes. Lots of tuna, dorado, wahoo, sailfish, pargo and amberjacks at La Paz right now. Tuna, 129 to 65 pounds; Wahoo, 10 to 35 pounds; Sailfish, 6 to 80 pounds, Dorado, 89 to 70 pounds, Pargo, 13 to 7 pounds. Come on down and get ahead for the wahoo run. Saludos.
LORETO FISHING REPORTS
ALL ARTICLES, REPORTS AND FISHING INFORMATION FOR LORETO
LORETO, MEXICO: VILLAS DE LORETO, Loreto, October 11, 2000, Wendy Wilchynski, Reservations Tel/Fax 011-52-113-50586. Things have been crazy around here. We have had some fisher persons out and they have been catching a variety of Dorado, Sailfish, Cabrilla, you name it! They have been very happy with their catches. They were also very happy to find that Villas de Loreto now has a restaurant that will cook their fish for them at a small charge. P.S. They make the best Margaritas! We will keep in touch, bye for now, Wendy
LORETO, MEXICO: CHILI PUNTA FLEET, Loreto, October 16, 2000, John "Bubba" Parker and Fishmanmark, Tel 925-449-4554; Fax 925-456-2252. Not a whole lot to report except for the weather in the Loreto fishing area has cooled off a notch or two, mid 80's to mid 90's. We had three days of light winds but you still could fish. Not too many Dorado around right now, but you still might get one here or there in the 15 to 20 pound range, slim pickins! Yellowtail are up north by San Bruno and are in the 10 to 15 pound range. Rooster fish are in the same area as well as Pargo. Roosters are going in the 10 to 20 pound range. There's still a lot of bait available but the Squid have moved out for the most part. Until next week Tight Lines.
LORETO, MEXICO: EL FUERTE SPORT FISHING, Puerto Escondido, October 11, 2000, Ty Miller, Reservations Tel 714-775-6658; Fax: 714-755-3501; Loreto 011-52-113-30863. Temp: 87. Water temp: 86. Winds: 10 to 15 mph. Sea state: slight chop. Hola Amigos, some Yellowtail in the 8 to 12 pound class have moved in around the backside of Isla Danzante which is nice as we need a change around here. Fish are holding in 150 to 240 ft. just off the North East corner of the island. Just this past weekend, my neighbors here in the park, Jim Knapp (Iron Man), Jack Garland (Happy Jack), and Dennis (Party Animal) Strausberg, ventured out to Six Mile Reef were they found a solid bite on Yellowtail that were a little larger in size. The top honors went to Jim Knapp for landing a 35 pound Yellowtail on (of course) the iron. I had almost forgotten what a Yellowtail that size looked like. What great news for this area for a possible early season on the Yellowtail.
Some nice size Cabrilla have been on the take also with local resident Gerald (Baja Buddy) Dees putting the hurting on the Cabrilla with a twenty pound fish just caught today. Looks like things are starting to warm up around here!
Dorado are still a little sketchy at this end with most of the Loreto sportfishing fleet falling back on the Yellowtail bite that's been going on. Boats have been working the areas from Pt.Perico to Isla Monserate and back to Pt. Baja with minimal success. The fish that have been landed are in the 12 to 17 pound range. Most of the fish landed have been in tight to the shorelines were better water color is found.
Very quiet on the Billfish lately. Have not seen or heard of anyone in our area pulling on one. Water temperature needs to cool down a bit for the possibilities of a strong return on the Marlin.
Well the weather sure has been interesting and as I am writing this, we are getting some rain along with some thunder and lightning. This is by far the greenest I have ever seen it down here. It has also dropped almost 10 degrees at Loreto which is making it a little more comfortable. We will be out of town next week in Cabo San Lucas for the Western Outdoors Tuna Jackpot Tourament so we will not be posting a report next week. I will be looking forward to catching up the following week with a fresh report and hopefully a tournament win! Thanks for checking us out and catch up with you on the 26th! Saludos! Ty Miller
SAN FELIPE FISHING REPORTS
ALL ARTICLES, REPORTS AND FISHING INFORMATION FOR SAN FELIPE
SAN FELIPE, MEXICO: TONY REYES FISHING TOURS, 6-day Midriff Islands trip aboard the panga mothership, Jose Andres, San Felipe fishing trip ending October 13, 2000, Tony Reyes, Exclusive booking agent, The Longfin, 714-538-8010. We started at Isla Salsipuedes and had good fishing, even without bait. Tuesday, we made bait at San Francisquito and returned to Salsipuedes. Wednesday, we made bait again at San Francisquito and moved to Isla San Lorenzo and Isla Partida in the afternoon. Thursday, we made bait at Isla Partida and fished there in the morning. We did not fish in the afternoon. On Friday, we fished without bait at Las Islas Encantadas. Fishing results: 170 cabrilla 8-12 pounds; 109 yellowtail 18-25 pounds; 37 spotted bass; 6 pargos (big) 10-18 pound; 6 dorado 12-16 pounds; 4 sheephead 4-6 pounds; 3 broomtail grouper 8 pounds; 2 sierra 4 pounds; and 2 black seabass, 38.5 and 45 pounds.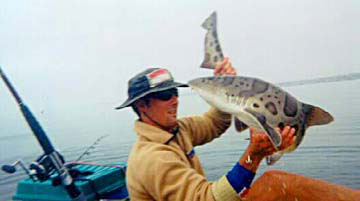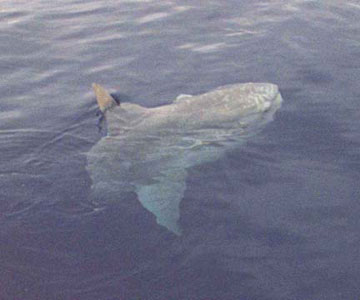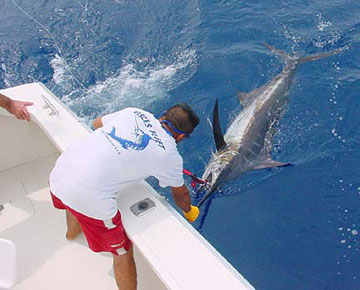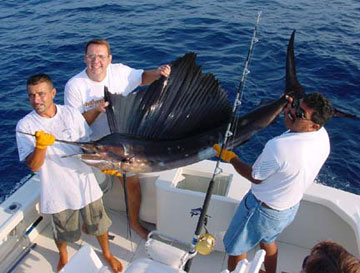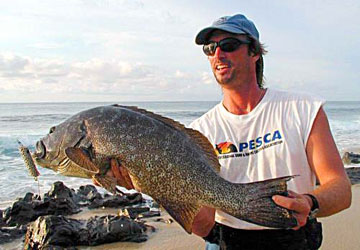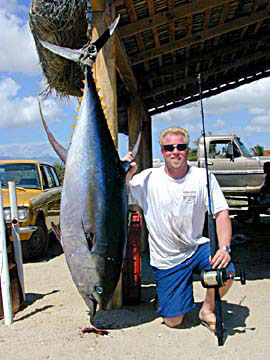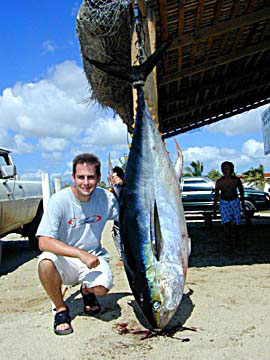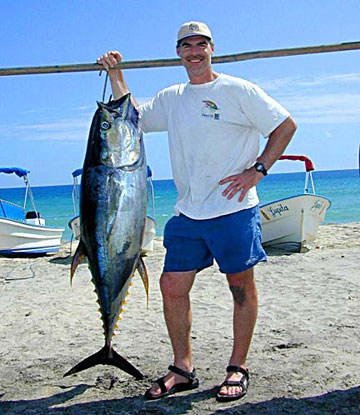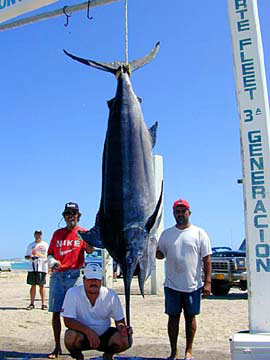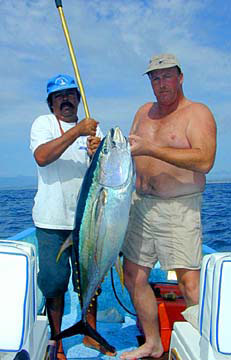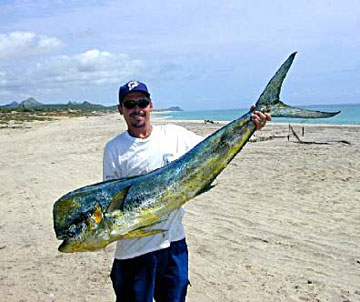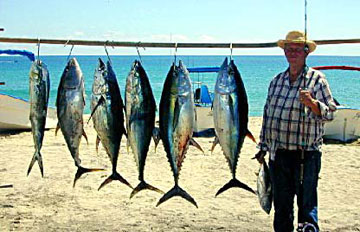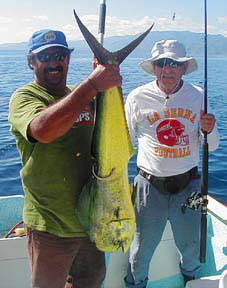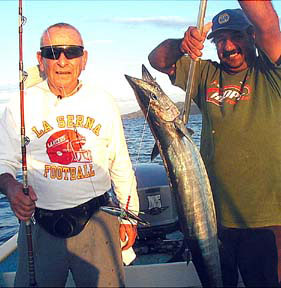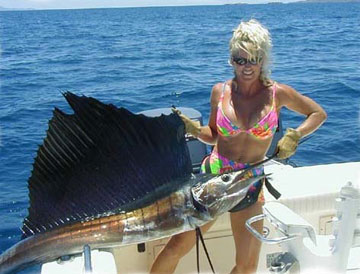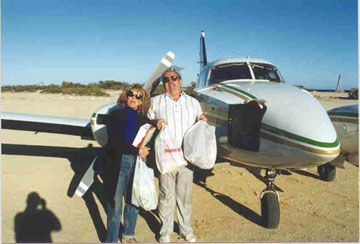 Baja coastal fishing reports and articles.
Ensenada fishing reports and articles.
Puerto Santo Tomas fishing reports and articles.
Erendira fishing reports and articles.
San Quintin fishing reports and articles.
Magdalena Bay fishing reports and articles.
Cabo San Lucas fishing reports and articles.
San Jose del Cabo (Los Cabos) fishing reports and articles.
East Cape fishing reports and articles.
La Paz fishing reports and articles.
Loreto fishing reports and articles.
Mulege fishing reports and articles.
Santa Rosalia fishing reports and articles.
Bahia de los Angeles (L.A. Bay) fishing reports and articles.
San Felipe fishing reports and articles.
Rocky Point (Puerto Penasco) fishing reports and articles.
San Carlos (Sonora) fishing reports and articles .
Mazatlan fishing reports and articles .
Puerto Vallarta fishing reports and articles.
Ixtapa Zihuatanejo fishing reports and articles.
Huatulco fishing reports and articles.
Cancun fishing reports and articles.
Mexico coastal fishing reports and articles.
Mexico Fishing Home Page < Mexico Fishing News Archives < Fishing Report