Striped Marlin
Marlin Rayado

(Tetrapturus audax)
Striped Marlin, Tetrapturus audax: Because the Striped Marlin is such a highly prized game fish, a great deal is known about it. The Striped Marlin is characterized by its long compressed body that is dark blue above, silver below, and has a series of light blue, vertical stripes on its sides. The upper jaw forms a long rounded spear with small teeth. The first dorsal fin of the Striped Marlin is dark blue, forming a triangular peak greater in length than the body depth; this first dorsal fin ends near the origin of the second dorsal fin.
The Striped Marlin has long pectoral fins. It is found in the first 300 feet of the water column but has been reported to spend 86 percent of its time near the surface. The Striped Marlin feeds on anchovies, mackerel, sardines, red crabs, and squid. There are approximately 12,000 Striped Marlin caught annually in the Los Cabos area of Baja California, the majority of which are three to six-year-old fish weighing 120 to 200 pounds.
Distribution in Mexico fishing areas
In Mexican fishing waters , the Striped Marlin are found in waters from 20 to 25 degrees Centigrade all along the Pacific side of the Baja California peninsula, on the eastern side of Baja as far north as the Midriff area of the Sea of Cortez, along the coast of mainland through to Guatemala and around all of the oceanic islands. The Striped Marlin reaches a maximum length of over 13 feet and more than 450 pounds in weight. The California record is 13.5 feet and 339 pounds; the world record, caught in New Zealand, is 494 pounds!
The Striped Marlin is not easy to confuse with other billfish, with the exception being the Blue Marlin, Makaira mazara (dorsal fin height less than body depth). Caution: the spear is very dangerous!
The Striped Marlin is a member of the Xiphiidae family that includes billfishes, marlins, sailfishes, and swordfishes, and is a member of the Istiopherinae or Billfish Sub-family.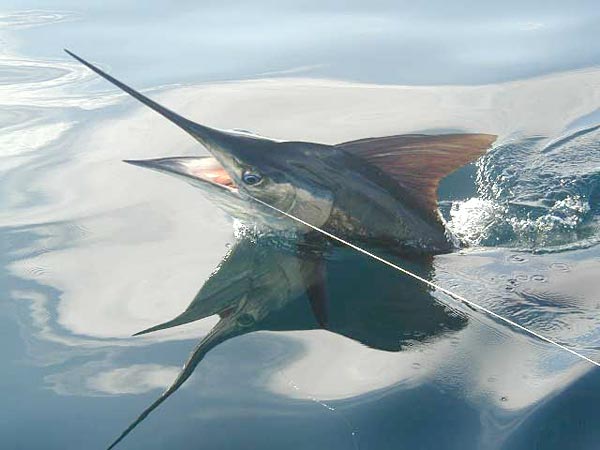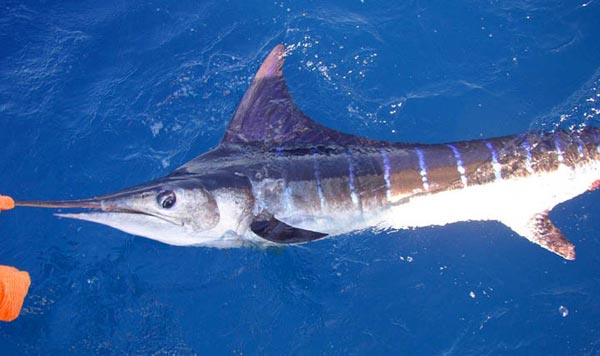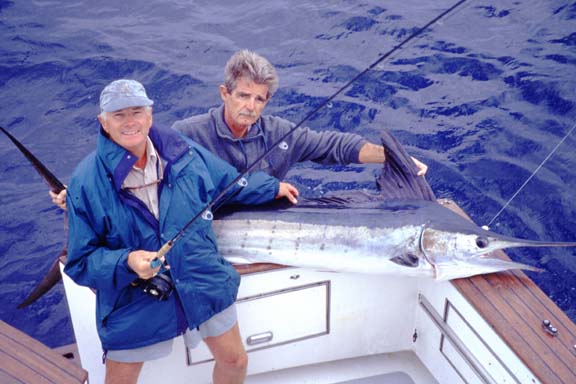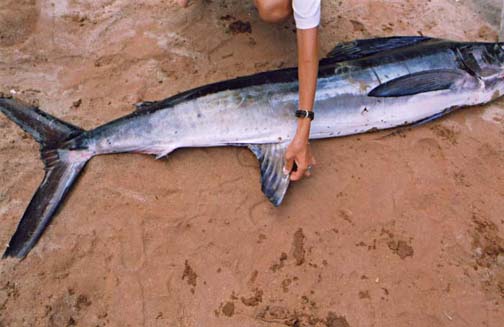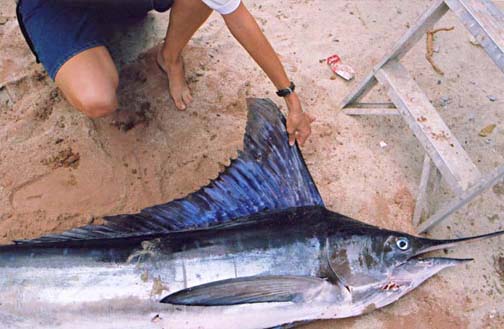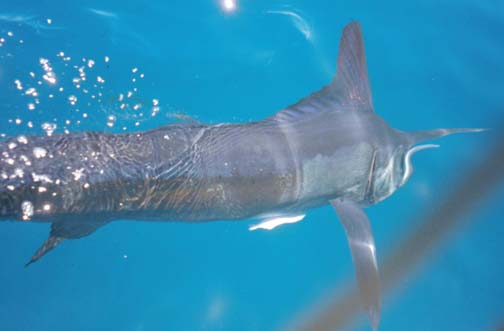 Mexico Fishing Home Page < Fish Photo List < Striped Marlin