Pacific Spotted Scorpionfish, Stone Scorpionfish, "Sculpin"
Lapón

(Scorpaena mystes)
Pacific Spotted Scorpionfish, Scorpaena mystes: The Pacific Spotted Scorpionfish is one of the true exotics.
It is characterized by its broad, spiny head, deep pits under the eyes, large pectoral fins with thickened rays, two dark bars on the tail, numerous conspicuous barbells under the mouth, and abundant skin flaps over the head and body which give it the appearance of a seaweed-encrusted rock.
We have in our possession a fish that measures 49 cm (19.3 inches) extending the known maximum length for this by a full 3 cm (1.2 inches).
The Pacific Spotted Scorpionfish is found in shallow water around seaweed covered reefs.
Distribution in Mexico fishing areas
The Pacific Spotted Scorpionfish is found in all fishing waters of Mexico including the oceanic islands. It should be treated as "hazardous" and released as soon as possible, being careful not to allow its poisonous spines to penetrate the skin.
This fish species is a member of the Scorpaenidae or Scorpionfish Family, in general having large, bulbous heads with numerous spines, skin flaps, and large protruding eyes. Family members have venomous spines in their foredorsal, ventral and anal fins.
Puncture wounds from these spines are painful but seldom life threatening. Scorpionfish are masters at camouflage and can change color and shape to blend into the background. Concealed, they rest motionless on the bottom, waiting for the unsuspecting prey.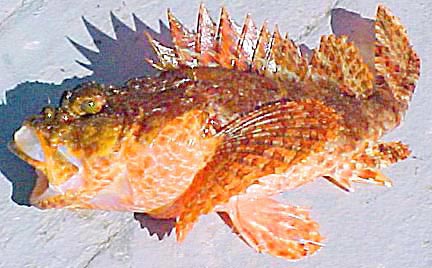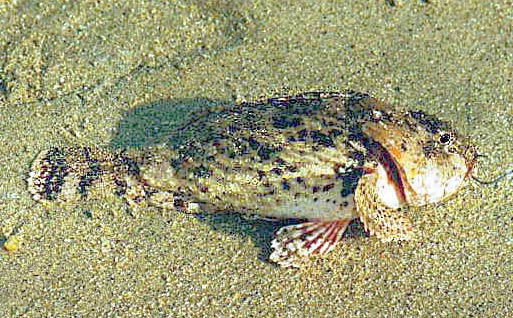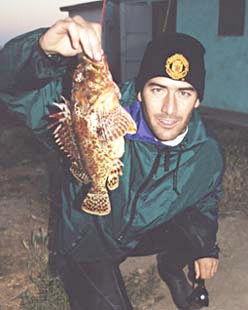 Mexico Fishing Home Page < Fish Photo List < Pacific Spotted Scorpionfish