Louvar
Emperador

(Luvarus imperialis)
Louvar, Luvarus imperialis: The Louvar is a very unique "oddball species" that is metallic blue to grey in overall appearance, with a silver belly with pink reflections, and dark spots on the upper two-thirds of the body.
The Louvar has a very deep head with a convex head profile and eyes very low on the body and directly behind the small horizontal mouth. The body tapers to a very slender caudal peduncle. The anal and dorsal fins are long and low with both originating at mid-body in a similar position.
The Louvar has a large concave circular caudal fin, long pointed pectoral fins, and tiny pelvic fins. The anal and caudal fins are red, the pectoral fins red to yellow, and the dorsal fin is red in the front and black at the rear.
Distribution in Mexico fishing areas
The Louvar is an oceanic pelagic fish species that reaches a maximum length of 6.5 feet and is found up to 500 feet deep in the water column. It is found in all Mexican fishing waters, including the oceanic islands, with the exception of the Sea of Cortez where they are absent.
The Louvar is the sole global member of both the Luvarus Genus and the Luaridae family. Thus all characteristics for this genus, family and this specific species are the same.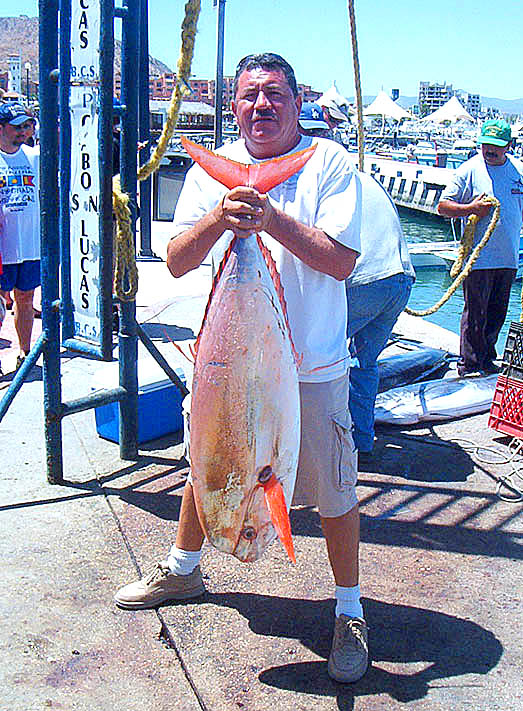 Mexico Fishing Home Page < Fish Photo List < Louvar