Cortez Round Ray, Spotted Round Ray, Spotted Round Stingray
Raya Redonda Manchada

(Urobatis maculatus
Cortez Round Ray, Urobatis maculatus: The Cortez Round Ray is normally brown to brownish-gray in color and has a series of widely spaced, dark brown blotches and spots covering its body. The rounded body disc of the Cortez Round Ray has straight front and side margins, and is approximately 1.6 times longer than it is wide.
The tail of the Cortez Round Ray is approximately one-half its body length. The underbelly is white.
This fish species can be confused with the Chilean Round Ray, Urotrygon chilensis (spotless); the Concentric Stingray, Urobatis concentricus (dark spots arranged in circles); and Haller's Round Ray, Urobatis halleri (dense dark brown spots with circular markings).
The Cortez Round Ray is a member of the Myliobatiformes or Stingray order, Urolophidae or Round Ray family and Urobatis genus. Globally, there are 178 species of Myliiobatiformes, and 40 species of the Urolophidae Family, of which 12 are found in the Eastern Tropical Pacific, and five species of the Urobatis genus of which four are found in the Eastern Tropical Pacific. The round rays are very similar to the stingrays, being characterized by having an oval or near circular disc shape with pectoral fins that are continuous with the sides of the head.
They have slender tails that are shorter than the length of the disc, and the tails have large venomous spines. Round days differ from the stingrays by having shorter tails and well developed caudal fins. Most species of this family are bottom-dwellers, found in shallow coastal waters, that feed on buried mollusks and crustaceans. These rays are potentially dangerous as they can inflict wounds with intense pain and slow recovery.
The Cortez Round Ray reaches a maximum size of just over 1.5 feet in length and 1 foot wide. It is found in the first 100 feet of the water column over sandy and mud bottoms. The Cortez Round Ray stirs the bottom with its pectoral fins in order to dislodge small crustaceans, small fishes, mussels, and worms on which it feeds.
Distribution in Mexico fishing areas
In Mexican fishing waters , this ray has a broad distribution, being found along the Pacific side of the Baja California peninsula south of Guerrero Negro, throughout the Sea of Cortez, and along the coast of the Mexican mainland to Acapulco; it appears to be absent from around the oceanic islands.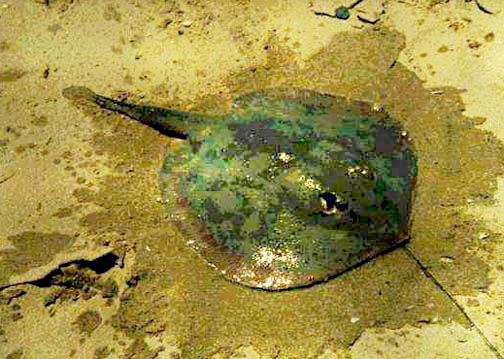 Mexico Fishing Home Page < Fish Photo List < Cortez Round Ray