Bluefin Trevally, Bluefin Crevalle Jack, Bluestar Jack
Jurel Azul, Jurel Aleta Azul

(Caranx melampygus)
Bluefin Trevally, Caranx melampygus: The Bluefin Trevally is characterized by its deep body, angular head profile, lateral line with pronounced anterior arch and strong scutes, and anal, caudal and second dorsal fins that are electric blue. The head and body are bronze in color with a blue tinge and the mid to rear portion of the body is covered with small black dots.
The Bluefin Trevally can be easily confused with the Black Jack, Caranx lugubris (all fins grey-black), the Golden Jack, Gnathanodon speciosus (yellow fins and large dark spots on its side), and the Island Jack, Carangoides orthogamus (six oval yellow spots on its sides).
The Bluefin Trevally is reported to reach up to 3 feet in length and is found up to 600 feet deep in the water column. It travels alone or in small schools and frequents reefs in search of small fish for food.
Distribution in Mexico fishing areas
In Mexican fishing waters , this fish species has a limited distribution reported in the scientific literature, reported to be found only around the tip of the Baja California peninsula, along the coast of the mainland north of Mazatlan and around the oceanic islands.
One of the Bluefin Trevally shown below was taken of a fish collected at Isla Cerralvo near La Paz in the southern part of the Sea of Cortez and we believe to be a first collection of this species this far north. The food value is considered "marginal" by locals.
This is a member of the Carangidae or Jack Family.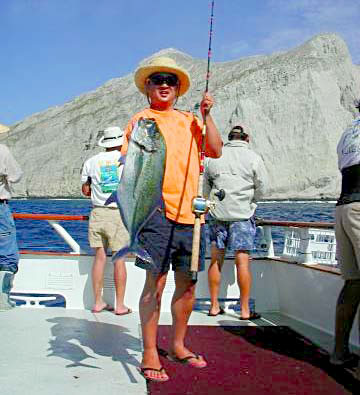 Mexico Fishing Home Page < Fish Photo List < Bluefin Trevally