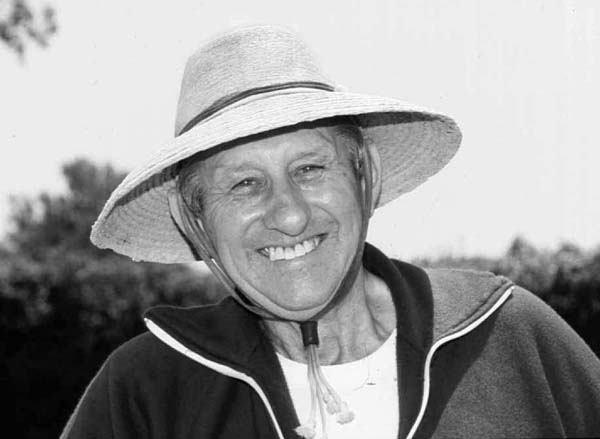 Neil Kelly, Baja's greatest ever inshore angler. Photo by Gene Kira.
Baja's Amazing Neil Kelly
By Gene Kira, May 15, 2005, as published in Western Outdoors Magazine:

Neil Kelly, my Baja fishing guru, was always full of surprises.

Many years ago, as I was slowly plowing--like an Arctic icebreaker--through Tolstoy's doorstopper novel, War and Peace, I happened to mention one of the massive battle scenes to Neil.

As he repainted one of his favorite Jointed Rebel lures in his garage, he looked over his shoulder and said something like: "Yeah, Battle of Borodino, September 7, 1812. The main problem with the Russian artillery position was that Napoleon knew exactly..."
And so it went, for about forty-five minutes. Neil knew more about Napoleon's ill-fated march on Moscow than Tolstoy did!

What made this so surprising was that Neil wasn't a professor, nor even a formal student of military history. He graduated from high school in June of 1942, and whatever plans he might have had for college were cut short by the events that had occurred in Hawaii on December 7th of the previous year. Like so many of his classmates, Neil Kelly graduated from high school, straight into World War II, and it was the U.S. Navy that buried him with an honor guard many decades later.

In between, Neil Kelly's brilliant mind and photographic memory allowed him to become a master in many fields:

--He was an expert fly tier and angler, and wrote a superbly-detailed, book-length manuscript about the great trout streams of the American West.

--He became one of the nation's top sonar experts and helped invent the FM imaging underwater combat sonar featured in the novel and movie, The Hunt for Red October. As such, he guided U.S. submarines under the polar ice cap, and during the Cold War, he was flown around the world under armed guard (we were afraid the Russians might kidnap him) to calibrate the combat sonar units of NATO nuclear submarines.

--He did irritating things, like memorizing whole books, including an entire encyclopedia, and he wrote a personal "history of the world," to organize his thoughts and opinions about what he had read.

--And ultimately, Neil became the greatest Baja inshore fisherman that will probably ever walk the earth. He was the principle author and fishing map-maker of the guidebook that we wrote together over a two-year period, The Baja Catch.

My biggest Neil Kelly surprise of all happened on the very first night we met. Earlier that afternoon, a Baja fishing buddy had called me and said:

"There's this phony guy in the paper. He's giving some kind of class at Coronado High School tonight. Claims he's caught 10,000 fish in Baja without using bait. Let's go down and throw tomatoes."

Well, we didn't throw any tomatoes that night, but we did go down to Coronado High School, and I sat spellbound for four hours as Neil stood at the blackboard and gave an incredibly detailed, rock-by-rock description of how to fish at Bahía de los Angeles.

As he spoke, Neil gradually covered the entire blackboard with a fantastic fishing map, showing all the bay's islands, reefs, currents, hot spots, and what kinds of fish could be caught in each location.

Even in those days, I knew enough about Baja to recognize a Michelangelo painting the ceiling of the Sistine Chapel--even if this one had his shirt tail hanging out and was covered with chalk dust up to his elbows. After the class, I talked with Neil in the hallway until almost midnight, and soon thereafter we took our first trip together, to Campo la Costilla, and then Punta Willard, then Magdalena Bay, and then....well, eventually the Baja fishing apprenticeship that I began that night turned into The Baja Catch.

On my office wall today, there hangs a small, hand-drawn fishing map that Neil gave me after the first edition of the book was printed in 1988. This map is drawn with colored crayons on a plain, letter-sized sheet of paper, and it shows one of our favorite spots, San Lucas Cove. It was the first Baja fishing map Neil ever drew, and it became the basis for the hundreds that would follow over the coming years.

It is a cheerfully admitted fact that The Baja Catch maps are not drawn perfectly--neither in scale, nor in the exact shape of the bays and coastlines represented--and people have always asked me about that.

Here's another surprise. The maps are slightly "off" because they were originally drawn straight out of Neil Kelly's head, and they mostly represent what he perceived--within human sensory limitations--as he fished. If requested to do so, Neil could redraw any map in The Baja Catch, without notes, right down to the last dot. Each map in the book is simply a "photocopy" of an image that he kept stored in his amazing memory.
Neil once explained that this memory phenomenon was highly visual, something like a video tape. In his mind, he could "replay" the trolling of a particular stretch of Baja beach, for instance, and actually "see" the shoreline passing by his boat again, in complete detail. He said he could "rewind" this tape, or wind it forward to a particular place, and start it playing again. However, try as he might, he could not speed it up during play. Events only played back at their original speed.

For anyone who ever sat through one of Neil's incredibly detailed, four-hour, or even longer, fishing classes (often without a bathroom break), this is why they took so long. Unbeknownst to his audience, Neil was actually up there at the blackboard "playing" his tapes!

I always marveled at how closely Neil's maps actually did reproduce the true shapes of our Baja fishing locations, and one day I discovered how he did this, as we fished together north of La Paz. I suddenly realized that Neil often estimated distances in yards, not in miles or feet as you might expect. For instance, if I asked how far a certain rock was from our boat, he might say something like, "Oh, that? That's about 12,000 yards."

Yards? Why yards?

Well, it turned out that Neil had been a Naval artillery officer in the Korean War, and he was an expert at estimating distances over water--in yards. That ability meant that as he fished, he could keep a two-dimensional picture in his mind about his boat's surroundings, and ultimately, those pictures became the maps of The Baja Catch. Cool!

But it was in the actual catching of huge numbers of fish that Neil's true genius manifested itself. As his boat would weave around the near shore reefs, seemingly in random trolling patterns, he always caught more fish than anybody else. To this day, I'm convinced that Neil had some kind of mysterious power that cannot be explained, but there is also one other important factor that helped him tremendously.

Although he never used a sonar (except in nuclear submarines!), Neil always had an exact picture in his mind of the depths and underwater contours beneath his boat. This ability came from years of guiding massive, otherwise blind ships through dangerous underwater canyons. Through a combination of chart study and experience, Neil could look at the hills and cliffs on shore and extrapolate quite closely what was going on underwater--and fish accordingly. Again, unbeknownst to his audience, Neil's seemingly random boat wanderings were actually intentional, as he exploited unseen but "felt" drop-offs and high spots--and simply kicked your butt in any kind of fishing contest in any Baja location.

But it's nice to know that Neil Kelly wasn't totally perfect. As we gradually wrote the many chapters of The Baja Catch together, one day I came across a curious entry in Neil's notes. On the inner side of Isla Asunción (an island on Baja's remote Pacific coast), Neil said, there was a small graveyard for the families of the people who lived in the nearby village, and you could even see a concrete ramp leading up from the water that they used to slide caskets up onto the island for burial.

This strange place, as it turned out on our next trip to the area, was actually an old bird guano mine! Neil's "gravestones" were the foundation piers for the mine's old buildings, now completely disintegrated, and the concrete ramp was actually a chute for sliding the bird guano down to waiting pangas! Hah!

But nevertheless, in all of the many maps and thousands of bits of information that Neil contributed to The Baja Catch, absolutely everything else checked out in the field as one-hundred percent accurate, and that remains to this day as one of the most remarkable intellectual feats that I have ever heard of.

I really doubt there will ever be another Baja angler to rival the amazing fishing skill and mental abilities of Neil Kelly. From the nineteenth century battlefield of Borodino to the islas of Bahía de los Angeles, he was in a class by himself.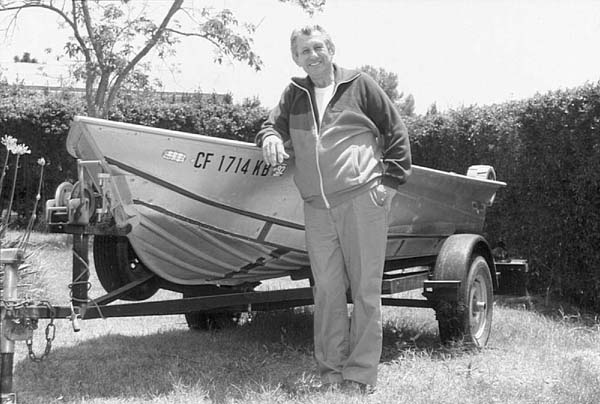 Neil Kelly, at home in San Diego, with one of the several "tin boats" that he wore out while fishing in Baja. Photo by Gene Kira.


NEIL KELLY

Baja California Sport Fishing Author and Naval Sonar Expert

December 11, 1924—January 24, 1999

Neil Kelly, a Baja California sport fishing author and former Naval sonar expert, died of heart failure at his home in San Diego, January 24, 1999.

Mr. Kelly was born in Detroit on December 11, 1924, and entered the Navy directly after high school graduation in 1942. He served on the battleship USS Maryland, and participated as a gunnery officer in the World War II naval battles of Tarawa, Kwajalein, the Surigao Strait, the Philippines, and Okinawa.

After the war, Mr. Kelly settled in San Diego and was graduated first-in-class in the four-year Electronics Mechanic program then offered by the North Island Naval Air Station. He was recalled into active duty during the Korean War, and served again as a gunnery officer, aboard the destroyer USS Thomas, which provided artillery support for the retreat of Hungnam.

In the early 1950s, Mr. Kelly worked at the North Island Naval Air Station and later the Navy Electronics Laboratory at Point Loma, where he was made an Electronics Scientist after passing tests administered by the U.S. Board of Examiners for Scientists and Engineers at Pasadena.

By the 1960s, Mr. Kelly was a member of a three-person group that designed and developed a new class of high-performance continuous-transmission FM sonar systems for nuclear submarines, and he was named as a co-inventor on a U.S. Patent for an acoustic mine-hunting system used to guide ships through mined waters. As a consultant for the U.S. Bureau of Ships in Washington, D.C., Mr. Kelly tested and certified the sonar systems of 45 new submarines, and conducted factory acceptance sea trials for minesweepers and the SSN 637 Sturgeon class of nuclear attack submarines.

Mr. Kelly was retired after a heart attack in 1970. In March 1978, he unknowingly began a second career when he took a small outboard-powered boat to Baja California to try the coastal fishing there; since his heart attack, he had not been able to continue his favorite recreational pastime of mountain flyfishing for trout. On scores of subsequent fishing expeditions to both coasts of Baja California, Mr. Kelly developed a unique method of trolling small lures over very shallow water near reefs, or offshore for big game species, which resulted in enormous catches of over 60 species of fish.

He taught a Baja California fishing class for 11 years at Coronado Evening Adult School, and led expeditions to many remote locations where few Americans had fished before. Eventually, he explored the entire coastline of Baja California, and he recorded his observations with detailed records and a photographic memory that allowed him to recall the species, location, date, and water conditions of virtually every one of the thousands of fish he caught.

In 1988, the first edition of Mr. Kelly's sport fishing guidebook, The Baja Catch, was published, in which he not only explained his fishing methods and techniques, but also used his experience and photographic memory to describe and map many Baja California locations with unprecedented detail and accuracy. The book became an instant success, has sold over 30,000 copies in six printings and three editions, and has become a classic among Baja aficionados.

In the 1990s, Mr. Kelly wrote fishing articles and continued to teach a popular Baja fishing class at the Discover Baja Travel Club in San Diego, which dedicated its seminar room to him in 1998.

Mr. Kelly was survived by his wife of 49 years, the former Josephine "Josie" Cano, their three children, Sandy Wolske, Rick Kelly, and Susie Henson; seven grandchildren and great grandchildren; and two sisters, Martha Otjens and Madelyne Birney.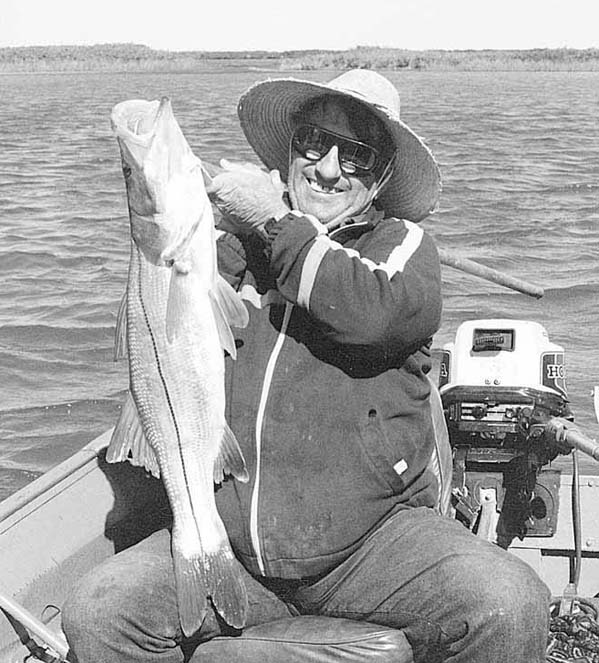 Neil Kelly with a rare black snook, caught at Estero de Coyote, Baja California Sur, Mexico, on a Jointed Rebel lure, of course.
(Related Baja California, Mexico, articles and reports may be found at Mexfish.com's main Baja California information page. See weekly fishing news, photos, and reports from the major sportfishing vacation areas of Mexico including the Baja California area in "Mexico Fishing News.")