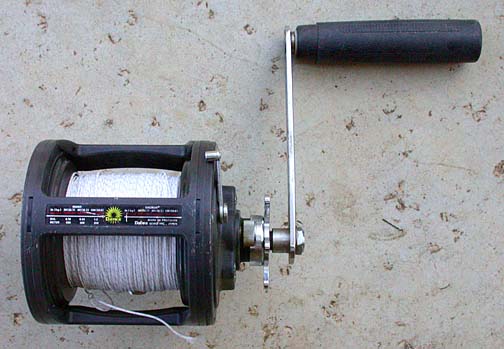 DEEP WINCHING BEASTIE--A well-worn example of Daiwa's venerable Sealine 910 Rockcod Special, rated at 950 yards of 50-pound dacron, will be used to test super-deep fishing in the Sea of Cortez Midriff Islands, Mexico. Photo by Gene Kira.
Baja Species Fishing Safari 2004
By Gene Kira, April 19, 2004, as orginally published in Western Outdoor News:

This time, I'm loaded for grizzlies.

I just dug back through about four levels of dusty "old tackle" boxes and found my trusty old Daiwa Sealine 910 Rockcod Special star drag reel.

This venerable, super-deep winching machine can hold 950 yards of 50-pound dacron, with a gear ratio of about 2.9-to-1, and the crank handle alone is six inches long. Even the big rubber hand grip is a daunting, Shaquille O'Neil-esque five inches across.
For my "species safari" panga mothership trip to the Midriff Islands, Sea of Cortez, Baja California, Mexico, this August 15th, I plan to load the old Daiwa with about 400 yards of dacron backing, plus 600 yards of modern Spectra, for a total length of about 1,000 yards of line, or about three-fifths of a mile.

This year, for the first time, I'll be in a panga with all three guys fishing deep for species, and I'm really looking forward to a very interesting week of Baja exploration. (There is one more panga available for deep fishing, with two open spots. Send me an email, if you'd like to try it.)

I'm planning to fish as deep as, say, 2,000 feet if we're lucky, using a small sea anchor to keep the panga "nailed" to one spot in the current, and dropping down as vertically as possible, with as little weight as possible (coming back up is gonna hurt), to see what kinds of weird stuff we can catch and photograph.

At the end of the line will be various ganions, each with four very different-sized hooks on them (four being the maximum allowed by Mexican sportfishing regulations), ranging from about 5/0 size, downwards through "sabiki" Lucky Joe size, and then all the way down to trout midge fly size, with each hook on a short leader of appropriate weight mono.

According to such authorities as John Snow of San Diego and San Jose del Cabo (possible holder of the Baja species fishing record), and Dr. Milton Love of U.C. Santa Barbara, this small hook thing is crucial to catching new kinds of fish. It makes sense that most fish with big mouths have long been discovered, leaving the little ones behind because they are so much less "fun" to catch, or as Dr. Love says, "even biologists hate to use little hooks."
According to Dr. Love, the good species hunting will begin at about 600 feet, and he's caught species as deep as 1,200 feet. Below that, not much has been explored, so there's no telling what we will find.

To cover all bases, I'm planning to use both flies and bait, although Dr. Love conjectures that flies alone should do the trick, since most fish in very deep water probably "snap at whatever they can detect, then ask questions about whether it is food later."

Fair enough, but I suspect at least one hook of each ganion will be a 5/0 Mustad with an 80-pound leader and a nice big stinky piece of squid on it (heh, heh).

One surprise species that might be accidentally hooked, very deep around Refugio at the north end of Isla Angel de la Guarda, is the endangered totoaba (which are protected, and will be released if caught, dead or alive, promise). I've never heard a confirmation of the theory, but many years ago Neil Kelly (my coauthor of The Baja Catch) once said that totoaba hang out 2,000 feet deep in this location during the summer and fall months.

Neil never revealed where he got this information, and of course, we were never able to test it. But over the years, everything Neil ever said about fishing in Baja turned out to be dead-on true, so if it happens, it won't be a surprise. The only mystery will be in how he figured it out.

But, totoaba or not, this August deep species trip figures to be a midsummer night's dream come true--a very interesting voyage on the forever interesting and beautiful Sea of Cortez. I'm really looking forward to it.

(Related Baja California, Mexico, articles and reports may be found at Mexfish.com's main Baja California information page. See weekly fishing news, photos, and reports from the major sportfishing vacation areas of Mexico including the Baja California area in "Mexico Fishing News.")