By Gene Kira, September 1, 2003, as published in Western Outdoor News:

Strange as it might seem, perhaps last week's Hurricane Ignacio was just the kick in the pants our Baja fishing waters needed to wake up from a period of uncustomarily sluggish summer fishing.

We've had some scratchy days lately in many Baja sportfishing locations: Cabo San Lucas, San Jose del Cabo, East Cape, Las Arenas, Loreto, Mulege, Santa Rosalia. In recent weeks, about the best news Baja had to offer was the exceptional season for dorado from the Midriff to north of Puertecitos, and the steady action on bottom fish and summer migrators between San Quintin and Ensenada.

Nice, but certainly nothing to write sonnets about.

Hurricane Ignacio had just enough punch to wobble the cart a bit, so maybe now some decent fish will fall out. Traditionally, hurricanes are supposed to "push warm water up," presumably from the Gulf of Tehuantepec off southern Mexico, a notion that has always caused me to envision a gigantic tidal wave of steaming-warm water, coming over the horizon at Cabo San Lucas.
What really happens, me thinks, is that the fertile, debris-laden hurricane runoff coming down the arroyos starts a plankton bloom, and the strong winds temporarily disrupt the normal currents and upwellings along both coasts, letting the warm air and sun bring water temperatures up very quickly.

As the post-Ignacio reports poured in from all over Baja last week--just hours after the storm--you could almost feel it starting to happen:

At Cabo Pulmo, Mark Rayor of Vista Sea Sport said, "It is more beautiful now than before the storm." Water temperatures had zoomed from 67 to 80 degrees in about 24 hours, and the reef sprang back to life with jewfish, a resident tiger shark named Tony, and manta rays jumping out "like popcorn."

At San Jose del Cabo, Baja California Sur, Mexico, the historic estero's shore berm was breached again and the arroyo was dumping its muddy, fertile load into the sea--tons and tons of organic matter that will soon return to land in the form of fish fillets.

At Loreto, Pam Bolles of Baja Big Fish Company visited the bathtub warm runoff of normally dry Tabor Falls near Puerto Escondido, which was once again carrying rich nutrients down from the mountains, and Gregorio Segoviano of the baitsellers cooperativa reported, only one day after the wind stopped: "Everybody came back with dorado!" On that same day, Arturo Susarrey reported a sudden bonanza of sailfish, dorado to 30 pounds, yellowtail to 25 pounds, and even cabrilla and bottom fish.

And at La Paz, Gerardo Hernandez of Tortuga Sportfishing described a near-miracle after an unbelievably long bait shortage on the Las Arenas side: "Today we found sardinas!!!"

This Mexico hurricane was a long time in coming. The earliest signs of the summer 2003 doldrums were visible as early as last November, when it seemed that the earth's seasonal revolution around the sun was somehow getting pushed farther and farther back. In fact, Ignacio--officially designated a hurricane early on the morning of Sunday, Aug. 24--was said to be the latest "first hurricane of the season" on record in the Eastern Pacific.

All up and down the Sea of Cortez this week there is the hopeful anticipation of excellent fishing in Ignacio's wake.

The only real "disaster" caused by Hurricane Ignacio along Baja beaches seems to have been in the arroyo at Buena Vista, where it was reported that the mysterious Bajaprechauns were totally wiped out, and their many tiny houses swept away. According to local residents, it seems this ancient race, thought to have come to San Jose del Cabo from Europe in the 17th Century, is no more. That's a tragedy, they say, but hey, at least the dorado might start biting again.

(Note: Latest reports indicated possible rebuilding activity observed in the arroyo over the weekend, so it was hoped that perhaps the Bajaprechauns did survive the storm after all. Perfect.)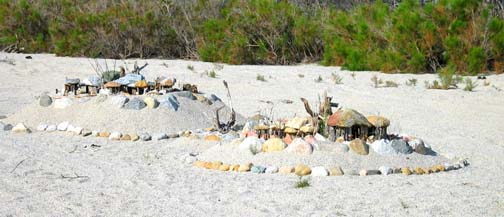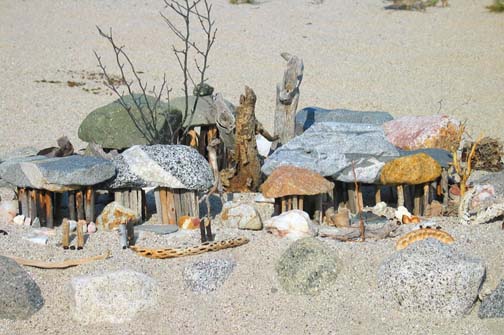 VICTIMS OF IGNACIO?--Rare photos from the mysterious Bajaprechaun settlement in the Buena Vista arroyo, East Cape, Baja California Sur, Mexico, shown before the area was scoured by runoff from Hurricane Ignacio. Photos courtesy Geoff Graham.
(Related Baja California, Mexico, articles and reports may be found at Mexfish.com's main Baja California information page. See weekly fishing news, photos, and reports from the major sportfishing vacation areas of Mexico including the Baja California area in "Mexico Fishing News.")