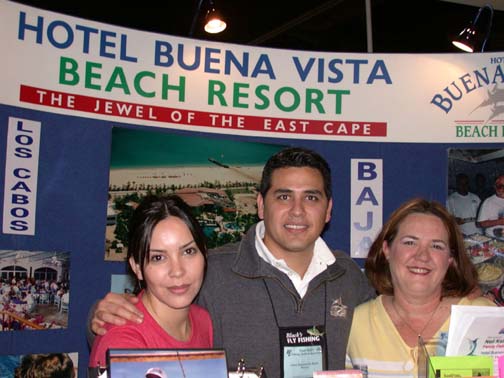 AT THE FRED HALL SHOW--Axel Valdez, with wife Josie, left, at the Hotel Buena Vista Beach Resort booth, feels that the super-good winter fishing at East Cape right now is probably not part of a true El Niño pattern, but may simply be due to a very early and very good spring.
BAJA CALIFORNIA: NEWS AND NOTES FROM THE SPORTFISHING INDUSTRY
By Gene Kira, March 10, 2003, as published in Western Outdoor News:

This year's Fred Hall Long Beach Show had all the royal hoopla, plenty of Baja fishing news, and--I gotta be honest here--some worried looks. From Cabo San Lucas to San Felipe, everybody is concerned about the looming war in Iraq, and several hotel people told me quietly, "April and May are looking good, but March might be the slowest month we've had since September 11th."

When you think of what a small deal Baja sportfishing is, compared to the rest of the world economy, the effects of global terrorism are truly sobering; this is an ugly, nasty can of worms than isn't going to go away easily.
On a more positive page, Baja's winter fishing is about as good as anyone can remember, and I was comparing notes with "El Guapo," Axel Valdez of East Cape's Buena Vista Beach Resort, on the so-called El Niño that might be headed our way. Both of us agreed that the super-good fishing we're seeing now does not seem to be part of a classic El Niño pattern. It just seems to be a very good, and very early, spring.

Axel's family at Buena Vista Beach Resort--thanks to the long-standing efforts of papá Chuy Valdez--has one of Baja's best daily records of offshore fishing productivity, going back many years. One amazing thing Axel once told me is that, according to the resort's statistics, March is the month with the highest number of marlin per rod-day fished. Looks like this might be "one of those years."

Something to keep in mind, we agreed, is that if a classic El Niño does develop this summer, it will probably punch a noticeable hole in Baja's surface fishing action, centered on August. When the water temp goes well over 90 degrees, the bait goes down, and so does the surface action.

(This undesirable El Niño effect on Baja fishing was quite evident one August many years ago when I went three straight days without a surface hit while fishing at normally red-hot San Evaristo. The bottom fishing was still very good, though, at 300 feet down and deeper.)

The other big news this year came from San Felipe at the opposite end of the Sea of Cortez. Tony Reyes, father and son, together with their exclusive booking agent, Tom Ward of the Longfin Tackle Store in Orange, Calif., have finally announced that they will build a new sister ship for the Jose Andres panga mothership.

The venerable, wooden, Jose Andres (and its equally venerable owner, Tony Reyes) will now be joined by an all-air conditioned, steel-hulled boat carrying seven pangas and a massive bait tank, and it will fish almost year-round, out of San Felipe in the summer and La Paz in the winter.

This new boat will be christened (are you ready for this, amigos?) the Tony Reyes, and I can't think of a name that ever deserved more to be so honored on the Sea of Cortez.

Tom has promised that the new boat will carry satellite email, kayaks, extra cabins for eco-tourism guides, and comfortable facilities for families. It will be a multi-purpose platform of a new class that represents the future of Baja and the Sea of Cortez: a boat that can fish like hell when it wants to, but can also, on the same trip, serve as an intimate and beautiful means of truly savoring all the varied and subtle wonders that Baja has to offer.

This sportfishing boat is ten years late, as far as I'm concerned, but hey, I'm not complaining! I predict that the Tony Reyes will immediately become one of the most successful and sought-after boats in the history of Mexico's storied Sea of Cortez. Congratulations, Don Tony, viejo amigo, with respect and honor.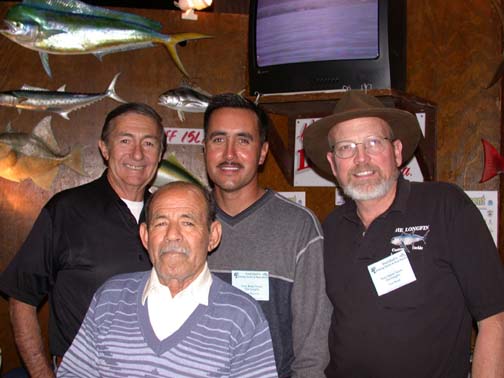 NEW BOAT PLANNED--Tony Reyes Fishing Tours of San Felipe, Baja California, Mexico, along with exclusive booking agent, Tom Ward, right, of the Longfin Tackle Store in Orange, Calif., announced the building of a new steel-hulled panga mothership to be named the Tony Reyes. The all-air conditioned fishing/touring platform will be operated along with the present boat, the Jose Andres. The ageless, semi-retired Tony Reyes Sr., foreground, said Western Outdoor News Baja Editor Gene Kira is welcome to come on the new boat any time, as long as he doesn't steal any more beer mugs and pays double.
(Related Baja California, Mexico, articles and reports may be found at Mexfish.com's main Baja California information page. See weekly fishing news, photos, and reports from the major sportfishing vacation areas of Mexico including the Baja California area in "Mexico Fishing News.")